India Adventure Travel Program
Experience all of the richness India has to offer while volunteering along the way!
Learn More
Experience all of the richness India has to offer while volunteering along the way!
Overview
The Volunteer Project:
Experience all of the richness India has to offer while volunteering along the way! Start your journey in the historical and culturally significant Jaipur to learn Bollywood's finest dances, the ancient Indian art of Henna making, or shop in the bustling bazaars. Your adventure continues on a camel safari to a sacred pilgrimage site in Pushkar, and then you're off to the beginning of your first volunteer project in Lalsot. Along the way, you will make a quick jaunt to Agra to experience the Majesty of the Taj Mahal before continuing north through the hills towards Haridwar, and then to its neighbor Rishikesh. Here you will spend your time learning the ancient art of yoga, cleansing yourself in the famous Ganges river, trekking through the Himalayan foothills, and mediating. After several relaxing yet breathtaking days you will fly to the southern beach town of Goa where you will spend your final 6 days volunteering on local community building projects, tutoring students, and participating in service engagement work. After your 28-day adventure, you will make your way back to Delhi.
Why the Project Needs You:
India is already the second largest country in the world and it has one of the fastest growing populations. The people will inspire you with their warmth and diversity and you'll be awed with the sights, sounds, and smells of India. You will provide valuable services to those in need in several different settings across the country, giving you a pronounced understanding of both the rich, cultural diversity that India has to offer, and also the challenges its people continue to face on a daily basis.
How You Will Make a Difference:
Renovation and beautification projects
Work on women's empowerment projects
Create events and programming for children
Design artwork with children
Program Dates
Apply by March 1st, 2014 to receive $100 off your program fee!
Applications are due at least 8 weeks in advance to these 2014 start dates:
January 17
February 14
March 14
April 11
May 9
June 6
June 20
July 4
July 18
August 1
August 29
September 26
October 24
November 21
December 19
Eligibility
In researching a volunteer abroad program, you have already shown you are a leader and open-minded. These are just a few of the traits that our volunteers possess. You're motivated to immerse yourself in another culture and flexible enough to live outside your comfort zone. You should also:
Be 18 years of age or older
Be in great mental and physical health
Please read our policies and conditions for volunteering abroad.
Costs
Apply by March 1st, 2014 to receive $100 off your program fee!
28 days: $2,205
*Price subject to change
What's Included:
Accommodation in a volunteer guest houses and camp sites
Flight from Delhi to Goa
Daily meals
Culture & Etiquette guide book
Medical/Accident insurance
24-hour emergency support
Pre-departure and arrival orientations
Personal assistance from a Greenheart Travel program manager
Certificate of Completion upon request for successful completion of the program
Greenheart Travel also donates a portion of your fee to offset the carbon footprint of your travels.
Wondering why you have to pay for a volunteer program?
Greenheart Travel is a non-profit organization, and the program fee for this volunteer project covers the cost of placing a volunteer in the program. These fees also support the project in providing accommodation, meals, transfer and transport services,  and pre-departure & in-country support to volunteers.
Want to make a positive, long-lasting impact on your community? Is there a great project or idea in your new community that could use funding for further growth? Apply for a Greenheart Grant!
Accommodation
Volunteers stay at a volunteer guest house, which has clean, comfortable, and simple rooms. The number of people can vary from 2-4 per room with bunk beds included in the larger rooms. Invariably, we ensure comfortable accommodation with plenty of opportunity to socialize with volunteers from many different countries. In addition to personal space, volunteers benefit from a dining area where they eat food prepared by our staff, a kitchen where they can cook special meals, and a common area for relaxing, watching movies/television, and holding cultural workshops.
Internet and Phone
The best way to communicate with friends or family back home is to try and unlock your cell phone before you go so that you can insert a local SIM card and buy pre-paid phone credits to load on the SIM card. The guest houses will have access to WiFi and a computer lab with internet access.
Laundry
Laundry is available at the guest house. You can hand wash and line dry or pay a bit extra for a laundry service.
FAQs
ABOUT INDIA
What is India like?
India has a very rich and interesting history and is heavily invested in religious practices. Over 80% of the country practices Hinduism, although Islam, Christianity, and Buddhism are also popular. They are very family orientated culture and often live in large households. India is geographically diverse with snow-capped Himalayas in the north, the low and fertile Ganges Plain in the center, the Great Indian Desert in the west, and the region in the east which receives some of the highest rainfall in the world during monsoon season (June to October). A detailed description of India can be found on the BBC website.
Is India safe?
Generally speaking, India is safe but tourists are magnets for pick pocketers, so be sure to keep an eye on your belongings at all times. Streets are narrow and filled with people, vehicles, and sometimes animal which can be distracting. Also, know how much money is on you and when buying items at souvenir shops, make sure you get correct change back. Greenheart Travel registers you with your Embassy in India. In case of a natural disaster or national safety issue, Embassy officials will contact you or the project staff to make sure you'r aware of any warnings or evacuations, and they inform you of your options to ensure your safety.
Will there be a language barrier?
There are many unique dialects and languages that varies by state. Hindi is the official language of the Union Government, but only 40% of the population fluently speaks it. English is commonly known and will get you by in many situations.
What is the climate like?
The climate varies from extremely hot in the summer to pleasant, cool weather in the winter months. Summer begins in April and continues into July. Winter begins in October until March. Tourism is at its peak at this time. It averages about 26 inches of rain each year, most of which takes place during monsoon season.
BEFORE YOU GO
Is the deposit refundable?
The vast majority of the applicants are accepted in the program, but if your application is not successful we will refund your deposit. Otherwise, the deposit is not refundable.
Will Greenheart Travel provide the travel arrangements?
We will inform you of your travel and visa requirements. All travel and visa arrangements are your responsibility, but need to be booked according to our instructions.
Can I apply with my friend/spouse/significant other?
Absolutely! We are happy to accept friends and couples.
Is my program fee tax deductible?
Greenheart Travel is a nonprofit 501(c)3 organization, so a portion of your Volunteer Abroad program fee may be tax deductible. Contact us for more information. We recommend that you also consult with your tax professional to discuss your particular case, as application of tax laws can vary based on individual circumstances.
Why do volunteers have to pay for their program?
Greenheart Travel is a non-profit organization. The program fees covers the cost of placing a volunteer in the project, accommodation, meals, airport transfers, transportation to and from the project site, pre-departure & in-country support and insurance. Many volunteers cover some of the costs by fundraising.
What vaccinations will I need?
When traveling to any destination, make sure your routine vaccines are up to date. Try to schedule an appointment with your doctor 4-6 weeks before your trip. These vaccines include measles-mumps-rubella (MMR) vaccine, diphtheria-pertussis-tetanus vaccine, varicella (chickenpox) vaccine, and your yearly flu shot. The CDC (Center for Disease Control and Prevention) also highly recommends the Hepatitis A, Typhoid, and up to date polio vaccinations due to potentially contaminated food or water.
What should I pack?
Bring comfortable, versatile clothes that are suitable for all types of weather. You should only bring 1 large bag at a maximum of 35 pounds, preferably in a backpack of soft-sided bag. Conservative clothing is required to be worn while volunteering. It is highly recommended that volunteers acquire Indian outfits while there to blend in and receive respect from the local community. This will reduce conflict and ensure that you are not drawing too much unwanted attention. Female volunteers should be extra conscious that they are not wearing short skirts or shorts, low-cut tops, tight clothing, or pants that do not cover ankles.
How much extra cash should I bring?
We suggest planning a budget that gives you room for souvenirs, sightseeing, exit tax, transportation not included in the fee, and anything you might forget. You can read up more on the currency exchange website to determine how much you will need.
WHILE YOU ARE VOLUNTEERING IN INDIA
What will I be doing at the project?
You will be involved in renovation and beautification projects, running a "fun fair" for children, and participating in creative artwork with children/
Is there an orientation?
Yes. There are pre-departure and arrival orientations. Upon arrival, you will be briefed on your project and given time to settle in. This is the time to ask questions, get your bearings, and rest up before the real work begins.
What is often the most difficult aspect of volunteering?
You will be in a situation in which the people who you are helping live in extreme poverty, and although this is sometimes hard to adapt to, the people very much appreciate that you have made an effort to help them. Homesickness often arises when people feel uncomfortable in their surroundings, but try to remain calm and remember that you are doing a very  important thing for your life and the lives of the people you affect while volunteering.
Is the water safe to drink?
Most of India's water is not safe to drink, travelers should stick to bottled water. Restaurants may sometimes offer treated drinking water, but it's safer to stick with bottled.
What if I have an allergy/specific dietary requirement?
We can cater to vegetarian needs quite easily. Any other specific diets should be discussed with us to see if we can arrange to have your needs met. In some cases you may need to provide your own food.
Can I receive mail or packages?
The India Experience disallows you from receiving mail because of the constant moving between cities.
Can I have visitors while abroad?
It is recommended that for anybody who wants to visit you while abroad that they come before or after your volunteer work. It is hard to find the time to travel and sight-see and sometimes you won't know your exact location.
What is the best way to contact friends/family from home?
There are numerous public call boxes (STD/ISD) all over India from where it is easy to make international calls at fairly reasonable rates. Cell phones, which cost at least Rs. 3000 ($80 USD) can be purchased. Most European-style tri-band headsets can take Indian PIN cards and all our present project sites are within mobile network coverage. Internet access is cheap and readily available in cities and tourist centers.
Note: Electronic items run on 220 Volts in India. Make sure your do the same or else run on batteries. It's a good idea to bring adapters from non-European style plugs.
Application Process
You should apply at least 8 weeks before your preferred departure date. Once you have been accepted, you will also need to apply for an Indian Tourist Visa as soon as possible.
Complete the Online Application
There are 4 short steps in the application process, which are outlined below. This is the most important step in getting to know you and assessing your suitability to the project.
Select the APPLY NOW button to the left. Once complete, you will receive a link in your email for the second part of the application.
Provide more detailed information about yourself and why you would like to volunteer abroad. This is also where you will complete your background check if you are a US citizen. If you are not a US citizen and over the age of 18, you are required to submit your own background check (usually available at local police offices). Once complete, you will receive a link in your email for the final part of your application.
There are two documents you must submit before we can consider your application – signed Terms and Conditions form and a copy of the photo page of your passport.
Submit your $250 deposit. A deposit is required in order to reserve your spot on the program and is subtracted from your total program fee. Once the deposit is submitted we can begin preparing you for your adventure abroad.
Review your Application
Greenheart Travel will thoroughly review your application and will contact you within 2-3 business days to confirm your acceptance. If we find something in your application that we have concerns about, we will let you know immediately. 95% of applicants are accepted on the program they apply for.
You're Accepted – now what?
Your program manager will be in touch with you directly about your acceptance. You should expect to receive an orientation packet via email, as well as a request to schedule your pre-departure orientation.
View Our Catalog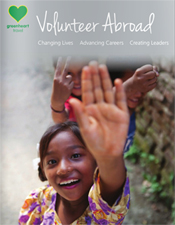 How do you want to travel for a change? Check out our new volunteer catalog and learn how you can join our community of Greenheart Travel volunteers who have given over 30,000 hours to projects around the world!