Maasai Community Development in Kenya
Help the Maasai community gain access to better education, income generating activities, food security, and basic resources such as water.
Learn More
Help the Maasai community gain access to better education, income generating activities, food security, and basic resources such as water.
Overview
The Volunteer Project:
The Maasai people are one of the few remaining semi-nomadic ethnic groups in Africa, and live near the southern border of Kenya. You will work alongside the Maasai community helping them to gain access to better education, income generating activities, food security, and basic resources like water. As a volunteer in Kenya you will learn about the fascinating Maasai way of life while working within their unique cultural and social context. Whether you prefer to help establish irrigation projects or work with women's education groups, your time volunteering will be filled with new cultural experiences that help to ensure a safe, productive, and healthy future for the Maasai community. There can be up to ten volunteers at the project at any given time, but it is not uncommon to be the only volunteer. This project is ideal for volunteers looking for a true immersion experience abroad.
Why the Project Needs You:
Over the past three decades, there has been increasing pressure on the Maasai from both the Kenyan government and corporations to abandon their traditions and adopt a more westernized way of life. Volunteers helping at the Maasai community development project will help develop and educate the Maasai in advanced farming techniques, while respecting their cultural traditions. You will make a positive impact by training community members to utilize these new farming methods, as well as assisting in educational workshops on hygiene, economic sustainability, and entrepreneurship opportunities. You will also be able to make a powerful impact on the children of the community by assisting in the Maasai schools in the area.
How You Will Make a Difference:
Help schools acquire necessary supplies
Help with construction/painting projects
Volunteer in the medical dispensary
Help with irrigation projects
Assist with workshops for women's groups and school children
Assist women's groups with finding new markets to sell their crafts
Organize youth sports
Help with chicken coop/organic farming
Program Dates
Apply by March 1st, 2014 to receive $100 off your program fee!
Applications are due at least 8 weeks in advance to these 2014 start dates:
January 17
February 21
March 21
April 4
May 16
June 6
June 20
July 4
July 18
August 1
August 15
September 5
October 3
November 7
December 5
Eligibility
In researching a volunteer abroad program, you have already shown you are a leader and open-minded. These are just a few of the traits that our volunteers possess. You're motivated to immerse yourself in another culture and flexible enough to live outside your comfort zone. You should also:
Must be at least 23 years old
Consent to criminal background check for volunteers 18 and older (Greenheart Travel will process this for U.S. citizens)
Willingness to help with any and all needs at the project
Be in good physical and mental health – please note the environment can be very dusty and windy during the dry season
Please read our policies and conditions for volunteering abroad.
Costs
Apply by March 1st, 2014 to receive $100 off your program fee!
2 weeks: $1,365
4 weeks: $1,600
5 weeks: $1,820
6 weeks: $2,050
8 weeks: $2,500
9 weeks: $2,730
10 weeks: $2,950
11 weeks: $3,180
12 weeks: $3,410
*Prices are subject to change
What's Included:
Accommodations in the volunteer guest house
Airport transfer service
Culture & Etiquette guide book
Medical/Accident insurance
24-hour emergency support
Pre-departure and arrival orientations
Personal assistance from a Greenheart Travel program manager and onsite volunteer staff
Certificate of Completion upon request for successful completion of the program
Greenheart Travel also donates a portion of your fee to offset the carbon footprint of your travels.
Wondering why you have to pay for a volunteer program?
Greenheart Travel is a non-profit organization, and the program fee for this volunteer project covers the cost of placing a volunteer in the program. These fees also support the project in providing accommodation, meals, transfer and transport services, and pre-departure & in-country support to volunteers.
Want to make a positive, long-lasting impact on your community? Is there a great project or idea in your new community that could use funding for further growth? Apply for a Greenheart Grant!

Accommodation
Volunteers stay in a volunteer house with 4 bedrooms, a living room, a kitchen, a bathroom, and a shower room. You'll need to buy your own food and prepare you meals in Kenya. Project staff will drive you to the grocery store once a week. The kitchen at the volunteer house has all the utensils you'll need for basic cooking. Drinking water will also be provided for you.
Internet and Phone
Local cell phones are easy to obtain, but you also have access to a shared cell phone at the volunteer house. You will simply need to buy phone credits and load it onto the SIM card. The local staff will assist you with setting this up.
There is internet access at the volunteer house but you will need to buy your own internet credit just like with the cell phone. There is also a netbook available for your use.
FAQs
ABOUT KENYA
What is Kenya like?
Kenya has a tropical climate, and receives a great deal of sunshine year round. The country is comprised of large cities, and small rural tribal communities. Many practice Christianity due to European colonization. The wildlife in Kenya is very active and migration season is a fun time to visit. A detailed description of Kenya can be found on the BBC website.
Is Kenya safe?
Maasai is a very safe part of Kenya. It is very rare to experience crime there. However, Nairobi and other cities in Kenya can be dangerous and we urge you to be extremely careful if you spend any time there. If you need to go to Nairobi, be sure to stay in the city center. You should always go with a program staff member and let the program Director know about your plans.
Prevention involves many "common sense" precautions such as staying on well-lit main roads, traveling in groups, not carrying very much money, and knowing where you're going (or at least looking like you do- rather than looking lost).
Will there be a language barrier?
Most Kenyans will either speak Swahili or English, the two official languages of their country. Peri-urban and rural dwellers are less multilingual, with many in rural areas speaking only their native languages. Tribal languages, such as Maa spoken by the Massai, are commonplace in more remote areas. There is often somebody who can translate between multiple languages.
BEFORE YOU GO
Why do volunteers have to pay for their program?
Greenheart Travel is a non-profit organization. The program fee covers the cost of placing a volunteer in the project, accommodation, meals, airport transfers, transportation to and from the project site, pre-departure & in-county support and insurance. Many volunteers cover some of the costs by fundraising.
Is my program fee tax deductible?
Greenheart Travel is a nonprofit 501(c)3 organization, so a portion of your Volunteer Abroad program fee may be tax deductible. Contact us for more information. We recommend that you also consult with your tax professional to discuss your particular case, as application of tax laws can vary based on individual circumstances.
Can I apply with my friend/spouse/significant other?
Absolutely! We are happy to accept friends and couples.
Will Greenheart Travel provide travel arrangements?
We will inform you of your travel and visa requirements. All travel and visa arrangements are your responsibility, but need to be booked according to our instructions.
What vaccinations will I need?
When traveling to any destination, make sure your routine vaccines are up to date. Try to schedule an appointment with your doctor 4-6 weeks before your trip. These vaccines include measles-mumps-rubella (MMR) vaccine, diphtheria-pertussis-tetanus vaccine, varicella (chickenpox) vaccine, and your yearly flu shot. The CDC (Center for Disease Control and Prevention) recommends that you also get Hepatitis A, Polio, Yellow Fever, and Typhoid vaccine. These are diseases in which you contract due to contaminated food and water. There is also a risk of Malaria, so contact your doctor with any questions about the best prevention.
What should I pack?
Bring comfortable, casual, and versatile clothes that you can layer and change to suit the weather. Pack items you aren't worried about getting dirty. Greenheart Travel will send you a detailed packing list prior to your departure.
How much extra cash should I bring?
We suggest planning a budget that gives you room for souvenirs, sightseeing, exit tax, transportation not included in the fee, and anything you might forget. You can read up more on the currency exchange website to determine how much you will need.
WHILE YOU ARE VOLUNTEERING IN KENYA
What will I be doing at the project?
Project and initiatives in Massailand are constantly changing, so its good to be flexible. You could be working with women's groups, at a medical dispensary, or on general community projects like painting, building, and irrigation.
Women's Groups: volunteers help the women make jewelry and other crafts that is sellable in western markets. This is one way the Massai tribe supports their families and keeps their children in school.
Dispensary: the medical dispensary needs volunteer help in admitting patients. For those with more experience, patient care is possible.
General Projects: volunteers will assist in painting schools and community centers, organizing youth sports, building chicken coops, and other construction projects.
Is there an orientation?
Yes. There are pre-departure and arrival orientations.
Can I receive mail or packages?
Yes, at the volunteer house. However, if you are staying for less than 4 weeks the mail will take too long to reach you.
Will I be able to travel on weekends?
Because there is no public transportation in Massailand, it is best to save your traveling and sightseeing for after your volunteer work is over. If you would like to travel on the weekends, talk with project staff about the easiest way to get to where you want to go, and make sure you're not talking time away from volunteer work.
Is it safe to drink/eat there?
It is advised that you do not eat food sold on the streets, and avoid all raw of undercooked vegetables, meats, or fish in restaurants. You should be cautious when invited to eat with a Massai family, although most of the time the food is fine to eat, check with a volunteer coordinator first. It is unsafe to drink tap water, so stick to bottled or boiled.
What if I have an allergy/specific dietary requirement?
We can cater to vegetarian needs quite easily. Any other specific diets should be discussed with us to see if we can arrange to have your needs met. In some cases you may need to provide your own food.
What happens if I get sick while abroad?
You will be covered by mandatory health insurance. You will receive a policy brochure and insurance card via email 2 weeks prior to your departure.
Can I have visitors while volunteering?
You will be quite busy during the week and won't have much time for doing other activities. We suggest that if you want to have people visit you to tour the country that you got prior to or after your volunteer experience. This way you can spend your time the way you would like to and not have to worry about the volunteer schedule.
Application Process
You should apply at least 8 weeks before your preferred departure date. You will need a visa to go to Kenya. You can download the application and view visa requirements at the Embassy website.
Complete the Online Application
There are 4 short steps in the application process, which are outlined below. This is the most important step in getting to know you and assessing your suitability to the project.
Select the APPLY NOW button to the left. Once complete, you will receive a link in your email for the second part of the application.
Provide more detailed information about yourself and why you would like to volunteer abroad. This is also where you will complete your background check if you are a US citizen. If you are not a US citizen and over the age of 18, you are required to submit your own background check (usually available at local police offices).  Once complete, you will receive a link in your email for the final part of your application.
 There are two documents you must submit before we can consider your application – signed Terms and Conditions form and a copy of the photo page of your passport.
Submit your $250 deposit. A deposit is required in order to reserve your spot on the program and is subtracted from your total program fee.  Once the deposit is submitted we can begin preparing you for your adventure abroad.
Review your Application
Greenheart Travel will thoroughly review your application and will contact you within 2-3 business days to confirm your acceptance. If we find something in your application that we have concerns about, we will let you know immediately. 95% of applicants are accepted on the program they apply for.
You're Accepted – now what?
Your program manager will be in touch with you directly about your acceptance. You should expect to receive an orientation packet via email, as well as a request to schedule your pre-departure orientation.
Volunteer as a Group
Want to share this experience with your family and friends? We can accommodate groups from 8-20 individuals with project lengths ranging from 1-4 weeks. AND for groups of 12 or more, one person gets to go for free!
What kind of group are you?
A service-based or religious organization
A business looking for unique team-building opportunities
A school or teacher looking for international experiences for groups of students
A group of friends looking to get culturally immersed and have fun
We are excited to help you create the best program for you group, and to help us get started here a few things to consider:
How many days a week do you want to volunteer?
What types of cultural activities do you want to participate in?
How many excursions per week would you like to include?
How much down-time are you looking for?
How long do you want to go for?
What are your goals in volunteering abroad as a group?
To help you create a meaningful travel experience, and help you customize your group trip, please contact mfried@greenhearttravel.org.
View Our Catalog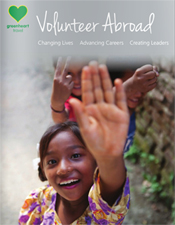 How do you want to travel for a change? Check out our new volunteer catalog and learn how you can join our community of Greenheart Travel volunteers who have given over 30,000 hours to projects around the world!