How to Make the Most of Technology While Traveling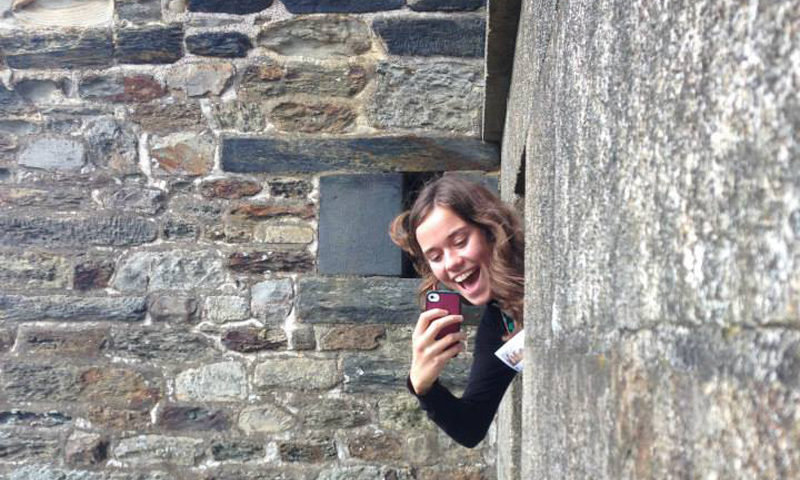 In planning to travel abroad you may be dreaming about all of the sights you will be instagramming to make people jealous of your adventures (#cute #Italian #boys). When I was abroad for four months I used Facebook, Instagram, and WordPress to share pictures and stories. This was a great way for the people I care about to see what I was experiencing. As long as it doesn't distract from you making the most of your time abroad, embrace technology. But use it wisely.
How to Embrace Technology While Traveling:
x
Limit Phone/Skype Calls – If you have easy access to wifi, you may find yourself spending long periods of time telling your friends and family about your trip. It may be important for your family to be assured of your safety while you are abroad and they may want you to call or email them frequently. Or maybe you are the one who feels you will need this comfort. However, by the end of my experience abroad, talking on the phone to my family was one of my biggest regrets. It is comforting to feel like the world is small with this easy communication. But it leaves you with no stories to share when you return home.
Limit Length of Blog Posts or Emails – Unless you are a writer and written work is one of your goals for your trip abroad, make sure blog posts don't share every detail every time. On average, blog posts run about 750 words before the reader loses interest, and like I said before, you'll want to save some stories for when you return home.
Bring a camera! – This seems like a no-brainer! If you have a smartphone with a good camera on it, these are usually easy to bring anywhere, even if phone service is turned off. Plus, you can use it later to easily upload pictures directly to the internet to share.
Bring an Adapter – If you do bring electronics, you'll need to charge them. Make sure you have an adapter compatible with outlets in your destination.
Online Access to multiple bank accounts – this saved me when I was buying plane tickets because one of my debit cards did not work for online transactions while I was abroad.
Research cell phone plans/calling cards before departure – you may want to use your own phone on an international plan, use calling cards, or get a new phone in your destination. This may put you at ease in emergency situations so it is helpful to find out what has worked for other people in the past.
Connect with other travelers! – If you have the time or desire, it is fun to use Twitter or websites like couchsurfing.com to find times of organized gatherings of other travelers.
One thing I wish I had realized was the impact that technology had on my four months abroad. While I developed great independence, I always had the safety net of being just a call away from home. I would recommend thinking about what you hope to gain out of your experience. Maybe this includes completely immersing yourself in a new culture and in doing so, taking a break from your other life at home.
What are your tips for embracing technology while traveling? Comment below!