Another Weird Swedish Tradition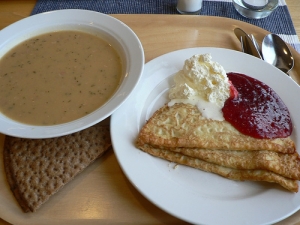 I have been meaning to blog about this ever since I found out about this strange Swedish tradition, however I am forgetful/lazy so it has taken some time, BUT now I am fully prepared to inform you all about it.
On Thursday in Sweden they eat Pea soup and Pancakes. Every, single, Thursday. Okay, clearly no everyone eats it every Thursday, but you could if you wanted to. Most restaurants offer the Pea soup with Pancake special every Thursday and even in the common household they make it as a tradition. I know that there has been more than one time in my host family where Bea has made some yummy pancakes for us on Thursday.
Where did this bizarre tradition start you may ask? It dates back to 1577, when King Eric XIV was imprisoned and wanted dead.  It's said, on a Thursday, the King was given a bowl of pea soup.  The bowl of pea soup was laced with poison and he died. From that time on people ate Pea Soup every Thursday in order to honor the poor dead King.
However, another story as to how the Pea Soup came about is far more religious. 500 years ago when Sweden was predominately Catholic, people fasted every Friday. So the day before required a big, hearty meal. A large serving of meaty pea soup topped with a heavy dessert of sweet pancakes and even sweeter toppings was just the trick to fill up those Swedish bellies for the long haul through to Saturday morning.
The food itself is even weird to me because the Pea Soup is not green as many would think, but, rather it is yellow! It is often made with yellow peas and then seasoned with mustard (among other spices) and is almost always served with either ham or pork which is why I have unfortunately not been able to try it. Unlike the picture I posted above, the soup normally has a rather chunky texture because the peas are left whole. My classmates all agree that it is downright nasty, but if you want to try it for yourself click HERE for a recipe!
Swedish Pancakes remind me more of crepes than actual pancakes. They are extremely thin and often served with jam and topped with whip cream and ice cream. The kids LOVE them and they are fairly easy to make too. Click HERE for a recipe.
Swedish Word of the Day: "Årtsoppa och Pannkakor" – bet ya can guess this one.