School Visit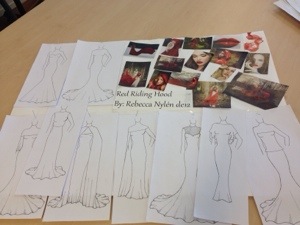 This Friday I had the amazing opportunity to go visit our "sister school" in Kungsbaka which is just a few towns over. I met with the principal at 8:30 and she drove me there personally herself. However, little did I know that she had planned a morning detour first! We spent over 2 hours driving around the Swedish countryside. She showed me really cool small towns, an old castle, a nuclear power plant, and even and old cemetery that is now a nature preserve. It was so cool and honestly so nice of her to take the time out of her day to show me all of that.
We arrived at the school around 10:30. This school is super cool in the sense that it specializes in Fashion, Hair, and Makeup! The "classrooms" looked more like design studios and hair salons filled with tons of sewing machines, stylists set ups, etc. I got to sit in on a design class where each girl gave a presentation about a dress they had made that week that was inspired by a Disney movie. Some people choose things like Red Riding Hood, Milan, and even Ursula form Little Mermaid. These girls were seriously talented too. At only 17 they could make clothes that looked straight off a couture runway.
After the presentations we all had lunch, then the Kungsbacka principal gave me an official tour of the whole school. By the end I was so jealous that I did not end up here, but I do love my Varberg school and I mean it is pretty cool getting to say that I am a police in training 😉.
Today I have been running around like a mad women preparing for a special visitor that will be coming tomorrow. Later tonight I am heading out to celebrate my Swedish friends 18th birthday – should be fun!
Swedish Word of the Day: "kannel" – cinnamon