This and That in Shanghai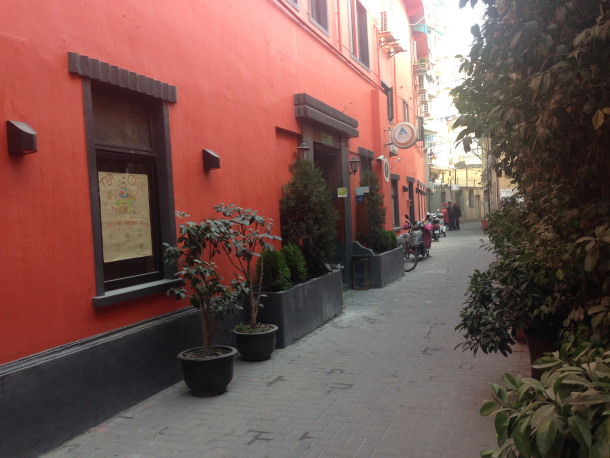 My thought as I stepped out of the metro station at Jing'an temple in Shanghai was, "This is not the China that I have come to know in the last four months!" Bright lights sparkled around me and the streets were cleaner then I have seen since my arrival in China. I'm staying at a great little hostel tucked away in ally in the residential district of the French Concession.
This neighbourhood feels very European or like something you would find in New York. It feels a little surreal to see the fusion of styles. I also indulged with a giant, crispy, Belgium waffle covered in whipped cream and berries. I absolutely love Chinese food, and I've gotten used to the spicy breakfasts, but it was nice to have a really good western breakfast for a break. I would not have found a waffle like this in Yichang.
I think my favourite part of Shanghai was simple wandering around and getting a feel for the city. But here are some of the things that I saw.
The City God Temple
This is a temple that is dedicated to three city gods of Shanghai: Chen Huacheng, Qin Yubo, and Huo Guang. I'm told it was popular during the Qing dynasty, but closed down during China's Cultural Revolution and then it was only reopened as a Taoist temple in 1994.
It is a bit of a tourist trap, but some residents still come to offer incenses to the city gods. It was interesting to see it as a piece of historical Shanghai, but a little bit too crowded in tourists.
The Yu Gardens
Right next door are the Yu Gardens, which are beautiful and would probably be a lot more peaceful if I had visited on a week day. I probably would have skipped both of the above attractions, had it not been for the three Bostonians that I met my first day at my hostel, who I tagged along with for the day.
The Bund
This is the water front area were you can see the famous outline of Shanghai's modern architecture. It is also were the the horrible New Year's Eve stampede happened, were around 36 people died and many more were injured. Since is just happened a few days ago their were lots of police around and people laying flowers out in memory of the unfortunate victims. I spoke to some locals about what had happened, some said that the stampede had been caused by a mad dash for coupons that looked like cash, while others summed it up to there were simply too many people and not enough policemen present.
The Huangpu River runs along the Bund, and I saw signs advertising river cruise up the river, which seems kind of fun, but they were a little pricy. So I took the city's ferry across instead. At 2 RMB a ticket, (about 0.30 USD) it was definitely in my budget. On the opposite side I enjoyed a bowel of spicy noodle soup, from a cozy hole-in-the-wall places, while watching the sunset over Shanghai.
Shanghai Propoganda Poster Art Centre
Last but not least, this was by far the highlight of my trip. I studied art in college and this was like seeing an entire segment of Design History in real life. This is a tiny little museum in the basement of an unmarked apartment complex in the French Concession. I read about it online, they said it would be tricky to find and it was. I found the street address which brought me to a huge apartment complex, in a very quiet part of the neighbourhood. I stood at the entrance, rather awkwardly looking for some a sign or something to direct me to the museum. I felt a tap on my shoulder, a little startled I turned and saw a man in a uniform. He asked me something in Chinese, to which I smiled apologetically, for not understanding. He laughed and offered me a card, I smiled in joy and triumph when I realised it was a little map of the complex directing my to the proper building for the museum. It also had directions to enter the elevator at the designated building and to press "B". I followed the directions, until the elevator doors opened on the basement level, there were no signs or indication that there was a museum there. I felt very smug as I entered the museum.
The collection of original posters that is tiny basement museum hold is quite amazing. There are propaganda posters from the 40's to the end of the cultural revolution in the 70's. These posters are rather rare because Mao's successor ordered the government to have these poster's recycled or thrown out.
The presentation of the museum was very casual, most of the poster's where pressed between crookedly cut black paper and clear plastic hung by multi coloured push pins. It was very well laid out though, grouping the posters by years and phases. I loved the colloquial feel of the place. It is a very large part of China's history, and represents a huge part of Design History. Definitly worthy the time it takes to find. Not to mention that even if you get a little lost, the neighbour hood is lovely and a nice change of pace from the busy tourist cites.
I've really enjoyed these three days in Shanghai, the city has a very international feel and the essence reminds me of New York in some ways. I did not really want to stop in Shanghai, and I was kind of dragging my feet about coming here, but I am so glad that I came. I thought it would be similar to Beijing, but it is so very different and unique. I was surprised how much more developed it seems then Beijing. There is also a lot more western influences in this city.
Now my time in Shanghai is nearly done, and early tomorrow morning I will fly north to Harbin, to see the famous Ice Festival, and freeze for three days. Wish me luck!