Happy New Year's Eve from South Korea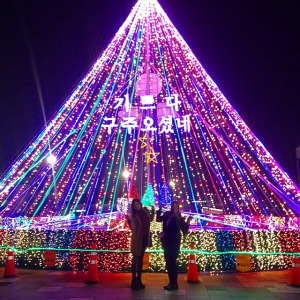 It's New Year's Eve today and I am sitting in my office "desk warming" which means that the school year has ended and all of my students are on vacation…including all of the teachers but I am required by the government to still go to school and sit at a desk in an empty school. So I can take naps or watch Netflix or try and lesson plan except that I don't have anything to lesson plan for. It's eery and quiet here. I miss the sound of kids running around and laughing and singing.
I just finished my first semester of teaching in Korea. I actually started halfway through their year so it's the end of the year for them. It's an emotional time since I fell in love with all the students and the 6th graders are graduating now and moving onto middle school. Middle school is known as the hardest time in their lives and all of the students are dreading going. I worry about them but I know it's their time to move on. Many of my students said, "Aww teacher we will come visit you!!!!" They are the first group of students I ever taught and they will forever hold a special place in my heart because of that.
The holiday season has been a mix of emotions with being away from home. I have random moments of homesickness but overall I have been okay. I knew that I wasn't going home for Christmas or any major holidays this year and the best thing I can do is make the best of it here and of course skype with family back home which I did and it was so great! This year for Christmas my friend Claire and I went out to eat at this fancy Indian restaurant that has amazing food. Then on Christmas day we went shopping and spent way too much money…but our new clothes and coats are fabulous so it's worth it. We are trying to live up to the Korean fashion and I'd say we are getting closer and closer!
I was able to spend Christmas week teaching all of my students about Christmas and singing Christmas carols! We also made Christmas cards with pop up trees in them. So great. Here are some fun photos of my students during that week!
Last night was our end of year party with my volleyball team. We went to 3 different places…we started off at a seafood Korean BBQ place where I ate all new things I had never had before. Then we went to a second restaurant and ate clam soup and then we went to norebong..which is Korean karaokee and it's amazing. They have these amazing rooms that you rent out and you just sing the night away. We spent the night eating tons of great food and drinking somek…which is soju and mekju (beer) combined. Great combo. They are an amazing group of people and have been incredibly welcoming and kind. I truly feel like we are friends now and I feel comfortable around them. And they are amazing and try so hard to speak English and always include me in the conversations.
Traditionally back home on New Year's Eve night I would drink the night away and go dancing somewhere and cheers and hug at midnight. This year I am planning to hike Mudeungsan Mountain at 3 AM and watch the sunrise! It's a tradition in Korea where many people hike the mountain in the middle of the night to watch the first sunrise of the year. I think it sounds amazing and I can't wait!!! and I think it will be a clear night so perfect to watch the sunrise.
And just because it is the end of the school year…here are some of my favorite memories and pictures from this past semester: