Just 5 touristy things to see and do in Seoul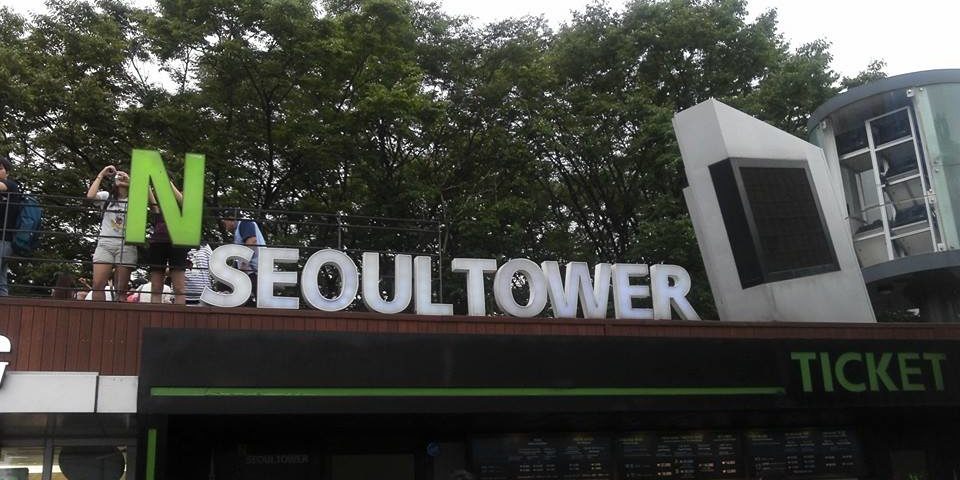 Though we've lived here for over 8 months, last month I found myself as an actual tourist for the first time since arriving in Korea! A friend of mine came to visit and we spent 4 awesome days finding things to do in Seoul which is, unsurprisingly, not that difficult. Here are a few things we managed to check out in the time that he was here and a couple of things I wish we'd gotten to do.
1. Namsan Tower
So if you've ever seen any Korean drama EVER you know Namsan Tower as the place where couples go to "lock their love away" on the wall of key locks, or to enjoy dinner at the top of Seoul Tower late at night (which, by the way, is EXTRA expensive), or take a super romantic
cable car journey up to the top of said Tower for dinner. While our trip to Namsan was absolutely not romantic, there were still a million places to take pictures and eat so big bonus for eatery plus scenery! Also I may have re-enacted a few dramas while we were on the cable car on the way up…I regret nothing.
2. Shopping in Myeongdong
Everyone knows that Myeongdong is the place to go for basically anything you're looking for. Shoes, clothes, food, everyone and their brother is out there seemingly just for you! Why it's great for tourists: There's a ton of cheap shopping and nearly everyone speaks English because, hello, it's in Seoul, and also they deal with so many foreigners a day it's a wonder they're not fluent in at least a dozen languages by now, let alone English. There are also conveniently located currency conversion banks all over the place so even if you don't
plan on eating or shopping (which, why would you not want to do at least one of the two???) you can at least get cash for something else.
3. Gyeongbokgung Palace
This awesome palace is one of 5 beautiful palaces, and don't let the picture fool you, this place is HUGE. Royalty lived in style even by today's standards, and it's always interesting to see the many places modern and and past culture collide. My personal favorite is the picture where you can see the huge buildings in the background through the archway from hundreds of years ago…
4. Han River Ferry tours
So this is one we didn't actually get to do but was something I super wanted to! There are a ton of different kinds  of ferry rides that you can take that take you around the Han River, including one that includes a Magic Show, another a buffet and another that has a live concert as you ride along. You can leave from several locations, Yeouido, Jamsil, and Tteukseom, and you can get a full schedule as well as actual locations here!
5. EATING ALL THE THINGS~!
If there is one things Korea has to offer, it's food, and Seoul is absolutely no exception. My favorite place to get Kimchi cheese fries (They are amazing, absolutely DO NOT knock em til you fall in love with them…) is in Gangnam, but I can chomp down a burger like no other in Hongdae at Burger B. Also literally ANY food in Itaewon is going to satisfy you, but Ben's Cookies on Market Street is one of the most delicious things I've ever eaten in my life. I could give you guys specific locations til I'm blue in the face, but truly you should try the street food anywhere you go. It's cheap, it's fresh, and more than likely if it looks delicious it is delicious.