Six Months Later…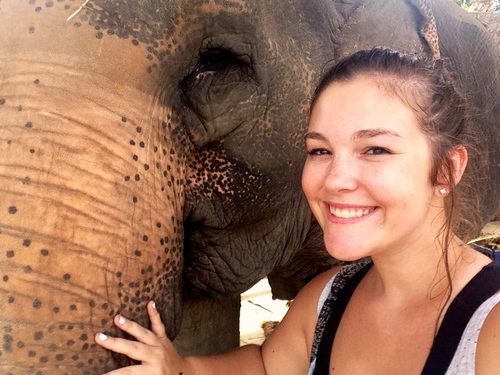 Welp, as of tomorrow I will have spent six months in Thailand, which is actually crazy to me. I know six months is not a long time, it's a drop in the bucket, but time has been flying by so fast. So, in honour of living in Thailand for six months, I have decided to post my six favourite pictures from my time here. They're my favourites for different reasons, every picture has a story, and here are their stories…
Hutsadin is an amazing place, they do such great work rescuing and caring for elephants in Hua Hin. This was a selfie I took with an elephant that is around 80 years old and was such a beauty. If you would like more information about Hutsadin, click HERE for my blog post on them.
I'm beyond obsessed with this picture. I took it from my apartment, I seriously did not use a filter or edit it at all; it was such a crazy beautiful sunset. It reminded me that sometimes we take the simplest things for granted and that just because the sun rises and sets everyday doesn't mean we shouldn't appreciate it any less.
My first time out on Khao San road, which is pretty much a right of passage in Thailand. A night I probably won't fully remember, but if I did, then I did something terribly wrong.
Haeme (He-ma) it means "snow" in Thai. She is such a cutie and a joy to have in class. I came to Thailand to teach not knowing if I would even like it that much, and I have been pleasantly surprised to find that I love it. Life surprises you in the best ways if you're willing to open yourself up to new things, people, and places.
This was from a temple on a mountain across from where I live. Everyday I always saw temple and wanted to visit and finally one day I did. Sometimes being spontaneous pays off, I went right before sunset and the lighting was beautiful, it is now one of my favourite places to visit.
Sometimes I have moments when I realize I live in Thailand and it still amazes me. The best advice I could give right now from my life is to find someone, something, or some place that never ceases to amaze you and to hold on it, because that's true magic, being able to sit in wonder and revel in beauty endlessly.
---