Looking to make an impact in your community? Apply for a Greenheart Service Grant!
Greenheart Grants are funds awarded to Greenheart Travel participants and alumni to use for community development projects in their host or home country. A Greenheart Grant is the opportunity to create, improve, or maintain an impactful, community-focused project abroad or at home. Grant funds could be applied to supporting women's cooperatives, schools, community events, or environmental sustainability projects – wherever you identify the need! Grant winners will be featured on our website, social media, and blog.
Project Criteria
Collaboration
The community should be the catalyst for the project. Community members must participate in all stages of the project from the planning, implementation, and maintenance.
Sustainability
The project should have a clear plan to sustain itself after you leave. The more the community collaborates, the easier it will be to sustain the project.
Positive Community Impact
The project must clearly benefit the community as a whole and not one individual.
Get inspired by our past Greenheart Grant winners and read their stories.
Requirements
Applicants must be a current or past participant in a Greenheart Travel Program and submit all required documents and application details by outlined deadlines below.
Sign up for an account on the Greenheart Club website.
Complete the full application on the Greenheart Club website.
If awarded, the winner must agree to submit photos, a blog, and other documentation of their project to Greenheart Travel to share with our community.
Deadlines
Grants are awarded following three deadlines each year on March 1st, July 1st, and November 1st.
Past Greenheart Service Grant Projects
Alex Oetzell – Bangkok, Thailand
Greenheart Travel Teach English in Thailand alumna, Alex Oetzell, used a Greenheart Service Grant to create a school supply drive for orphans in Bangkok, Thailand, through the Baan Nokkamin Foundation. This was a project she did while also working full-time at a school as an English teacher. Read more about her project here.
Mac Hightower – Medellin, Colombia
As an English teacher in Colombia, Greenheart Travel alum, Mac Hightower, volunteered in a Medellin neighborhood whose residents embody strength and resourcefulness in the face of adversity. Greenheart International awarded Mac a Greenheart Service Grant to purchase gloves and official uniforms for his baseball team, which also include the Greenheart logo!
Jill Swanson and Renee Ormond – Manizales, Colombia
Renee Ormond and Jill Swanson were Greenheart Travel English teachers in Colombia and our 2016 Greenheart Club Grant winners for their Manizales English Olympics project proposal to motivate students to get excited about learning English and putting their language lessons to use. Read more about their project here.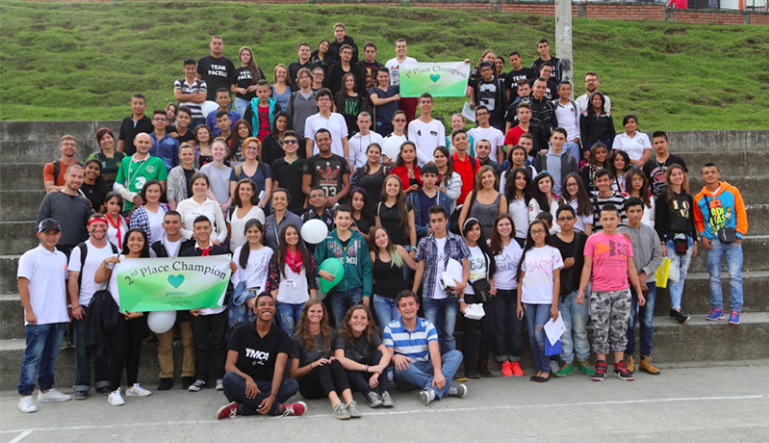 Melony Franchini – Republic of Georgia
Melony was a Greenheart Travel English teacher and was awarded a Greenheart Service Grant to fund a project to replace nine chalkboards in her school in rural Georgia.
Hannah Gwynne – Santa Marta, Colombia 
Hannah was a Greenheart Travel English teacher in Colombia and a 2015 Greenheart Club Grant winner for her Liquid Legacy clean water project proposal to provide students access to clean drinking water in their school in Santa Marta, Colombia. You can read more about her project here.