The Greenheart Travel Atlas is a unique and exclusive guide for you to use before, during, and after your time abroad! We want to ensure that you are equipped with the tools you need to create strong goals, immerse yourself in a new culture and make the most of your experience. Your travel experience will be unique and unforgettable, and the Atlas was created to guide you, encourage you, and help you reflect through each step of the way.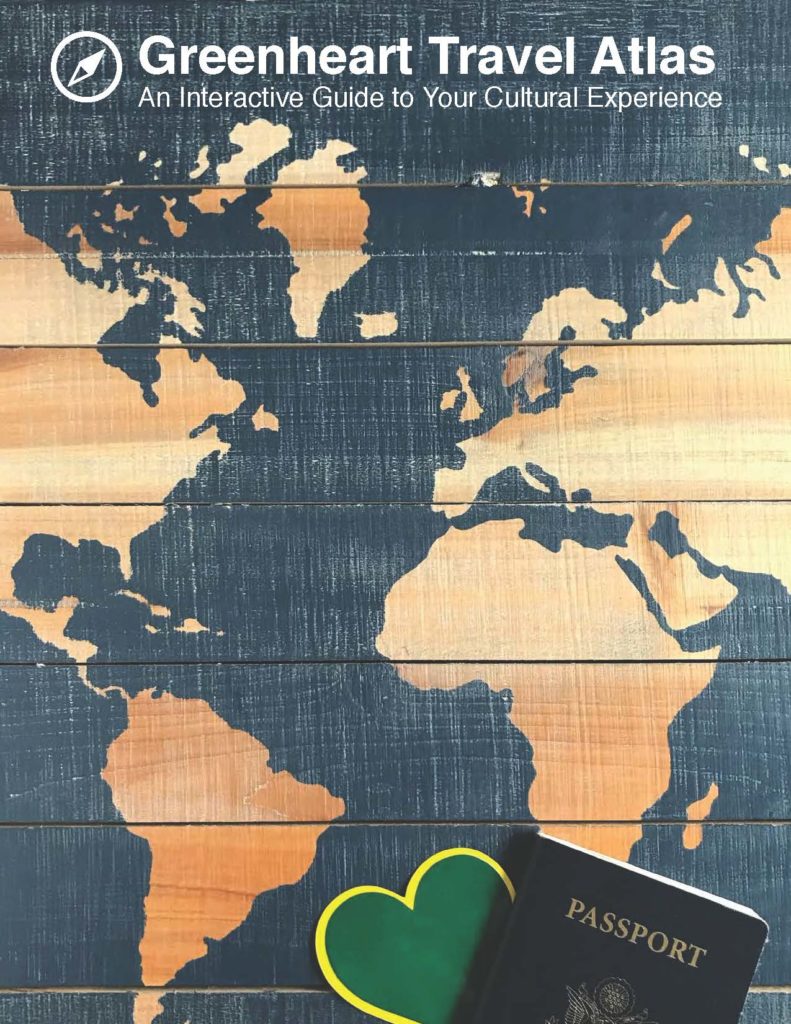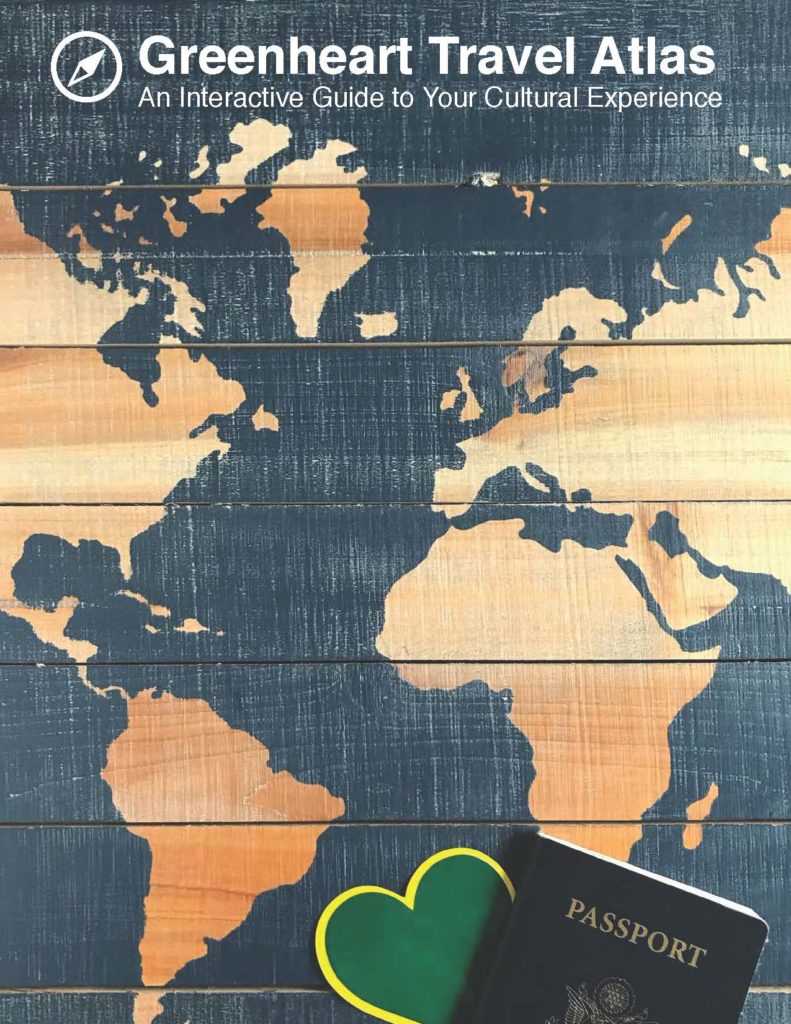 What Will You Find in the Greenheart Travel Atlas?
The Greenheart Travel Atlas is an interactive guidebook alongside five videos where you will find three main topics covered:
Personal & Professional Development
Traveling and living abroad provides life-changing learning experiences that help people to grow personally, and tangible examples for future resumes and job interviews are important to identify as they happen. The Atlas will provide reflection and journaling activities to help you reflect on how you are growing as a person.
Cultural Understanding
As you navigate your new host country you will likely run into things that confuse, anger, delight, scare, or amuse you! All of these new things can be overwhelming and the Atlas provides activities to help you process these feelings and experiences. From dealing with culture shock to putting yourself out there and completing challenges like "eat at a restaurant and order in your host country's language without an English menu" – we'll help guide you through your cultural adventure abroad.
Environmental Awareness
Greenheart Travel wants to provide all of our travelers the tools to explore the globe while respecting the environment and cultural heritage of the destinations they are visiting. We believe that a healthy planet is not only critical in personal health and well-being, but also necessary to create peace and harmony on our planet. The Atlas will provide activities to help you stay aware of your connection with environmental values and the values of your host country.


Greenheart Travel Atlas Activities Include:
Steps to set personal goals for your time abroad prior to your departure.

Tips for navigating culture shock and homesickness at the start of your adventure.

Exercises for successful cultural immersion, environmental awareness, and reflection during your time in another country.

Prompts for journaling and blogging during your experience.

Support and guidance for reverse culture shock when you return home.

Reviews for your personal achievements and tips for incorporating your experience in everyday life after you return.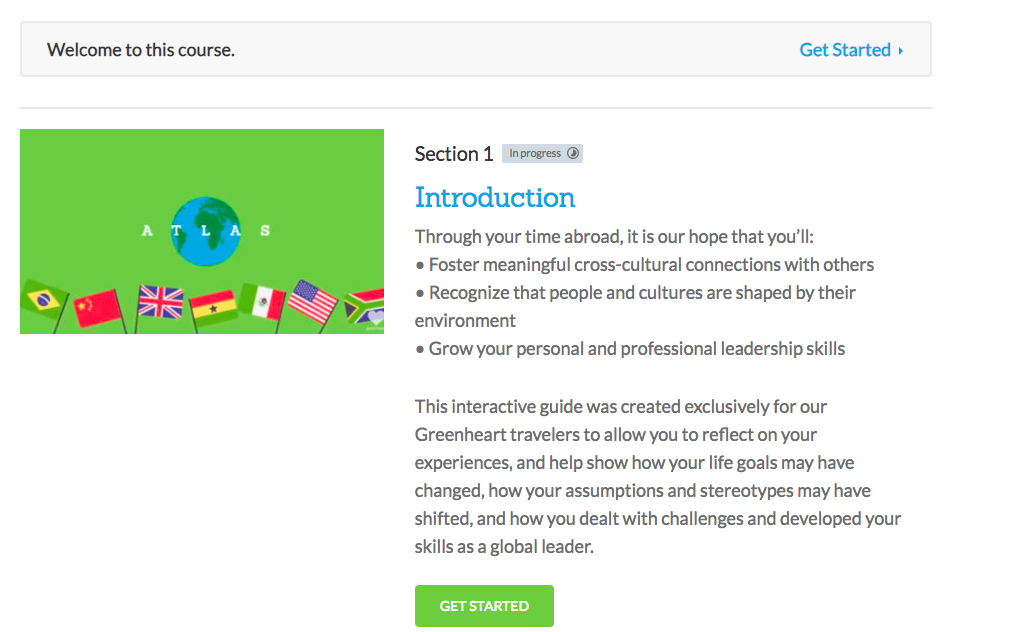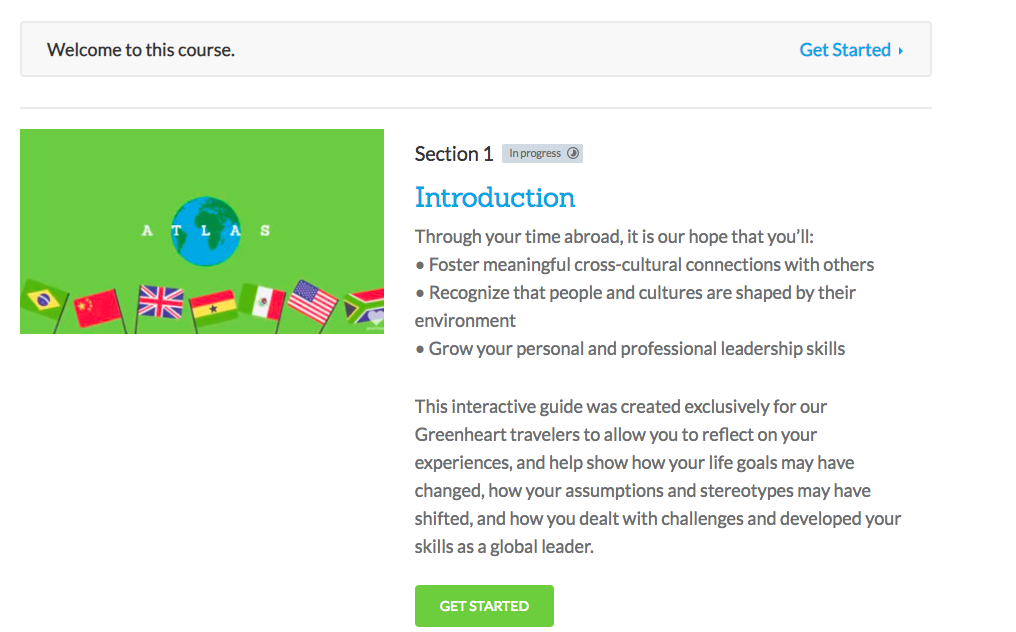 Why is This Beneficial?
Greenheart Travel is committed to traveling for a change, which is why we created the Atlas to help all of our travelers achieve a successful cultural exchange experience. Whether you choose to use the Greenheart Travel Atlas as your go-to cross-cultural handbook or simply as a guiding hand from time to time, this resource will ultimately help you meaningfully engage with the rest of the world to develop deep connections for a truly amazing experience.

The Greenheart Travel Atlas was recognized as a 2019 finalist in Innovation in Cultural Immersion at the GoAbroad Innovation Awards.