Couples Who Greenheart Travel Together, Stay Together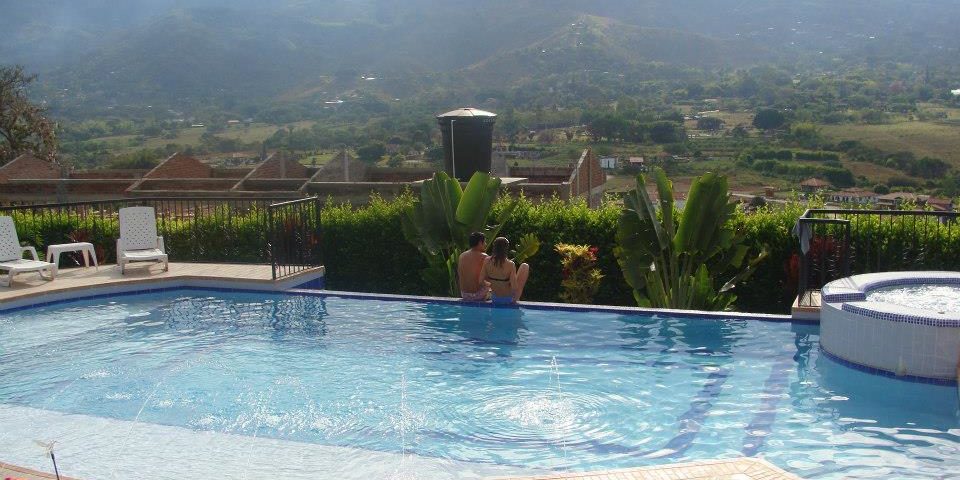 Here at Greenheart Travel we had the idea to highlight couples that have participated in a Teaching English program together or met abroad – because we noticed that many of our participants were choosing to travel as couples, or falling in love abroad! For all of our programs we can work with couples to make placements together or near one another. Here are some stories that prove that traveling with your significant other can be life changing. 
Helena & Rich – Teaching English in Cartagena, Colombia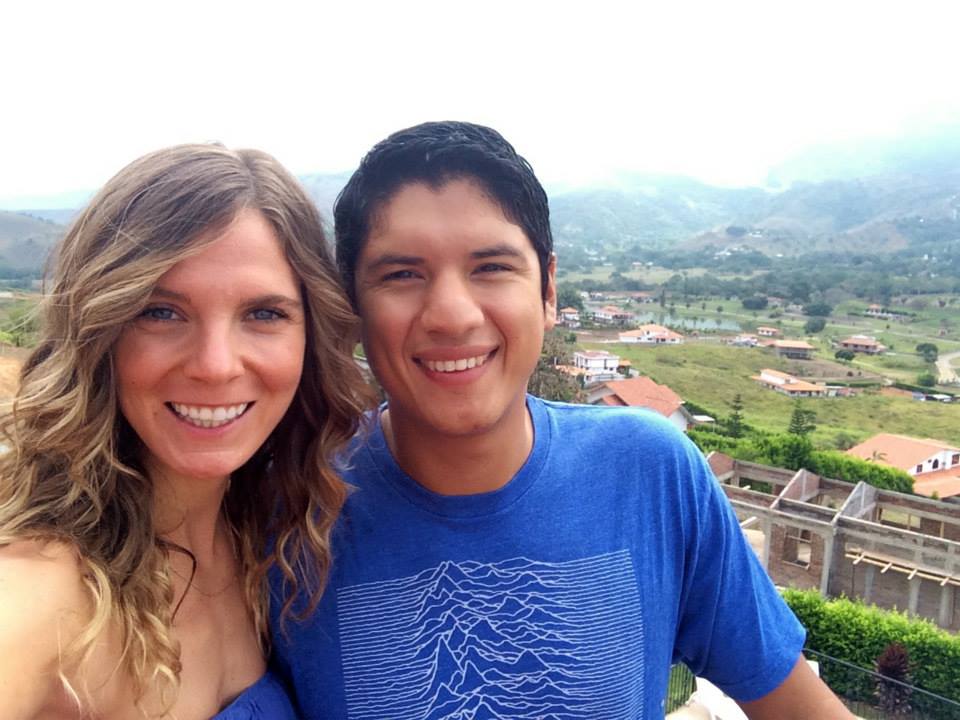 Helena and I were living a cushy, cold life in Chicago last winter. We both had been plugging away at our jobs, happily working 50 hour work weeks. We had great positions at a great company but there was something missing. We would have regular conversations about what we would do next in life. Would we try to request a transfer to a different office/State? Would we try to change roles within our careers? Like most people, you have these conversations but change is hard so nothing ends up happening. That is, until we heard about the Greenheart Travel Teach in Colombia program.
My parents emigrated from Colombia and it is a place I have never had the opportunity to visit. Helena loves to travel so it was something that never really escaped our minds once it entered. The more conversations we had about this opportunity, the more plausible it became. We realized that it was a once in a lifetime opportunity for both of us. For me it was a chance to re-connect with my heritage and volunteer in the country that led way to my existence. For Helena it was an opportunity to challenge herself, travel, learn Spanish, and be intrinsically rewarded from volunteering. And the most exciting part about all of this is that we would be able to do it together.
So with all that being said, we took the leap of faith. We put all of our stuff in storage, took a leave from our jobs, and set out for the Colombian adventure of a lifetime. We were placed and have been living in Cartagena since July. It hasn't been without it's challenges but the good has severely outweighed the bad. And ironically, the most challenging part about this has been the weather. The heat coupled with the 100% humidity makes being dry an afterthought. Teaching on the other hand has been rewarding and fluid. We have both connected with our students and can actively see improvement and growth in their English language skills. Since we have been in Colombia we have visited Bogota, Barranquilla, Santa Marta, Medellin, Cali, Buga and Palmira. We have grown since we have been here and the perspective we have gained has been overwhelming. I would encourage any individual or couple, if able, to take on an experience like this. They would not regret it. We haven't a single day since we have been here.
Jenni & Nick – Teaching English in Daegu, South Korea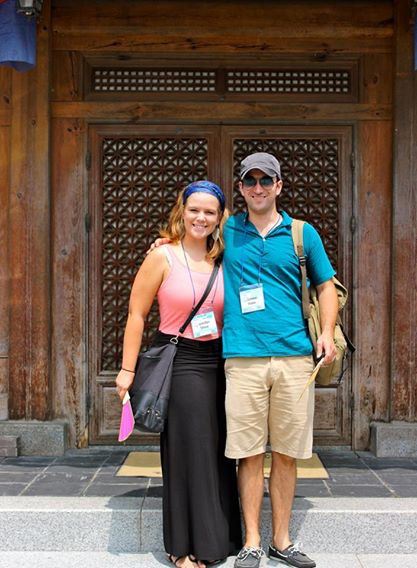 We realize how lucky we are to be here together. There have been many bumps in the road but each challenge has lead us to this unique opportunity to grow in life and love together while teaching English in South Korea.
We met at Marquette University in the theatre department. We were great friends but nothing more than that at the time. After graduating, we found ourselves living in Chicago, falling in love, and forming a new kind of relationship… One that would lead to a conversation about finding perspective in the world and seeking opportunities that would stretch us as global citizens.
We spent a great 4 years together in Chicago, thrilled to pursue lives in theatre and other job opportunities that opened doors to social change, travel, and even "corporate success." We both had opportunities to travel for theatre and work. Unfortunately, our relationship suffered from long distance miscommunication. We found ourselves in a very real, very raw break-up.
But when the time came, we found each other and began having those conversations again. This time though, the tone was very different, knowing we couldn't be apart. But also, there was more we needed from life than what we set ourselves up to do. With one simple Google search of "Getting paid to travel the world and make a difference" we found ourselves applying to teach with the EPIK Program in South Korea.
It wasn't that life at home was lacking (at all). Rather, we knew we wanted to explore, find perspective and make a difference in the lives of those we met. We had strong motivation to push ourselves into unknown territory because as great as everything was at home, we didn't want to look back someday and wonder, "What if?" That's a question we both want to avoid asking because that very simple question is almost always connected to feelings of regret. Regret that a life challenge wasn't accepted. Regret that an opportunity to grow in new and unexpected ways was missed. Regret that the unknown wasn't tested and explored. We didn't want to feel that regret. The most important thing we're discovering is that it's not easy to avoid asking, "What if?" It takes commitment and a willingness for us to step back and ask if we're making "easy" choices or if we're making choices that may push us outside of our comfort zones but ultimately make us better people. One month in, we are thrilled to be in Daegu together, meeting like-minded friends, devouring every delectable bite of Korean culture, and ready for whatever adventure comes our way. An experience like this will have its ups and downs. We're just happy we get to do it together.
Alisha & Shakira – Teaching English in Phang Nga, Thailand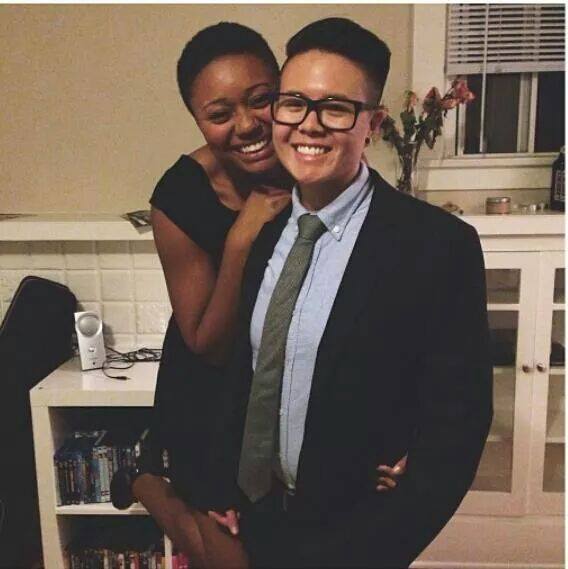 We had actually just started dating when Shakira decided to apply to the program, so the decision for us to move to Thailand together was pretty last minute. When it came down to it though, we both enjoy traveling and the opportunity to help fund our travels was just too perfect to turn away.
We decided on the TESOL program in Thailand.  There were a few factors that influenced our decision.  The first was that the program in Thailand offers the in-class TESOL course which we can use to teach in other countries.  It really appealed to us that the course is done in-class and not online because neither of us had formal training to be a teacher, so it gave us some extra reassurance.  The second was salary versus cost of living.  Thailand offered us a chance to save some money whilst living comfortably.  The third reason is something that we had to discuss a lot.  We had to be in a country where being visibly queer wouldn't cause any problems.
Although it's been a huge adjustment , it has been a wonderful experience so far.  We have encountered everything from the wonderful to the strange and are expecting much more to come.  The people here have been nothing but nice to us, and we are continually grateful for that.  We are glad to be sharing this incredible experience with each other and to have spent our 1-year anniversary here in Thailand.
Maria & Matthew – Teaching English in Daegu, South Korea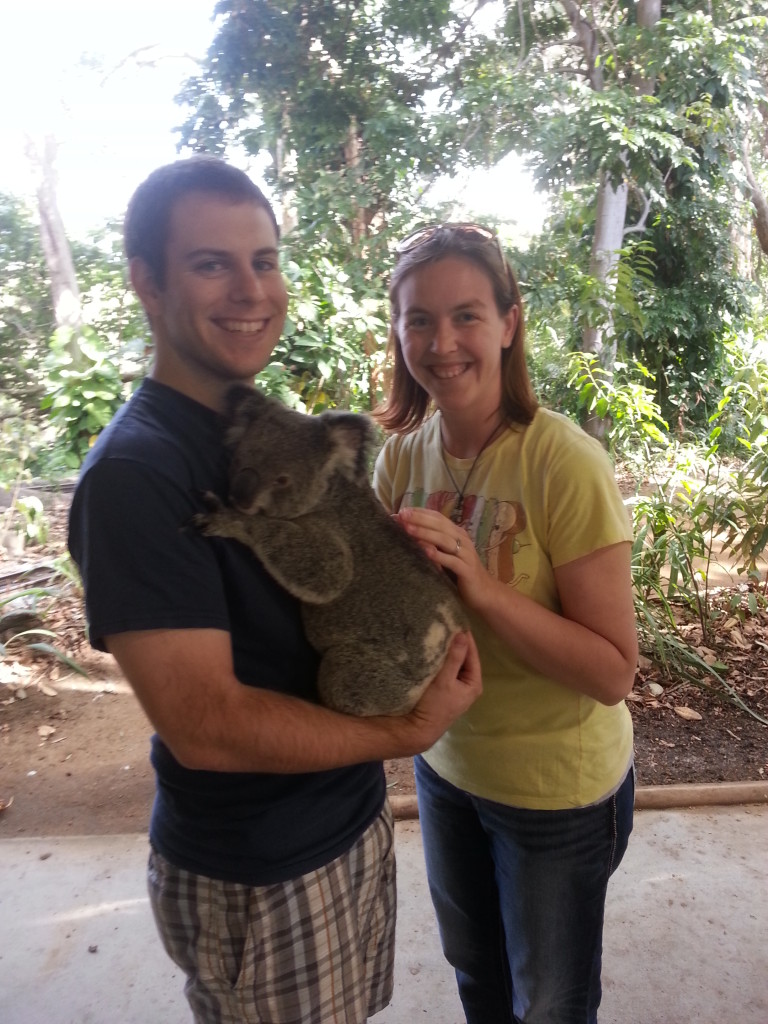 My wife and I were working something like 5 or 6 jobs between us in Chicago, trying to make ends meet and pay back student loans. We just couldn't gain any traction. Everything was temporary or seasonal. We lost 3 jobs between us in 3 years. It was a really not fun time.
Then my wife decided to do a little research on teaching English abroad. I told her I was open to the idea but really I just wanted to go home to Ohio where it was cheaper to live and allegedly easier to maintain even the simplest standard of living. After some careful research, she discovered the EPIK program through Greenheart Travel. South Korea would offer us a free place to stay, health insurance, two weeks paid vacation, and a steady salary. East Asia was never high on my list of places to visit, but those benefits were hard to ignore. I told her "let's go for it" under one condition: if we go to South Korea, we are taking a vacation to New Zealand, the number one place on my list.
We just started our second year in Daegu this past August. On top of the aforementioned benefits, we both have only one job within walking distance of our apartment. We're on the same schedule, so we get to see each other a lot more. I have lots of free time to pursue hobbies like writing. We have a close circle of friends from all over the world. We get to sight-see around Korea, it being so comparatively cheap and easy to get around. We've been to Japan, Australia, and briefly Malaysia.
And I just bought tickets to New Zealand two days ago. Life is good.
Candiss & Eric – Teaching English in Gyeongbuk Province, South Korea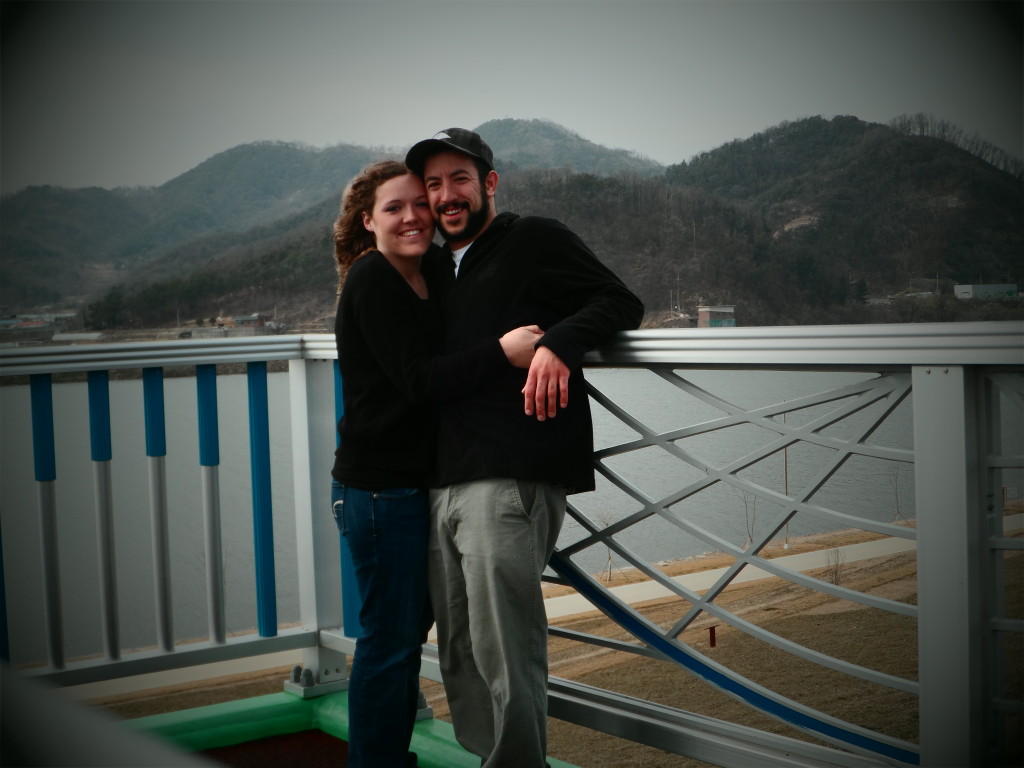 Mid July, 2012.  Caravan of Thieves was playing a local concert at park, which sits a stone's throw from Lake Michigan.  The music had my undivided attention until I pan right and saw a girl I went to school with and haven't spoken to in a few years.  She was with her cute friend, who I also recognized from years back.  I chose to play ball, called them over, made a bit of small talk, and invited them to a nearby Irish pub, where talk continued.
A few open mic nights and long bike rides later, and I realized just how well I played my hand that night, because we soon became official. However, there was still the obstacle of the future.  I didn't have anything solid, and when she told me about teaching English in Korea, it sounded (and still sounds) too good to be true.  And for a second time during those first few months, I disregarded odds and chose to play ball.  A matter of months later, we got accepted.
We are currently in our second year in the English Program in Korea (EPIK), and teach abroad program which we applied to through Greenheart Travel. Before and during the application process, Greenheart Travel helped clear up our confusions and apprehensions about traveling abroad.  Because they have been so helpful, we have also chosen to apply for another Greenheart Travel program in Colombia next summer. We are beyond excited to continue our adventures traveling together!
Have you ever moved abroad with your significant other? Tell us about it in the comments!
Also, be sure to check out our first group of featured couples abroad by heading here.