Celebrating a Successful English Olympics Event in Colombia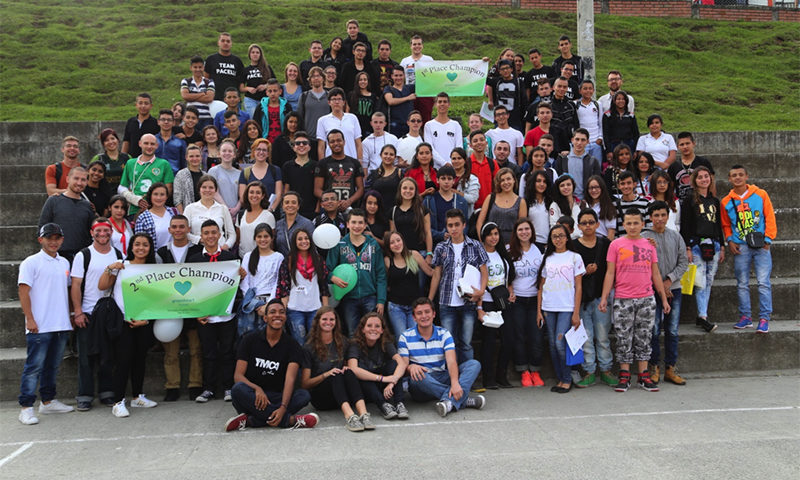 by Renee Ormond, Greenheart Travel English Teacher in Colombia and Greenheart Grant Winner
Coming home from the English Olympics utterly exhausted and desperately wanting a nap, but being too jazzed to fall asleep was absolutely one of the strangest feelings I have ever experienced during my time here as an English teacher in Colombia.
Jill and I (we're the ladies sitting in the front in the photo above) sat down at our favorite neighborhood coffee shop to discuss our overall impressions of English Olympics because neither of us had had much time to digest the previous day's events. With overwhelmingly positive responses from the students and all the volunteers who had participated, we sipped our coffee in a sort of dazed contentment.
It hit me then that we had achieved exactly what we had set out to do about 5 months ago. We motivated our best English students and were able to show them practical applications for their hard work. Many of them described the event as "unforgettable" so much so that many our fellow co-teachers in Manizales told us that their students were asking them when the next event would be and how they could start preparing for it.
This sort of wide spread motivation is almost unheard of here in the public schools, so as our coffee cups slowly emptied we mused about ways to use that motivation inside and outside the classroom. Hopefully, we thought, with many more events to come.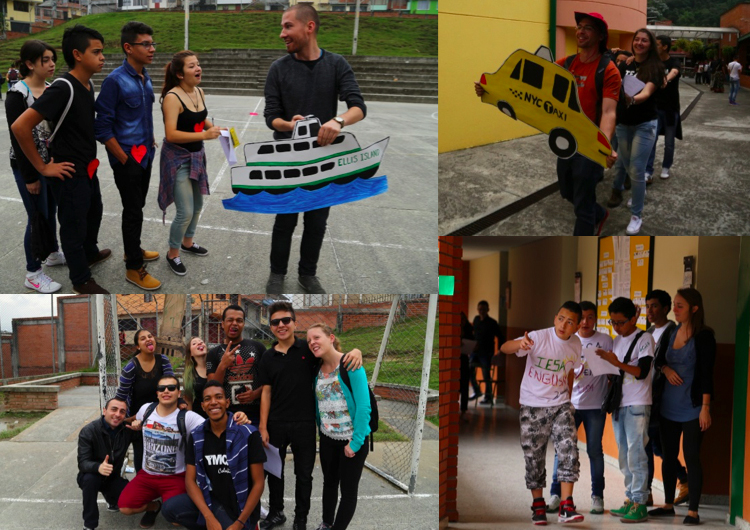 The event itself went off literally without a hitch. Our main event, Navigating New York was a simulated New York City set up like a group scavenger hunt. It had many different tasks a normal New York tourist would have to do in their day to day sightseeing.
It took our students imaginations to new heights, showed off their resourcefulness and was absolutely a blast to see 80 Colombian teenagers running around taking taxis, taking pictures at the Statue of Liberty, asking for directions in English, bargaining with the hostel check-in clerks, reading subway maps and haggling over who got to buy the last coveted box of Kraft Mac and Cheese. One student brought out actual Colombian Pesos in his attempts to secure the box for himself. It was a great way to start the day.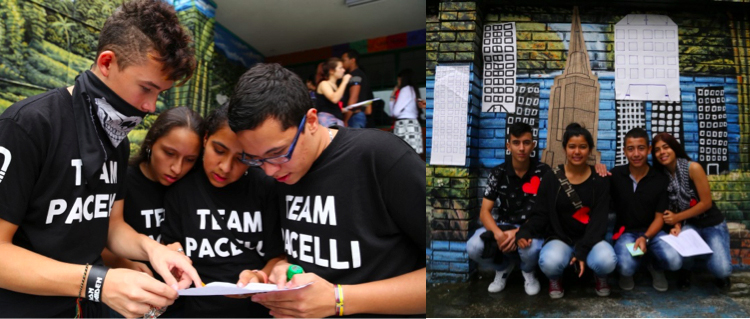 After our simulated New York City we had 4 guest speakers, all Colombians who use English in their everyday lives and have used English to travel, meet their significant others or used it to be successful in their careers. These guests were one of the highlights of the event for most students; all 8 of mine, for example, were late to lunch because they were too busy asking questions.
I myself have never known a teenager, let alone 8 teenagers, to willingly forego eating just to ask a stranger about their life, but it happened.
We also had individual competitions for writing, speaking, listening and art. These were specifically designed to cater to the students' strengths and their knowledge. These competitions really allowed the students to get competitive and I saw many of them in the hallways practicing their speeches or bent over their art work in utter concentration.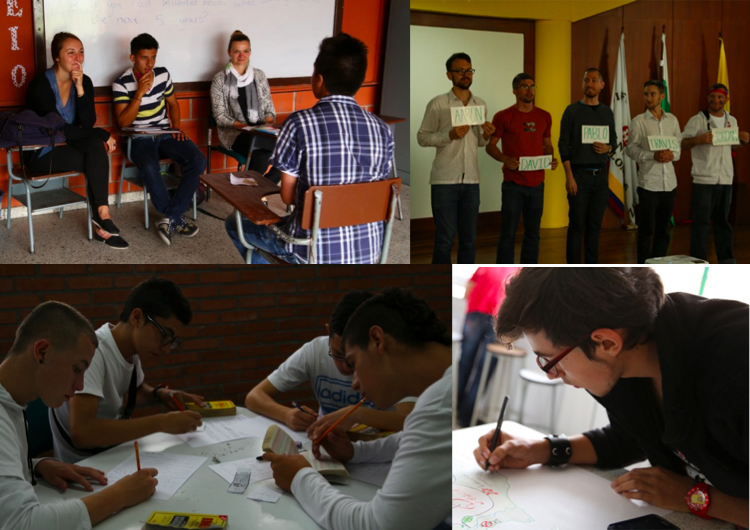 What followed the individual competitions was personally my favorite part of the day. We are uniquely fortunate here in Manizales to have teaching fellows from 11 different countries around the world. With 6 of these countries we set up what we called 'cultural classrooms', where we had all the students rotate and "travel" to all of these countries.
They participated in a cultural activity and learned about each individual culture. Our students went to Romania, Pakistan, Ireland, India, the United States and New Zealand and for two hours were immersed in another culture. I had the opportunity to spend a few minutes in each classroom and was happy to find the students enthralled with henna tattoos, traditional Romanian dances, American pop culture, language demonstrations, Irish dancing and traditional Maori greetings. It was too cool for words.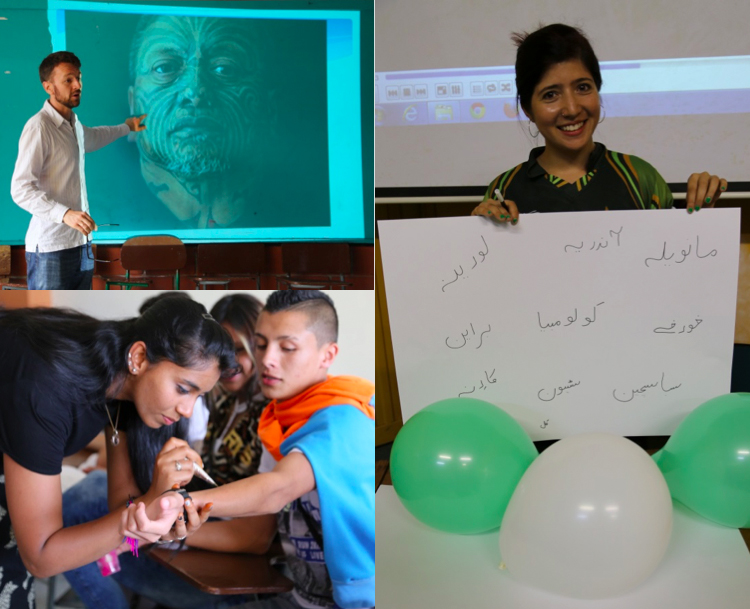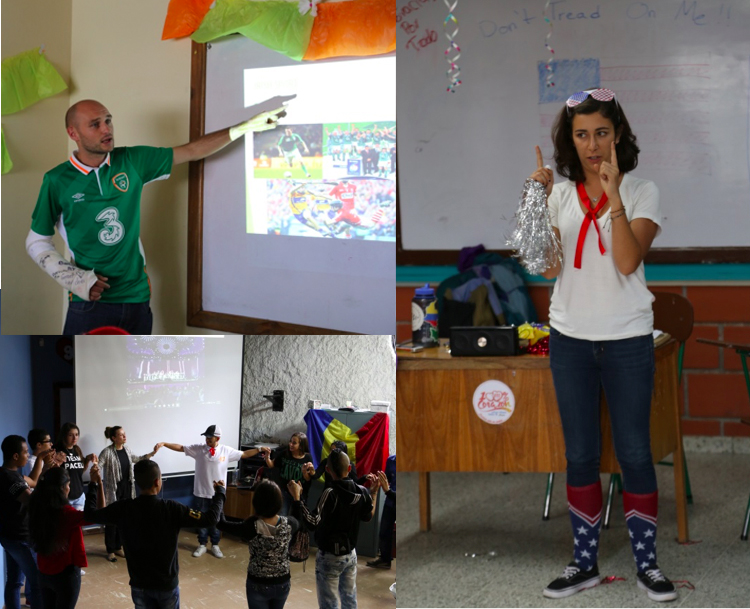 As I write this, I can't help but be thankful for all the help Jill and I had putting this event together. It ended up being something truly spectacular and something absolutely new for our students. We would like to thank Greenheart for making this event possible and all of the volunteers who gave up 8 hours of their Saturday and more to help us. We truly couldn't have done it without you.
It's really magical how a small idea can turn into something unforgettable with a little bit of hard work. Most of all Jill and I would like to extend an invitation for anyone who is interested in putting on their own English Olympics to contact us, we'd love to help.
Love, from the coffee region of Colombia! Next time you brew up a cup of Colombian beans, think of us and our students.
-Renee
Renee Ormond and Jill Swanson are Greenheart Travel English teachers in Colombia and our 2016 Greenheart Club Grant winners for their Manizales English Olympics project proposal to motivate students to get excited about learning English and putting their language lessons to use.
Learn more about our Greenheart Grant opportunities!