Why Choose Greenheart Travel?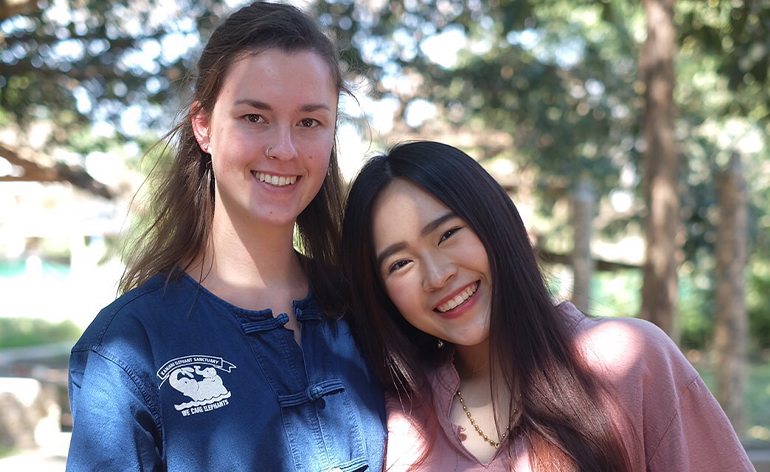 We know that there are many ways to go abroad and program providers to choose from. So you might be thinking, "Why should I pick you?" First of all, good for you for doing your research. It's important to thoroughly look into any organization you commit to working with.
You won't hear us call a country "paradise" or try to sell you a fantasy. That's not fair to you or the destination. Instead, we pride ourselves on being real with you. There will be great days while living abroad, but there will also be challenges, and we're not doing our job if we don't prepare you for them. We're transparent about workload, accommodation, and costs because no one wants to feel mislead, especially halfway around the world.  It serves no one to set travelers up for disappointment, our business would crumble!
As a nonprofit, we keep program fees as low as possible without skimping on safety or comfort. We want everyone to be able to afford to travel, but there are some areas where you get what you pay for. For example, you want your program to include travel insurance.
But hey, you don't have to take our word for it. Here's why Greenheart Travelers chose us:
"Greenheart Travel appealed to me because the program offers so much, especially to first time travelers. As someone who has no idea what it's like to travel internationally, I love that Greenheart Travel helps you find a job, housing, set up a bank account, cell phone, etc. The list goes on, which makes me feel a lot less stressed and a lot more safe in my travels. I also loved that they had so many options of places and programs depending on your age and what you're looking for. It was nice to know that I hadn't missed my opportunity to travel abroad because I'm out of school and that others are looking to do the same."  
-Sammi Alexander, Work Abroad New Zealand 
"I chose Greenheart Travel because they seemed to be the most efficient study abroad program. When I first spoke with Jessica over the phone, she was incredible and made me so comfortable in order to make this big decision. I am so glad I have decided to go abroad with Greenheart Travel!" 
-Jolie-Anne Brosseau, High School in Spain 
"I chose Greenheart travel because of the excellent reviews, reasonable prices, and very helpful staff." 
-Madison Schuler, Teen Summer Language Camp Japan 
"It was pure luck that initially brought me to Greenheart Travel. The more I looked into their programs and blogs from past participants, I realized how much they cared for and supported their travelers. I believe in Greenheart's philosophy on travel, that it is a way of life and not just a mere activity. Their mission to change people's global perspectives through travel really resonated with me, and I knew I would get much more out of the experience than just a stamp in my passport." 
-Amanda Voyles, Marketing Internship in Thailand 
"I chose Greeheart Travel because they offer a lot of opportunities for youth to travel and also watching past travelers explain their experience, they seemed to appreciate it a lot." 
-Jovany Schulable, Volunteer in Puerto Rico 
I chose Greenheart Travel because I really liked the idea of taking language classes while immersed in the country. This will allow me to ask questions and learn the rules of the language while experiencing it first-hand. I think Greenheart is a program that will work well to further develop and improve my skills. 
-Eli Harold, Teen Summer Language Camp Spain
I chose Greenheart Travel because of the reviews I had read online, as well as the information I found on their website. I resonated with their mission and the tone everything was written in. The site is very informative, but the tone is casual and comforting, which stuck out to me as a nervous first time solo traveler. It made Greenheart seem more approachable. Point blank, I got good vibes.  
-Lin Nguyen, Teach in a Homestay France 
Greenheart Travel was the perfect marriage of everything I was looking for in a travel program. The timeline of my adventure is catered to what I'm interested in and what works for my schedule. Also, every team member I've been in contact with has been nothing but friendly and helpful. 
-Emmie Dohse, Teach in a Homestay France 
"I chose Greenheart Travel because I love that this organization brings people together. Moving to a new country to live and work by yourself is extremely exciting, but it can also be a bit scary, and I appreciate that Greenheart eases some of those worries immediately when you arrive in the country and meet the other travelers in your orientation! It sounds like an amazing program and first week to meet new people before you make the big transition to fully being on your own. I also believe in their mission of traveling for new perspectives and challenges, and I am really looking forward to being a part of the Greenheart family and traveling for change!" 
-Rachel Tomasello, Work and Travel New Zealand