Studying in Spain is Exhausting and Rewarding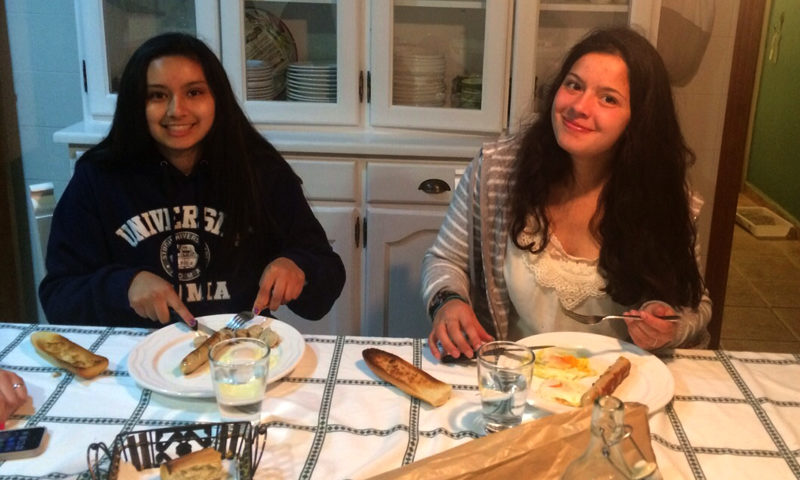 Have you ever gone running while it's windy outside? Not during the winter where it's frigid but on a fairly warm day. Sometimes the wind is really helpful, it pushes you from behind and blows into your face to cool you off. But then you'll turn a corner and it whooshes into your ears, making every step a little more difficult. That's sort of what living in Spain is like. (A quick apology if you're sick of my extended metaphors). It feels like a long run in the wind. It's exhausting at times but with every step it's more rewarding. And the wind can be a struggle but it can also be exhilarating.
I've been in Spain for over two months. Today someone even rounded up and said three. That threw me for a loop, me? Here? It's already been almost THREE months! Three seems a lot longer than two, but April has been flying by. March ended with vacation. It was well deserved as there's no February vacation here. It was also Semana Santa. For those of you who don't know what 'Semana Santa' is, neither did I.
Right before we all went on break my class had a bit of field trip. My gym class walked to Berlanga. Berlanga is a town over ten kilometers from my school. We left during first period and walked. We trekked along paths through farmland and forest. Of course, it was unusually cold that day so we stuffed our hands into our pockets the whole time. But we joked around and talked, some kids had brought small speakers and played music from their phones. At the end of the walk I was surprised to find a zoo! Kids fed the ducks bits of their sandwiches and I got to see Emus and Peacocks. We relaxed for a while in park before taking the bus back to Azuaga and walking to our homes. Just in time for lunch! I asked why exactly we were walking to a town during a school day. They told me it's just part of the physical education program and they walk somewhere every year. Since walking to Berlanga, we've gone on various walks through Azuaga during class.
The first Sunday of vacation my host mom instructed me to go to the end of our street to watch it around 11 a.m. So I did. Now, processions are sort of hard to describe. First there were people walking along in floor length robes, followed by more people, of all ages and genders, walking in the same type of robes but different colors and they had a cone mask on. The best way to describe these masks -and I apologize in advance- is that they look like KKK masks.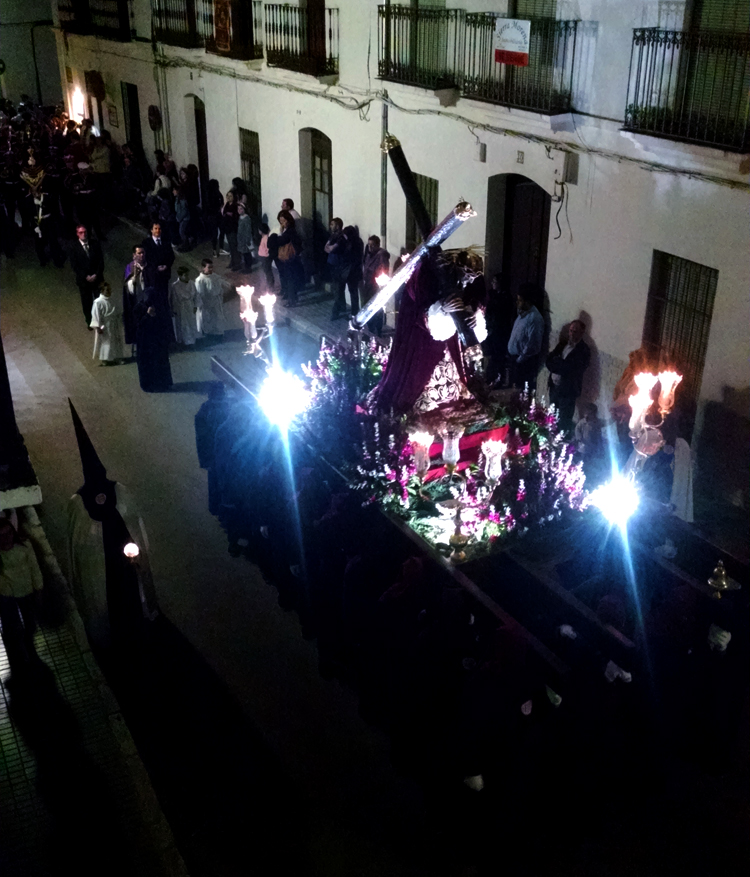 This is followed by the town's band who was always playing. Songs that leaned to the side of somber. Then there were these models? I'm not sure what to call them but in Spanish they're called 'Pasos de Semana Santa.' They're essentially wooden platforms with a Jesus or a Mary (Cristos and Virgenes) on them and lots of flowers. Underneath the model a group of fully covered figures carry it on their shoulders. There were lots of processions! Sometimes more than one in a day. The colors of robes varied and the models carried. Sometimes the processions were late at night until early in the morning, marching all around town, other times they took place in the morning. The processions were a bit chaotic to my foreign eyes and confusing. Also (at times) almost frightening.
Vacation was great. The weather was really beginning to look up then and we have lots of sunlight. I spent afternoons and nights with friends from school. A former exchange student visited Azuaga and we had a great time chatting about the culture from our perspectives. And speaking English! I spent a total of three days in the countryside. One day I went with friends to where lots of teens were camping out and the other two I went with my host family. My last day of vacation we visited Córdoba. It was such a beautiful city!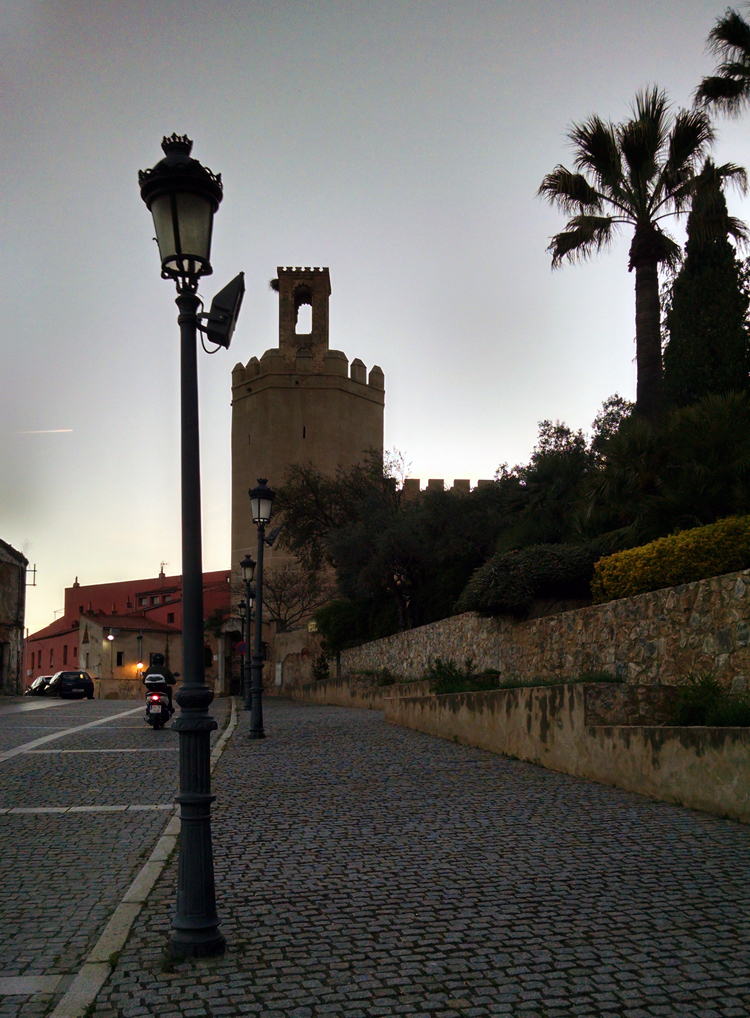 We stuck to the shopping area mostly, the streets were wider there as they usually are in the newer parts of cities. I didn't get a chance to do a lot of sightseeing but I'm hoping to visit again. There was also plenty of trees! Which I definitely approve of. And then vacation came to a sad close with the start of classes again. Although vacation was very funny with plenty of time to relax it was a little stressful. In traditional Spanish sense things were not on a schedule and plans were never given much thought. More than once I received texts saying "let's go" or my personal favorite, "come outside, we're here." I suppose all teenagers are bad at planning but being a foreigner just adds a little bit of stress to the situation. I read once that when you go on any vacation you're a bit stressed just from having your routine broken, I guess that really rings true here.
This past weekend I was given another great opportunity. I went to Badajoz! I visited another American girl, Christina, who's in the same Greenheart Travel program as I am. We met in Madrid when we arrived in Spain and have kept in touch since then. I took a bus through the green plains and arrived there Friday night. Christina met me at the bus station and we got right down to business. Our first stop was to get Churros.
When a weekend begins with Churros- or involves churros at all- it's usually a good sign. We walked around the city Friday night, burning off the churros and exploring. On Saturday afternoon we went to a huge mall called "el Faro." We bought cheap shoes and clothes and there's a fountain there that can drop water to spell stuff. We took a bus back to downtown and visited Plaza Alta, a beautiful and delicious bakery and got ice cream. The residents of Badajoz (and through most of Extremadura) are extremely nice and always willing to give directions. On Sunday I took the bus home but not before taking a walk with Christina to a huge field of flowers. It was a sea of purple, yellow and white, absolutely gorgeous. I took lots of pictures but we didn't enter the field as you can hear the buzzing of hundreds of bees from the path. It was an amazing weekend and now we're planning for Christina to visit me so that I can show off Azuaga.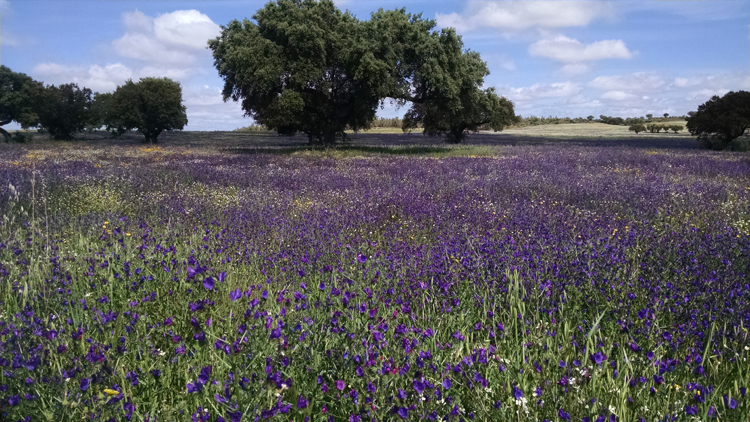 My time in Spain is going by fast. I sometimes forget to step back and realize it. I try to take things day by day and so looking back nearly always surprises me. Now, I'm working harder than ever to juice everyday before I'm in my last days. The first month it felt like I was going to be here forever and now it feels like I could stay here forever. Spanish is always on my tongue. Even when I should speak English it sometimes slips out. That's a good thing though. The days are getting even longer with each passing week and the weather is becoming reliably warm. I still go running everyday, echoing the metaphorical run that I'm doing at the same time. And just like the nice breeze,my runs always show me something I haven't noticed before.