48 Hours in Ragusa, Sicily: What to See and Do During Your Homestay Program in Italy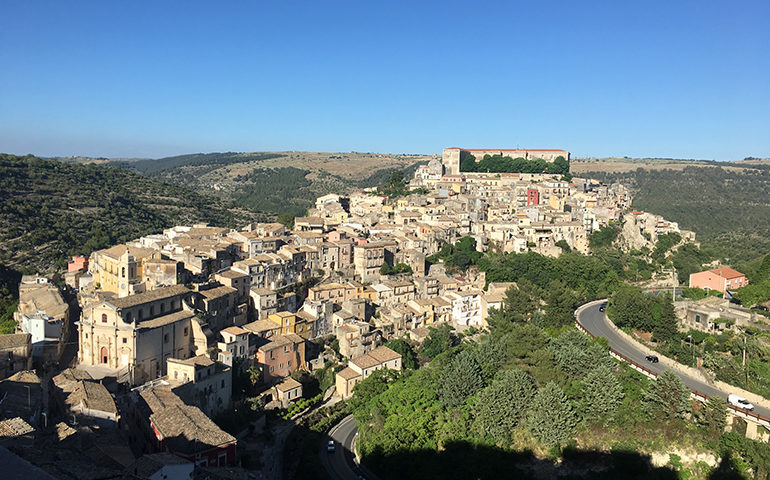 Are you looking for a unique place to teach abroad, or a perfect weekend getaway while traveling in Italy? Abby Marotta, Greenheart Travel teacher in a homestay in Italy, insists you visit Ragusa, Sicilia!
I'm willing to bet that you have never heard of Ragusa, Sicilia. Am I correct? Ragusa is the home to many historic churches, incredible restaurants, and the happiest people in the world. The people here say that they are so happy because there is always sun!
The best way to describe the weather is like Arizona in the spring time, but with a light sea breeze like Hawaii. Every area of Sicilia has cacti, lush fields of fruits and vegetables, and vibrant flowers.
When you visit Ragusa, it is important to know that there is a fine distinction between:
Ragusa
Ragusa Ibla
Marina di Ragusa
The best time to visit is between May and July because the weather is perfect, and many important festivals happen during this period.
Ragusa Ibla: A UNESCO World Heritage Site
Ragusa Ibla is the historical area of the city, and has been named a UNESCO World Heritage Site. It has everything – a plethora of beautiful churches, public gardens, shopping, and restaurants. The main churches of Ragusa Ibla are San Giuseppe and Santa Maria delle Scale.
The local people have an enormous amount of pride in their local patron saints, so it is important to visit the churches and learn about the history of each saint. Outside of the important churches is a beautiful public garden where locals go to relax, and the children play.
While you are in Ragusa Ibla, take the train tour offered by the locals to experience the best views of Ragusa, and to learn more about the history. Besides the history that you will learn on this tour, you will also experience the crazy Italian driving!
The streets of Ragusa Ibla are beautiful, but extremely narrow, and somehow the locals can squeeze their cars into them. If you visit Ragusa at the right time, you can experience the grand celebrations of the local saints, where people gather in the main square to watch men carry a large replica statue of the saint out of the church. The celebration is complete with fireworks, music, and food (of course).
The Residential Area of Ragusa
Ragusa is the residential and outer areas of the province. There are beautiful views of Ragusa Ibla from the outskirts of town, and it is situated on the top of a large valley. Ragusa has its own patron saints, which are San Giorgio, San Giovanni, and San Bartolomeo. You MUST visit the cathedral of San Giovanni to experience its incredible beauty.
If possible, it is important to visit each church because of the unique architecture inside of each of them. In August, Ragusa has the celebration of San Bartolomeo, and my host father helps to organize the event!
Click this link to watch a video of the celebration of San Bartolomeo!
The festival of San Giorgio happens during the last week of May, and it is very similar to the other celebrations. Besides the main festivals for Ragusa, you should take time to try arancino in a restaurant, visit the shops to see traditional ceramic art, and stroll through the narrow streets.
Marina di Ragusa: A Popular Coastal Spot
Marina di Ragusa is the coast of Ragusa, and it is my favorite place to go! It is one of the few places in Sicilia where you can find English speakers. This area is popular for tourists, so some of the locals have learned basic English to better serve visitors.
Marina di Ragusa has everything that is important – the sand, the sun, and gelato. While you enjoy gelato or granita, you can walk along the trail next to the beach, or you can relax in the sand. The central square of Marina di Ragusa is full of life during the evening. The locals take a long walk, stop for apertivo, and then go to dinner.
For the best granita, gelato, brioche, and sweets, my host mother recommends Caffe delle Rose. She took me to this caffe during my fist visit to Marina di Ragusa to try granita – it was the BEST!
Ragusa is famous for granita, and the only true granita is in Sicilia. The best way to enjoy granita is by dipping brioche bread into it.
Local Life in Giarratana
The best place to experience traditional, local life is to visit Giarratana. It is a 15 minute drive from Ragusa, and it is where my host parents grew up. My host father's parents live here, and I have met many local people.
Giarratana is famous for their large, white onions, and they have festivals to celebrate their harvest in July! This town also has great bars for apertivo, amazing gelaterias, and beautiful farmland. Regardless of what you choose to do, say "Ciao" to the locals. With one smile, they will welcome you to become a part of their family.
Try the Food in Ragusa and Your Life will be Changed
To truly experience Ragusa, and Sicilia, you must try the local food. Food is an essential aspect of Siciliano culture, and the locals pride themselves on their fresh, unique food.
Arancino is the most famous food of Sicilia, and it is delicious anywhere that you try it. Ragusa is known for their almonds, so try almond (mandole in Italian) granita or gelato when you have the chance!
Also, any seafood that you eat will be the freshest you will ever have. I recommend eating at any restaurant in Marina di Ragusa! Of course, you should also try the pasta, pizza, and every type of cheese that you can fit into your stomach. Your life will be changed!
After 48 hours in Ragusa, you will leave with a new appreciation for the kindness of the Siciliano people, and a very full stomach.
Well, are you ready to book that ticket and live like a local?!