Alumni Spotlight on Abby Marotta: Making Her Dream to Teach and Travel in Italy a Reality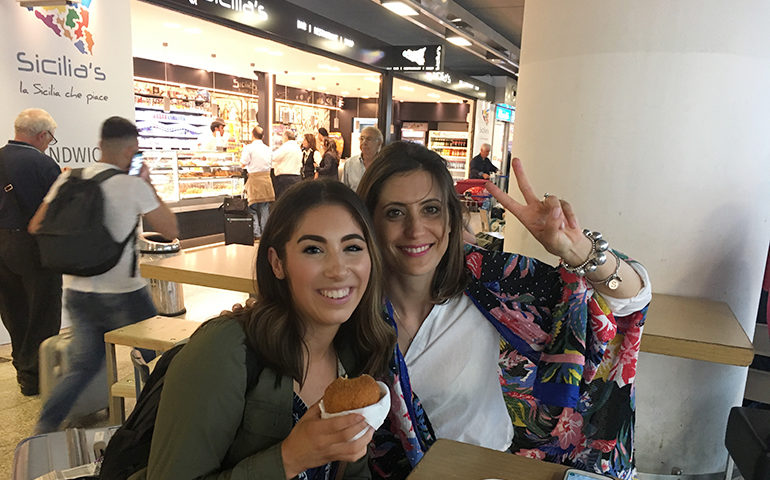 We had the chance to catch up with Greenheart Travel alumna, Abby Marotta, who recently returned to the United States after teaching English in a homestay in the region of Ragusa, Italy, for two months. Immersing in Sicilian culture had always been a dream of Abby's since she was raised in an Italian/Sicilian household.
In this thoughtfully candid interview, she touches on the strong connection she felt right away with her host family, and on how her experience teaching abroad has helped shape her personal and professional goals. She also offers some fantastic advice for anyone interested (but perhaps a bit nervous about) living and teaching English to a host family. Read on to learn more and be inspired to teach abroad!
It's fantastic that you took the time to travel and live in Italy teaching English in a homestay. What inspired you to travel to this country and live with/tutor a host family?
I was inspired to do a homestay abroad because it had always been my dream to travel to Italy, but I wanted to go beyond the tourist experience. I am passionate about serving others, and I wanted to have the opportunity to truly immerse myself into the culture. A homestay abroad allowed me to accomplish all of my personal goals for traveling abroad, and I was able to do it in a country where I have family heritage!
Often, the biggest question we get is what it's like to tutor English to a host family. Can you share a bit about your experience tutoring English and advice for future homestay teachers?
Future teachers should expect to live a "normal" life with your host family, but simply in a different country. Days with my host family were busy, and I tried to find every opportunity to teach them English. I went to the grocery store, the mall, to work (occasionally), and to run errands with them to create as many opportunities to speak English as possible.
Going to any public place with my family was fun because people were extremely curious about us! It was interesting for Sicilians to hear English, and they would ask questions to my host family about me, and the experience of hosting someone. Future teachers should expect to be treated as a member of the family because the people who host are incredibly welcoming and overjoyed to have you!
My advice to future teachers is to consider your upbringing, and your family heritage. I strongly feel that a homestay experience is more meaningful when you have a connection to the location of your placement. I was brought up in an Italian/Sicilian family, so it was much easier for me to adjust to the cultural expectations and behaviors of Sicily.
I often wondered how a traveler that was not accustomed to Sicilian mannerisms and expectations would react in some of the situations that I found myself in. I think that being comfortable with the cultural behaviors of the country, or being open and easy-going, makes the adjustment process as a homestay English teacher much easier.
Did you do much traveling outside of your host community? If yes, where did you travel? 
My host family was excited to show me Sicily, so I was thankful to have them personally show me many places around the island. Italians and Sicilians are extremely proud of their community and the local culture, which allowed me to come to know Ragusa extremely well. I spent a lot of time exploring Ragusa because there were so many important, historical places to visit!
I spent five days traveling with another Greenheart Traveler in Rome and Florence. If you do a homestay in Italy, you must visit Roma! It is a magical place. My host family encouraged me to visit important Italian cities, so I felt comfortable traveling for a short period of time.
I felt that five days of free traveling time was the perfect amount of travel time for a two-month homestay. My advice with traveling while teaching abroad is to consider that you are not with this family for a long time, and the time that they have with you is valuable. Be honest with your family about how often you plan to travel, and ask what they are comfortable with. They are understanding, but you are there primarily to teach them!
What are one or two of your favorite experiences that stand out from your time in Italy?
I have countless wonderful experiences that I could share from my time in Ragusa! It's so difficult to not talk about all of them. One of my favorite experiences from my trip was my entire first day in Ragusa. The moment that I made eye contact with my host family at Catania airport, every bit of nervousness that I had disappeared. I knew that they were the perfect family for me!
The entire first day was incredible because Sicily was so different than I expected. The landscape of the country is breathtaking, and the people were so welcoming to me. I tried a horse (yes, horse) sandwich for dinner, and finally had my first real taste of Sicilian wine and bread! I have such fond memories of the first day because all of the nervousness and planning that came before the trip was finally worth it, and I felt completely at ease with my family.
A funny experience that I had with my host family was getting lost at night in the beautiful town of Ragusa Ibla. We were going to watch a family friend play piano at the main square of Ragusa Ibla, but we somehow got lost while walking down side streets after parking the car. It was chaotic because we had my four-year old host sister in a stroller, and the streets of Sicily (and Italy) are not easy to navigate with a stroller because of the unevenness and stairs.
My host-parents were jokingly arguing, and my host sister and I were laughing! This experience stands out to me because it felt like a dream. The buildings, homes, and churches of Ragusa Ibla are exactly what people dream of when they imagine Italy. Nightlife is everything for the Sicilians, so we were smelling delicious food cooking in the restaurants, and hearing beautiful classical music. Being lost and laughing with my host family, whom I now consider my true family and best friends, made the experience great.
Has this experience changed any of your personal and professional priorities or goals since your program? If so, how?
This experience has changed my entire life! I know that it is cliché, but you will understand after doing this experience.
In the personal realms, living in Sicily has given me a deeper appreciation for nature. Eating well and cooking have always been a personal priority, but the care that Sicilians have for natural food and home cooking have only increased my love for it. Also, I spent most of my days outdoors, or at the beach, while living in Ragusa. I was not as "outdoorsy" before going to Sicily, but I grew to love spending time outside!
I'm most thankful for this change in attitude because it has made me appreciate the simple details of life. The Sicilian's taught me that simplicity is the key to happiness, and you can find it in spending time outside, being with friends and family, and enjoying your meals each day.
Professionally, working abroad has now become one of my goals! I can imagine myself living and working in Sicily, so it is now a major consideration of mine as I'm nearing my college graduation.
This experience expanded my world-views, and gave me a deeper sense of what communication truly is. These are invaluable professional skills that I could not learn in any other way!
What were the biggest cultural differences you noticed, and do you have any advice for proper cultural etiquette new travelers should be aware of before they arrive in Italy?
The biggest cultural difference I found was the importance of interpersonal interactions and manners. It is so important to greet someone with a warm, "Ciao!", and a kiss on the cheek. It's considered rude to simply wave or avoid saying 'hello'. When you leave a store, you should always say, "ciao" or "arrivederci". Always say, "grazie" when someone helps you, or after you place an order or food.
It's all simple manners, but the Italians approach it in such a warm way. For many travelers, the lack of personal space is an issue, but I viewed it as a warm welcome and genuine care for one another.
Before traveling to Italy, be sure to study basic Italian. You would be surprised at how many people do not speak English, but even those who do appreciate when a tourist attempts to speak Italian. By attempting to speak their language, it shows respect and appreciation for their culture.
If you were talking with someone that wasn't sure about teaching in a homestay because they were worried about living with a host family, or not having experiencing teaching before, what would you tell them?
If you are questioning whether to do this experience or not – DO IT! It is an incredibly rewarding and powerful experience, and you will change in ways that you did not imagine possible.
However, a recurring message that I heard from families in Ragusa that have hosted a teacher was the importance of having a person that is friendly and willing to meet new people. The families are proud to have you as a teacher, and want you to meet their friends and family.
My family said that they felt at ease with me because I'm a sociable person that is comfortable talking to anyone, and they live an extremely social lifestyle. If you consider yourself introverted, you should consider if these situations will be too stressful for you, and if this happens to be a cultural norm in the country that you are teaching in. You don't want to have a negative experience!
Do you have a favorite mantra or quote that inspires you to get out of your comfort zone that helped you during your travels?
My mantra for 2017 has been, "make it happen".
My journey of teaching in a homestay abroad was filled with many obstacles until I actually arrived in Sicily, but something inside told me that this was the year to do accomplish my most important goal, regardless of what the obstacles were.
While I was in Sicily, especially when I was traveling, I found myself in stressful situations. But, I went back to this mantra to focus on the moment and accomplish the present goal. A quote that I always live by is, "we rise by lifting others", and it points to why I chose to travel through Greenheart Travel.
I believe that if you put good into the world, this positivity will find its way back to you in the future. I wanted to put good into the world while traveling, and Greenheart Travel allowed me to do exactly this!
Any other additional thoughts or tips you have for anyone wanting to travel and teach in a homestay in Italy?
I have two thoughts to share with future Greenheart Travel homestay teachers to help them make the best connection with their host family.
Before I arrived in Sicily, I messaged with my family at least once a week. I would send them videos and pictures of my daily life, my family, my friends, and me doing fun things. I wanted to welcome them into my life as much as I could because they were allowing me into theirs. My family shared that this made them feel much more comfortable with me, and then they sent similar videos to me! The videos opened conversations during the first days of me being in Ragusa, and they made great talking points.
My other thought is to consider the aspects of learning a language that are difficult to practice when studying in a traditional manner. Hosting a person in your home is a non-traditional way of learning English, so you should offer your family opportunities to practice English that they do not have when studying from book or in a classroom!
For example, it is difficult to practice the natural flow of a conversation in a different language if you do not have a native speaker to talk with. Therefore, my approach to teaching was to go everywhere with my family, and try to immerse them in the English language while being in their home community. It created a unique opportunity for people outside of my family to learn from me, and teach others about the possibility of hosting a person.
I wanted my family to feel relaxed while learning English, and have the experience be as applicable as possible. Regardless of the needs of your specific family, they appreciate the effort and care that you put into their experience immensely!
To learn more about the culture of Sicily, Italy, and explore more of beautiful Ragusa, read Abby's blog about things to see and do in the region!