My First Week in Quebec City: Immersed in the French Language and Daily Cultural Outings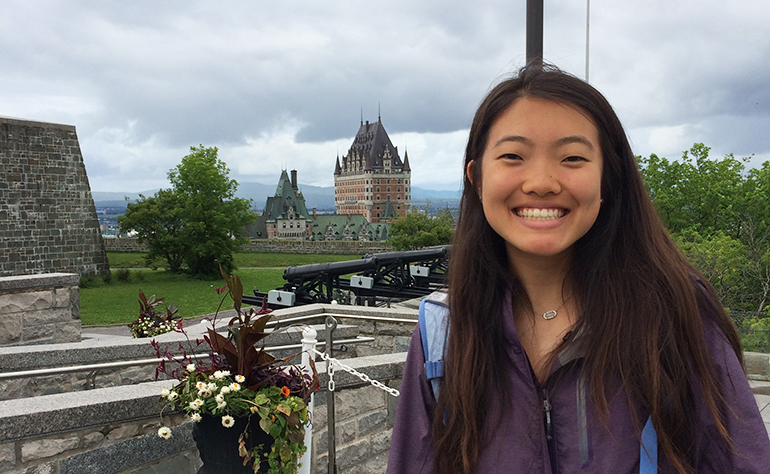 Bonjour! I have been studying French in Quebec City for a week now, and it has so far been quite an experience. Coming as a Texan, I had no idea what to expect—the culture, the food, the weather, and the people here are so different from that at home. In my program at school, I am probably the oldest person as an 18-year-old, but it has been alright because most of the other students are in high school.
My Typical Day in Quebec City
My typical day begins with me waking up around 5:30 am (the sunrise in Quebec is very early—almost at 4:30 am). I greet my host mom and go on a short run if the weather permits before eating breakfast. For breakfast, my host mom usually makes crepes or muffins, or I find something to eat in the pantry. After breakfast, I pack my lunch and go to the bus stop to go to school. I ride on the bus with my host mom everyday because her workplace is nearby.
In Quebec, the bus system is very good and a lot of people take the bus for its efficiency. After about an hour, I arrive at the bus stop near my school, and walk to the campus before classes begin at 8:30 am.
French Classes
We are placed in our classes by our knowledge of French, and there are numerous classes for students of different levels. The other students at the school are from around the USA and other parts of the world. Many are from the Northeastern portion of the States, and there is a large population from Mexico and other countries in Latin America. There are also a few students from Canada and Kenya who attend the camp.
When class begins, the teacher takes attendance. There is a French speaking only rule, so we are supposed to only talk in French to each other during class and lunchtime.
In French class, we learn about different tenses of verbs and also expressions in Quebecois. We frequently do group activities on worksheets, and we all have a break around 10 am before continuing the rest of the class.
11:45 am to 12:30 pm is our lunchtime. As a homestay student, I eat outside in the front lawn with other students. We are only allowed and highly encouraged to speak French during lunch with everyone around us. If we speak well in French, we will receive a raffle ticket for the end of the week. If we speak in English and are caught, we will receive a "carton rouge" or a red card as a warning infraction. If a student collects more than a certain number of red cards, he or she might be expelled from the program.
Daily Outings
After lunch, we go on our daily outing. It is different everyday, and each day has new and interesting surprises. I have visited the citadel, the beach, the mall, a baseball game, and the movies. On Saturdays, we take longer outings and I have seen the waterfall and rock climbed.
After we come back from our daily outing, I take the bus home with my host mom or I go out with my friends. This week and the next, there is a large summer festival in Quebec called "Festival d'Ete". There are many world famous musical artists that come and perform. So far I have seen Kendrick Lamar and P!nk perform at the concert with my new friends.
My Suggestions for Staying with a Host Family
My suggestion for future students staying with a host family is to try to have conversations with them while you can in the language that you are learning. They are willing to help you improve in that language, and they truly want you to get better and improve. Good communication is also important, because it's necessary to keep them updated while they are currently in charge of taking care of you. Try to do favors, but also don't be afraid to ask for help.
About the Author:
Ruiwen (Rachel) Shen, is 18 years old and our 2017 Greenheart Travel Correspondent scholarship winner from Houston, Texas. Rachel is traveling abroad as a Teen Summer Language Camp student in Quebec, and one of her goals during her travels is to connect with new people and build new relationships even in a new language and culture. Follow her adventures here!
Can you imagine what your typical day in Quebec City might look like?