My Life-Changing Experience in France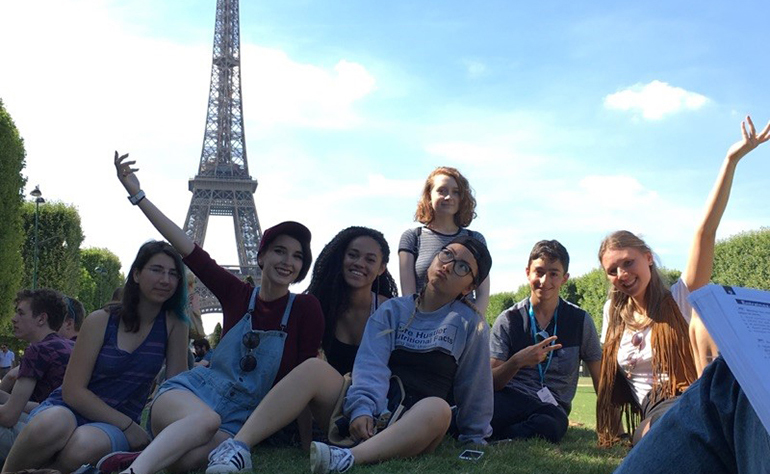 My name is Noam Nissel. I am 16 years old from New Jersey. I am writing this blog today to share the life-changing experience I had in France on the Teen Summer Language Camp Program. Others may describe me as an introverted and quiet person. I have a few friends, but none that I feel very close to, mainly because I have sometimes cared too much about what others thought of me. I did make lots of new friends on my program in Paris.
Fighting Initial Nerves
I have never even gone to a sleep away camp and so originally I was very nervous about this trip: the housing, food, not knowing what it is going to be like, but most importantly, having to hang out with a bunch of random people in a foreign country all by myself.
The First Day
When the group first got together, I acted the way I usually do around others, differently. As I got to know the group more and more, I began to open up. On the first day when we began to learn French, I talked to the others who were in the same group as me. I met girls from Texas, Ecuador, Belgium, a guy from Utah, and so many other places all over the world.
Opening up to New People
In the afternoon on that same day, the group hung out as a whole. At first, I was shy and did not talk much. But as the day went on it got better. I started talking more and putting myself out there. For some reason, being in a group with people I never met (from all over the world), actually made me comfortable enough to open up.
Stay True to You
Ever since that first day I continued to gain the confidence to be myself around others, something I was never able to do before! I got to enjoy learning the language and seeing France. But the thing that I enjoyed the most, was hanging out with my new friends, while remaining true to myself.
After the Trip
It has been over a year now since I was in France and we still keep in touch. The friends I thought I would never make, became the people I would die to see again. When I first heard about Greenheart Travel, I was skeptical, but if you are considering going on this trip, I can assure you, it will be the most amazing and life altering adventure you will ever go on. Don't let fears get in the way of living life; I didn't and look where I am now.
Cara Delevingne said "You have this one life. How do you want to spend it?…Questioning? Regretting? Hating yourself? Running after people who don't see you? Be brave. Believe in yourself. Do what feels good. Take risks. You have this one life. Make yourself proud." I took the chance and it changed my life forever!
Time to have a life-changing experience abroad? Check out our France programs!