3 Ways Italy Has Changed Me Forever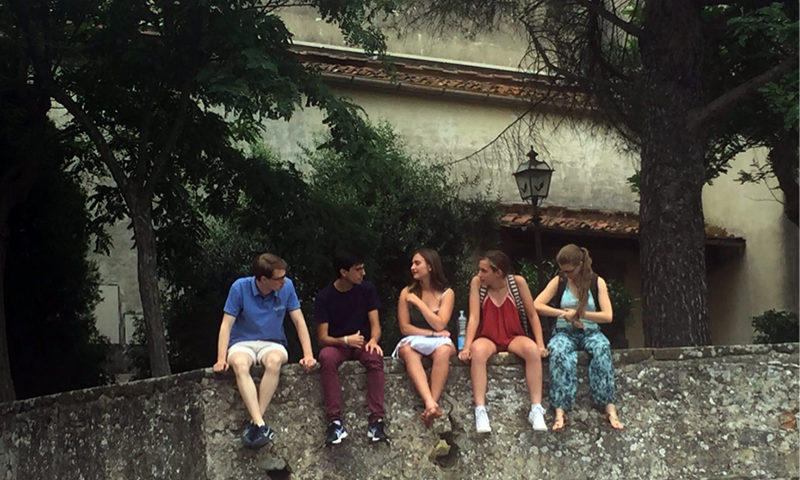 So I've been home about 2 weeks now after spending the most incredible time of my life in Florence, Italy. I'm glad to be home, but I can't stop thinking about it and would go back tomorrow if it were possible.
Having time to reflect on my language camp experience I wanted to share a few ways I've changed since I've returned home.
Never Be Afraid
The number one way that this trip changed me as a person was that it made me braver. Even though I've wanted to take this trip since the minute I heard about it, I have to admit that the thought of flying to Europe alone was scary. But getting there and being there helped me realize how easy it was to ask for help, whether it be asking someone how to get somewhere, what a word means or asking for someone to go to the post office with me.
I used to be embarrassed to ask for help with anything because I didn't want anyone to know I needed it. I know now that that is a silly fear. I mentioned in a previous blog that I got lost in Florence during my first week there. When I found my way home, I felt like a total boss. Knowing that I could be self-reliant and not crumble under pressure was amazing. This will definitely help me in life because suddenly, leaving home, meeting people, college & job interviews, etc. seem way less threatening.
BFFS PT. 2
I can now honestly say that I have friend in Italy, Spain, Argentina, Australia, Austria, Germany, France, the Netherlands, Belgium, Columbia and Great Britain.
When fifteen kids from different cultures meet, it's a wonderful thing. We couldn't be more different, each from different corners of the world, but we also couldn't be more alike. We each share some common world views, ideas, and even senses of humor. Every single one of us wishes to explore the world just like the next one, and we all have the inexplicable need to venture out of our comfort zones.
It feels as though you've known each other your whole lives, even though I couldn't tell you their middle names. We got to know each other so fast that we didn't really have time to ask questions like that. Saying goodbye to them was actually one of the hardest things I've ever done. I am so grateful I got to meet each and every one of them because without each individual sharing their ideas, and teaching the rest of us about their culture, the trip wouldn't have been complete.
Home Sweet Home
I have to admit that being home since Florence has been a little hard. Although I was glad to see my family, friends and pets, my mind is still whirling with random memories. I find myself smiling often, thinking about a conversation or situation and then I am missing them all.
Not to mention that Italy is one of the most breathtaking countries in the world. And I wish everyone I know could see Florence just once. I love Nebraska, but now I feel like I need to have more than one 'home'. And that is how I started to feel after my 2 weeks in Italy; like I was home.
I said it in my last blog and I'll say it again: if you ever get the opportunity to travel, be a foreign exchange student, do a mission trip, etc., don't hesitate. It will change your life and you will never view the world in the same way again. All I know is that I miss it so much, and would do it all again in a heartbeat.
Libby Crecco is 14 years old and lives in Clarkson, Nebraska. Her goal during her language program in Florence, Italy is to "learn as much about Italian culture as I hope to learn about the language." Follow Libby's adventure in Italy on her weekly blog post updates.