What to Eat in Myanmar if You're Vegetarian, Pescatarian or Not a Fan of Spicy Foods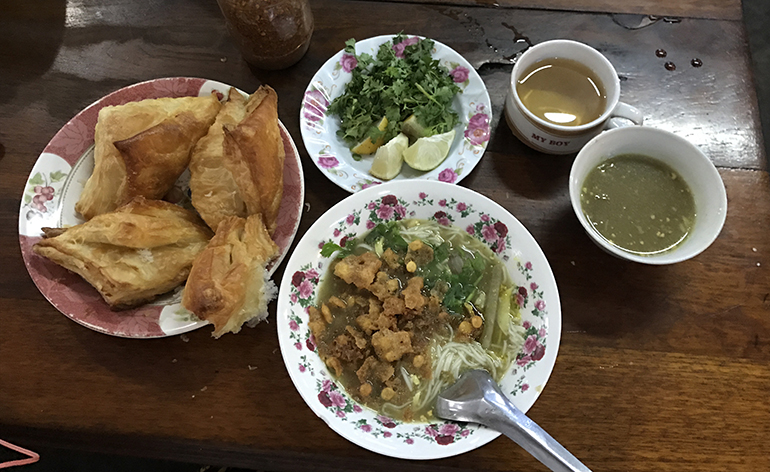 I first arrived in Myanmar to teach English at 11pm on January 28th.  At that point, there were no restaurants open so I happily fell asleep after an exhausting day of travel.  The next morning, I woke up slightly disoriented but energized about having my first official Burmese meal.  
All the teachers on our TESOL course, and a who who'd already settled in Myanmar, walked to a nearby restaurant that they frequented for brunch.  I had no idea what to expect, what things would taste like, or what I could actually eat as I am a pescatarian (no meat but I eat fish and seafood).  
This was, to this day, one of the best meals we have eaten in Myanmar.  The moment you sit down the waiters pile the tables full of fresh pastries, filled with tasty fillings from coconut to mutton.  I ordered the traditional mohinga soup and paratha, an Indian style bread to go along with it.  This being my first introduction to Myanmar food, I was pretty taken with it from the start.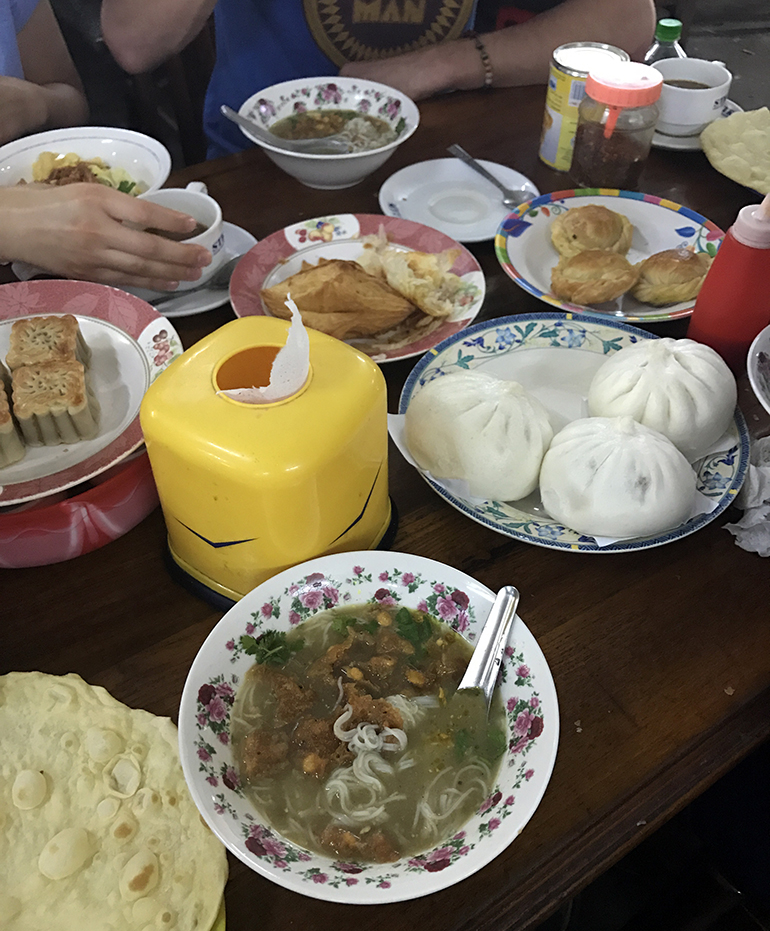 An Introduction to Burmese Cuisine
Prior to coming to Myanmar, I had never tried Burmese food (except for one dish my dad made out of curiosity before I left) but I have overall been pleasantly surprised.  Situated between India, China, and Thailand, Myanmar food takes inspiration from many different countries and creates something uniquely its own.  
Burmese food is filled with bold, in your face, and often spicy, sour, and salty flavors that I haven't experienced in any other cuisine. Not eating meat here (and having a depressingly low tolerance for spice), I can also confidently say that it is not that difficult to be vegetarian, pescatarian, or anti-spice here.
No Meat, No Spice, No Problem
Below are many options you can try if you have these dietary restrictions like me!  Though these strong flavors can take some time to grow on you, below are a few of my favorite dishes that I have come to love.
Tea Leaf Salad
This is a classic dish.  You can order it at almost any restaurant and I can guarantee that it'll be different every time.  It generally consists of tea leaves, peanuts, tomatoes, and onions. Sometimes there'll be teeny dried shrimp as well or will be pre-mixed with rice.  Some are much more liquid while others are quite dry.  
Tomato Salad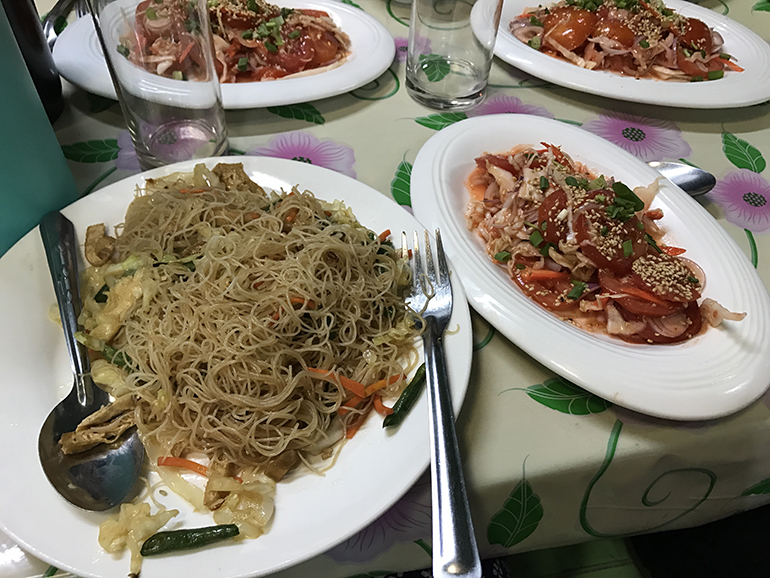 On the topic of salads, most of their salads are vegetables mixed with peanuts.  Simple, but delicious.  My favorite salad to order is a tomato salad which comes with onions, sometimes chilis, and a generous dousing of peanuts.  Peanuts are used frequently in many Myanmar dishes which I think always adds a perfect salty crunch.
Shan Noodle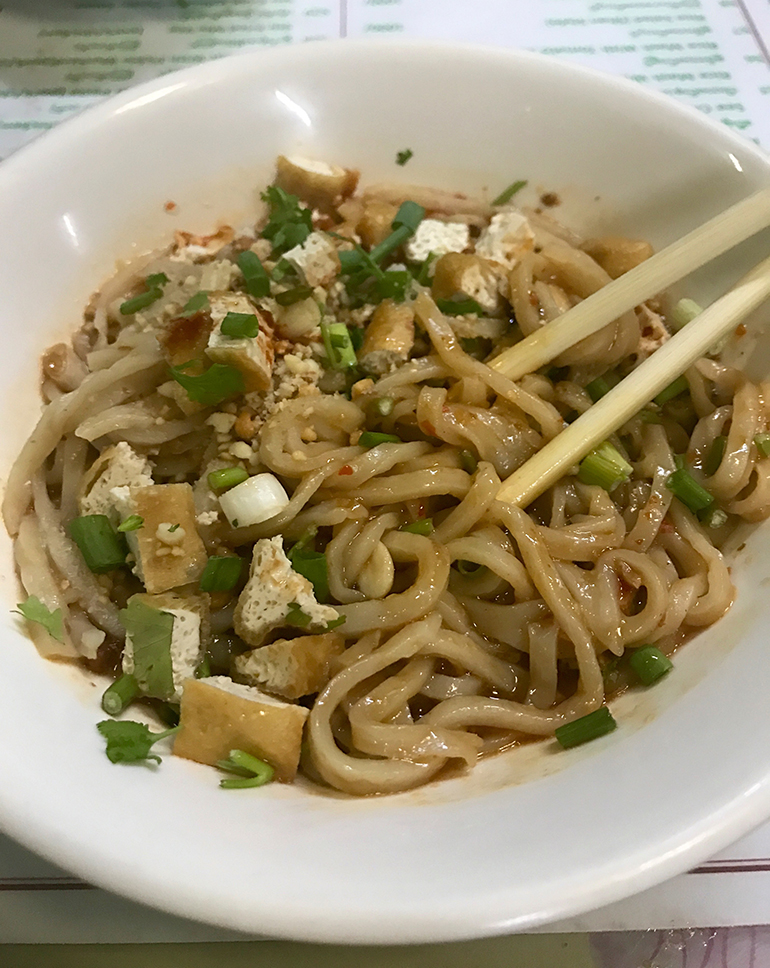 This is another great staple of Myanmar food.  Every state and every ethnic group in Myanmar has their own traditional cuisine and Shan state has, from from I've experienced, really stellar dishes.  
My neighborhood is highly populated with people from Shan state so eating these noodles has become a regular indulgence for myself and the other teachers.  You can get these rice noodles with or without meat and it comes with a spicy tomato based sauce.  
Some versions are made with broth, others are made "sticky" and others are simply a bowl of noodles.  Again, each restaurant makes their noodles differently so try them all!
Mohinga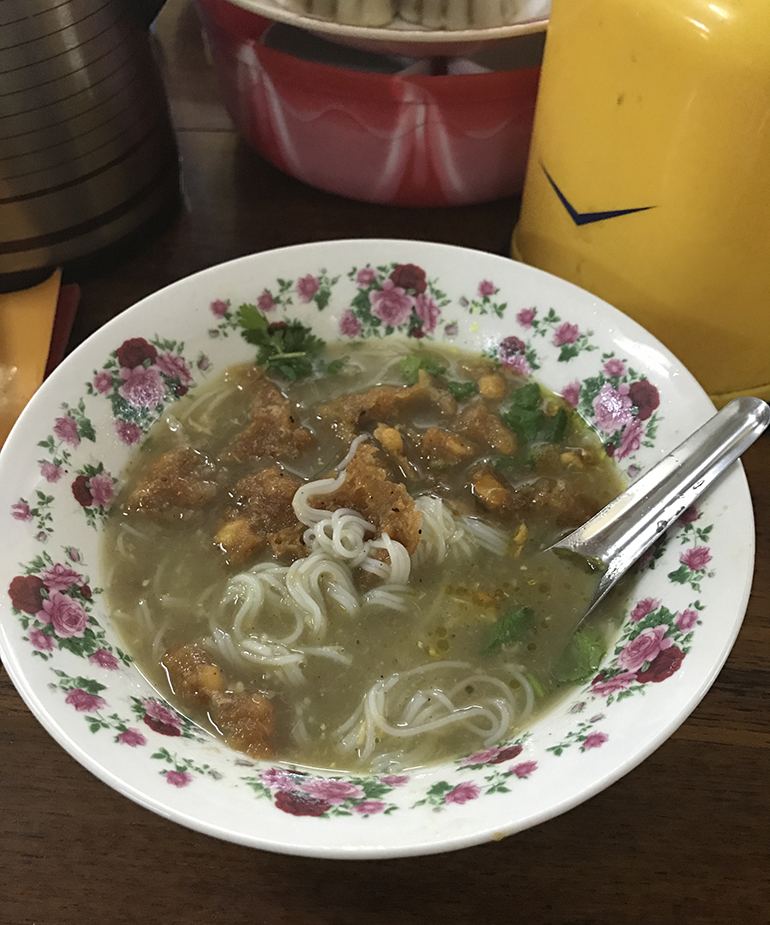 Mohinga is a delicious fish based soup commonly eaten for breakfast.  In my neighborhood Myanigone, there is a great restaurant called STK that serves hot and fresh mohinga every morning.  Come early though or the pot will have run out.  At this restaurant, you can also enjoy your mohinga will coconut, mutton, or chicken pastries fresh out of the oven.  This is a must-try if visiting Myanmar.
Barbecue restaurants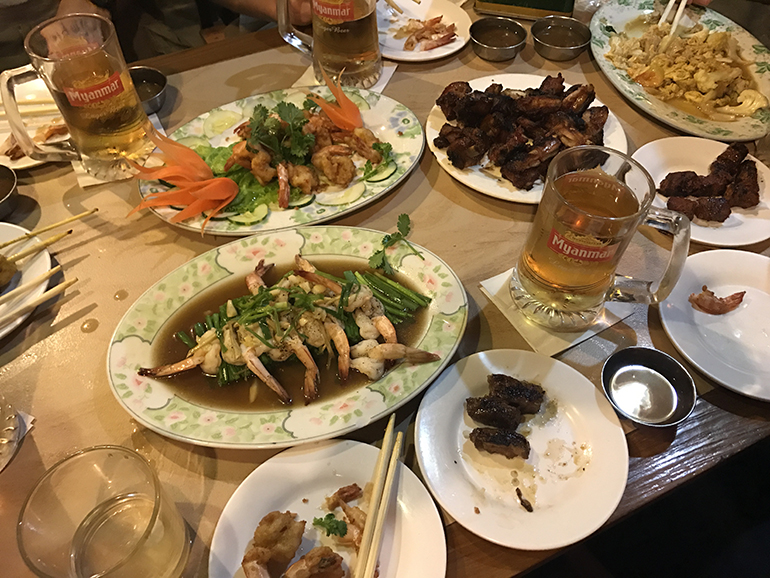 One of our favorite local spots for when we want to get a drink and relax is Winstar.  This is a large beer station (an open air restaurant serving beer and occasionally food that also almost always has a soccer game on) that serves incredible barbecue food.  You can go up to the counter and pick your skewers, from okra or a whole cob of corn to squid or crispy pork, and they deliver them to your table.  
It's hard not to want to try everything when it all tastes so great!  Restaurants like these are common all over Yangon and are a great way to enjoy the local food and culture.
"Tray" restaurants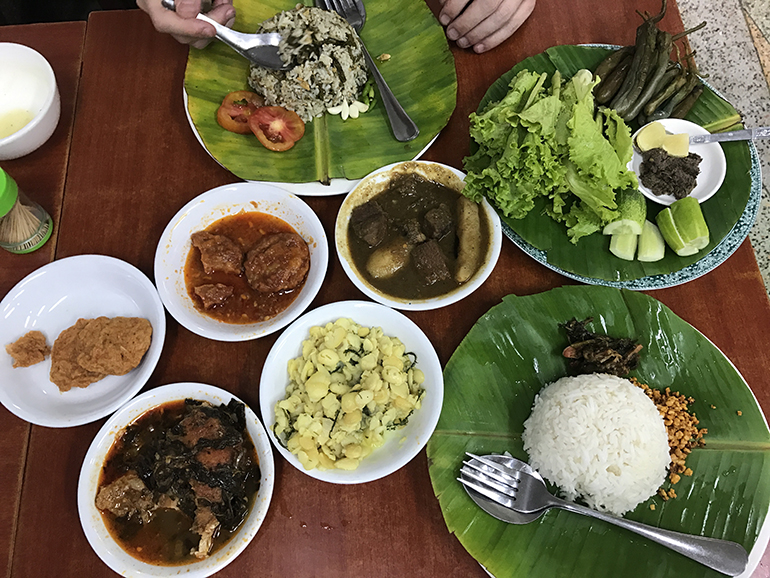 For lack of a better name, there are many street stands and established restaurants that work kind of like a buffet serving many pre-made dishes in trays.  You pay for each individual dish, but you can choose as many as you like to share with your friends and enjoy with a bowl of rice and complimentary soup.  Some of the best food I've eaten has come from these dining experiences.  
My personal favorite dish to order is shrimp in a tomato based sauce.  I don't know what else it consists of besides chili, but it is often an oily yet thick sauce that coats the prawns and it is heavenly. Yellow beans are also a creamy, salty, and delicious addition at these places.
Though I wouldn't recommend trying one of these places until your stomach has adjusted to the new cuisine, there are so many different meats and vegetables to try that every one can enjoy eating here. 
Pancakes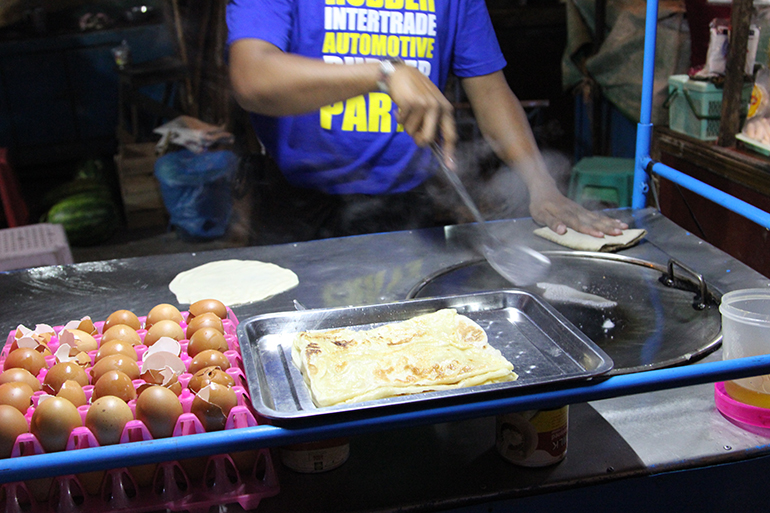 My favorite dessert are these pancakes.  Watching the stall owner make them is mesmerizing.  He stretches the dough as thin as possible before frying it in a generous amount of oil and then covers it with condensed milk and sugar.  It's quite the sweet treat.
Though this is just an introduction to food in Myanmar, I hope you find yourself googling the closest Burmese restaurant in your town!  The blend of cuisines and different ethnic traditional food provides you with many different options from noodles to rice dishes to funky desserts from street vendors.  The overly oily and saltiness of dishes, the spiciness, and the unique flavors might take some getting used to, but I hope that you are inspired to give Burmese food a shot!
Do you have a favorite Burmese dish we need to try? Share it in the comments below!
About the Author:
Ali Haymes is from Chicago, IL and recently graduated from Bates College in Maine.  During her junior year of college, she lived in Australia for 5 months and realized how much she loved traveling.  After returning home in June for a few months and interning with Greenheart Travel's sister branch, CCI Greenheart, she decided she wanted to go abroad again.  She is currently living in Yangon teaching English and hopes to continue traveling around Asia and the world!
Check out her ongoing adventures on her personal blog, Ali's in Wonderland.
Ready to teach in Myanmar and try these food dishes like a local?