7 Foods You Need to Try While Living in South Korea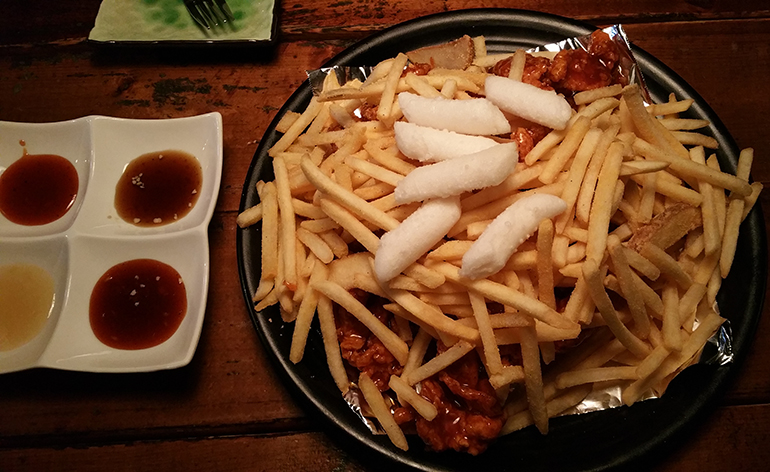 I have been teaching English in South Korea for six months now and I have experienced countless amazing Korean foods. Let's face it, the food is one of my favorite things about living in Korea! Eating Korean is all about the experience. Meals are savored and cherished, and going to dinner is definitely the activity I find myself enjoying the most. Beware! A lot of Korean food is known for its spiciness, and you will impress your Korean friends and coworkers if you can handle that spice!
This brings to me to a very important statement: Korean food is all about sharing. It's very uncommon for a group of Koreans to go out to eat and not share every piece of food. If you are used to only ordering food for yourself and not sharing, get ready for a new dining experience because many restaurants and portions at grocery stores assume you are going to share a lot of food with whomever you are with or are cooking for.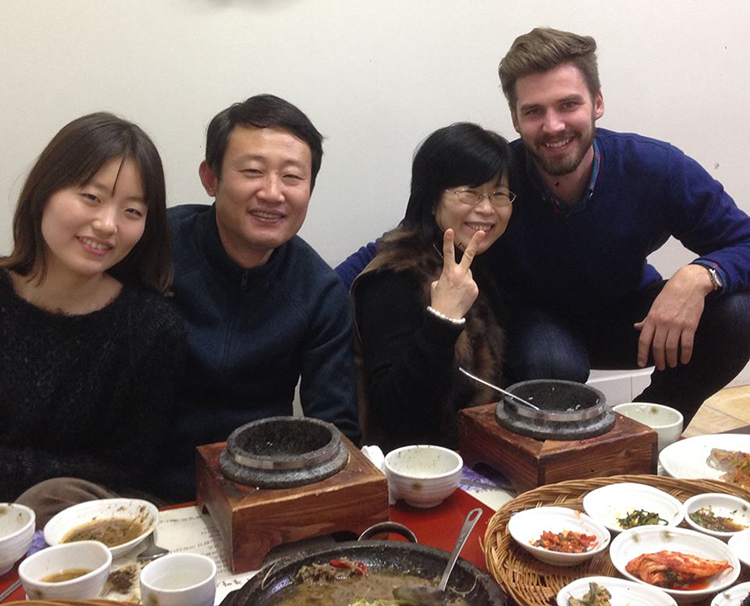 Sharing food is difficult for my two vegetarian friends because us meat-eaters usually want… Meat. We somehow make it work, and are still friends after six months in Korea. Luckily, both of them eat fish and seafood (this isn't the only reason we're still friends, by the way!), but another thing to know about eating in Korea is that many dishes are made with meat or seafood (beware jjajangmyun – black bean noodles is misleading).
We live in a city and it has been okay finding western-style restaurants with vegetarian options where we can all order our own foods, but most of the real "Korean dining experiences" are centered around meat.
Below is the list of my favorite quintessential Korean foods you simply MUST try while in Korea:
#7. Pajeon – Onion pancake
Korean style pancakes are likely not the same breakfast pancakes you have at home. Jeon (pancake) is savory, oily, delicious, and filled with vegetables, kimchi, or seafood. These are great options for vegetarians to share in the meals. The pancake comes out and everyone picks at it with their chopsticks.
#6. Dalgona – Sugar… Just sugar
Another street food is dalgona. I included this in the must-have when coming to Korea list because it's so unique. The only components of dalgona are sugar and baking soda! That's it. The method of which you make it, though, is why this is a must-eat food. You heat a small bowl filled with sugar over a fire and constantly stir the sugar.
Once it gets to a melted stage, you add a little bit of baking soda and then pour the mixture onto a flat surface. A worker at the stall will stamp a design into the sugar once it starts to harden. The whole point of dalgona is trying to pick out the stamped design with a toothpick without breaking the fragile sugar mold. If you get the design out, unbroken, you get a prize! I broke mine, unfortunately…
#5. Picnic Foods – Japchae and Kimbap – Sweet potato noodles with beef and vegetables and seaweed wrapped with meat and vegetables
Japchae is my favorite cold Korean dish. You can get it as a side dish, but it's more common to find at big Korean gatherings. It's a very popular picnic food since you make it in huge batches, and it's great served cold. The method of cooking the beef is mouth-wateringly amazing! Sauté the beef with sugar, oil, and onions and magic happens!
Another popular picnic food is kimbap which is similar to a sushi roll – meat and veggies and radish rolled into a seaweed wrap, then cut into discs. I have made both of these dishes at home and they are my favorite two dishes to make because of how easy they are to put together. Also, I love how I can make a massive batch of both, and they stay good for a week or so. Leftovers for days!
#4. Ddeokbokki – Spicy rice cakes
If you've heard of any Korean food, it's probably ddeokbokki. No list of must-have foods in Korea would be complete without this insanely popular street food. Rice cakes smothered in spicy red sauce, ddeokbokki is certainly the most "Korean" tasting food I've had. Koreans use gochujang (red pepper paste) in many of their dishes, and you really get that strong gochujang taste in this dish. Ddeokbokki is not only popular with foreigners, but also Koreans; you will see many students at ddeokbokki shops and stalls after school.
#3. Bungeo-ppang – Fish-shaped bread with cream or red bean filling
How do I describe bungeo-ppang? Just thinking about the fish-shaped bread filled with cream makes my mouth water. This is my favorite sweet treat. Since bungeo-ppang is a street food, it's sometimes hard to find. Luckily (or maybe not!), a man has set up his cart on my way home from school. I go there so often, he knows my order – 3 breads filled with cream. The best part is eating them on the walk home because they are so warm and soft. The red bean variety is also sensational, yet a tad more filling. There's really no describing how amazing bungeo-ppang makes me feel.
#2. Chimaek – Fried chicken and beer
Chimaek or chicken and maekju (beer) is one of my favorite comfort food combos here in Korea. Chicken? You might be asking. I can get that anywhere! Believe me, the chicken here is SO MUCH BETTER than where you've had it before. Koreans really know how to make chicken. I ate chicken wings consistently (weekly!) in America, but the boneless chicken (called soonsal) here is unbelievable! You can order tons of different sauces and toppings.
My favorite chicken place is called Outdark and I always order the Spicy Lindfield flavor. Be sure to order beer as well for the FULL, sensational chimaek experience.
#1. Samgyeopsal – Grilled pork belly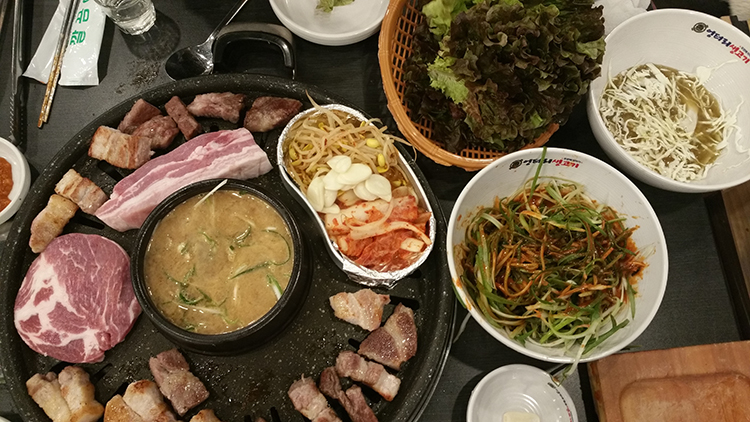 Samgyeopsal is my ultimate favorite food in Korea. It is maybe the most popular meal to eat together with your friends, and most Koreans cherish the experience of gathering and eating tons of meat. (Yes, there's all-you-can-eat places!) They call the places where you cook your own meat gogi chip (meat house – very subtle, I know).
The set-up: You order however much meat you want (usually, restaurants will only serve either all pork or all beef) and sit around a large grill with a vent. The waitstaff will bring you what you order along with many other side dishes and sauces, then you cook the meat yourself! So, at first I was really intimidated to cook my own meat, but once you get the hang of how long it takes for the different thickness of the meat to cook, it's so satisfying to do on your own. You also get to cut it to the size you want!
A popular phrase that Koreans like to say is "soju* and samgyeopsal are best friends", so if you're up for it, order a bottle of soju, too!
*Soju isn't a food, but I would've included it on this list.
Soju is Korean rice liquor and the most popular alcoholic drink in Korea.
If you drink alcohol, I would recommend acquiring a taste for soju. I say this because the majority of the twenty-something-aged friends you'll make will be REALLY impressed if you drink soju. Don't like the taste? Don't worry! There's fruit-flavored soju! Also, soju in juice-boxes! Or, it goes well with just about any mixer.
There are a few Korean foods I felt deserved honorable mentions:
Jjimdakk – A large (read HUGE) chicken dish mixed with sweet potato noodles, onions, and either gochujang or soy sauce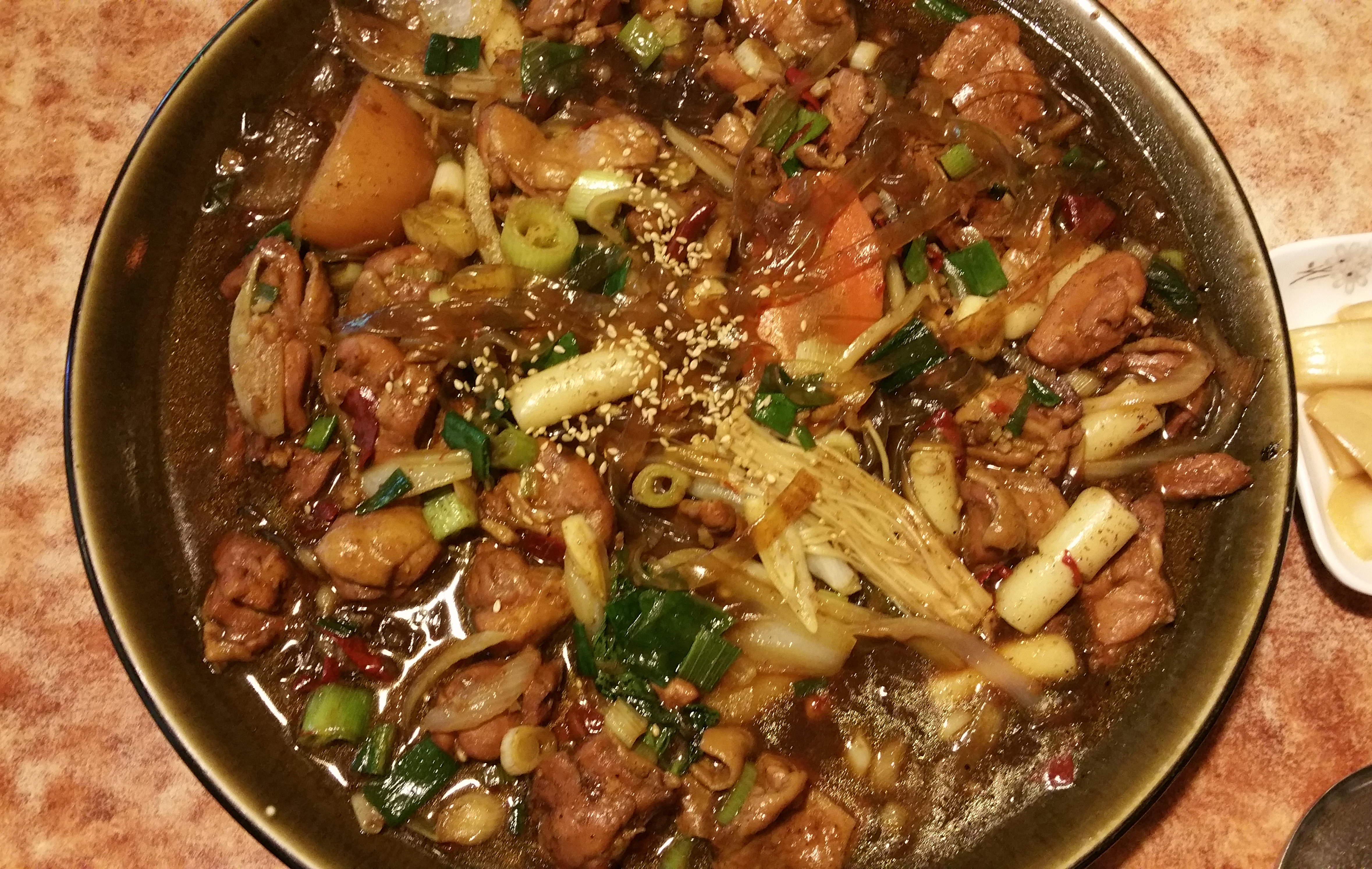 Ddeokramyeon – Spicy ramen with rice cakes that is so simple you could make it at home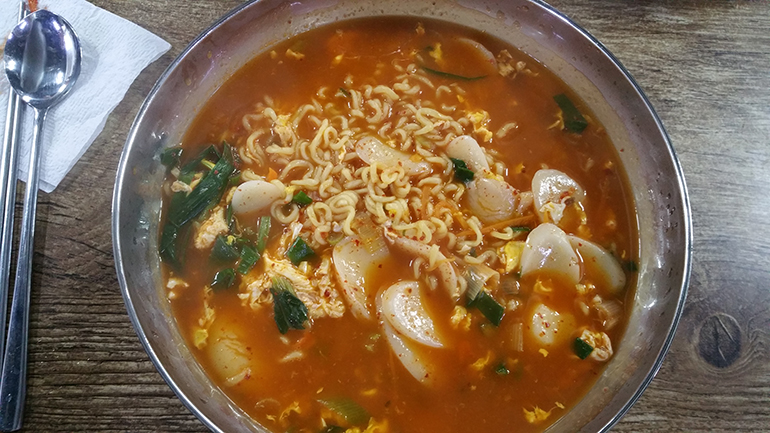 Hanwoo – High quality Korean beef – try cooking it yourself on the grill!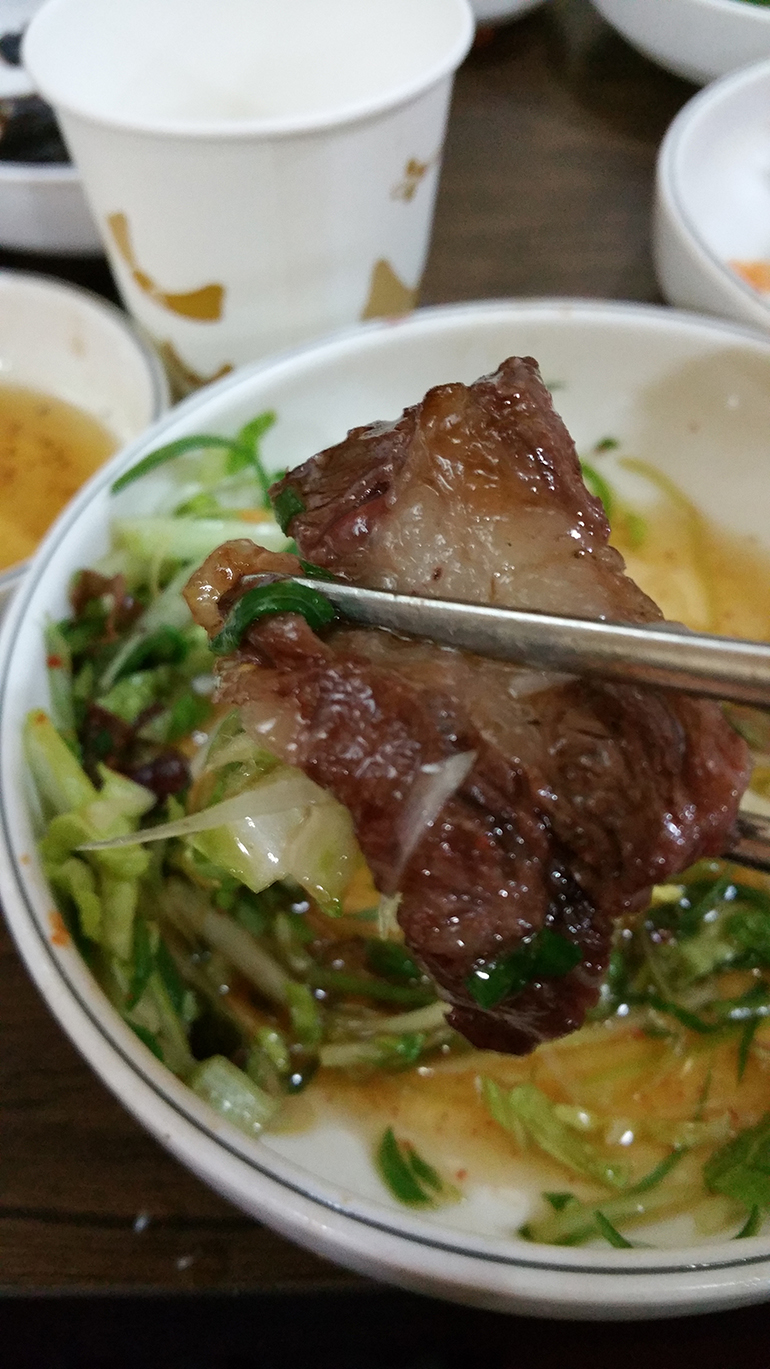 Juk – Korean style savory porridge which is great to eat when you're feeling sick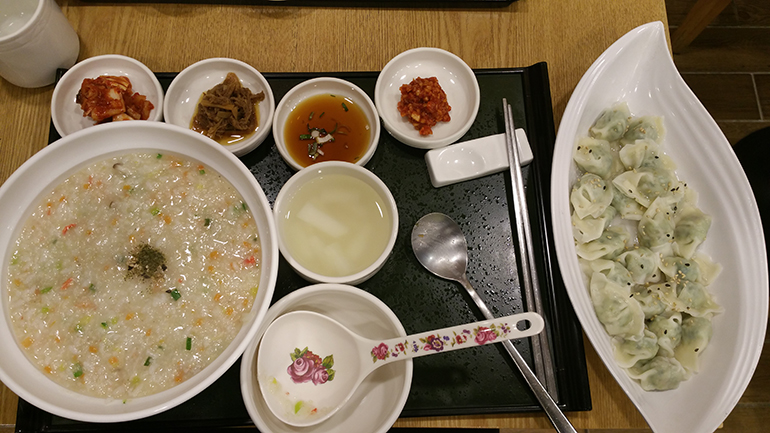 Kalbitang – Beef bone stew which warms you right up on a cold rainy night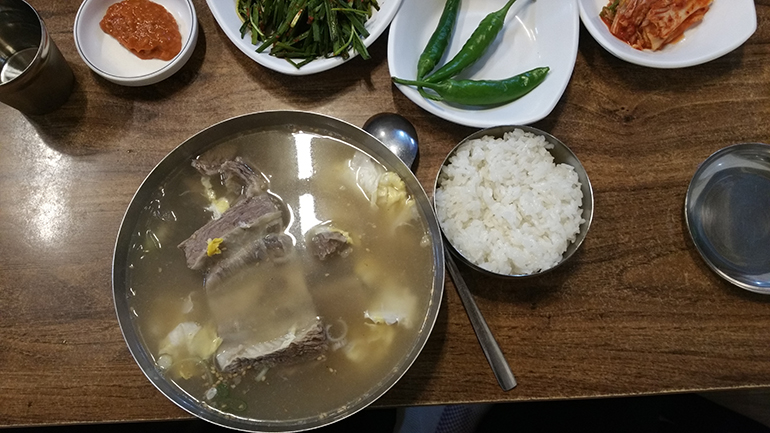 What are your favorite South Korean food dishes? Share them in the comments below!
About the Author
I am from Minneapolis, Minnesota and am now living in Ulsan, Korea. I'm a total teaching newbie (having never taught in America) and teach 1st and 2nd grade middle school students; the equivalent of 7th and 8th graders. The advice I give in this article is gathered from two months of teaching these middle schoolers, so know that I am not a teaching expert. In these short months, I have already grown so much and my experiences in the classroom have made me a stronger, more confident teacher.  
You can read more about my adventures in South Korea on my blog, Emily Teaches Abroad in Korea.