Day trip to Seoul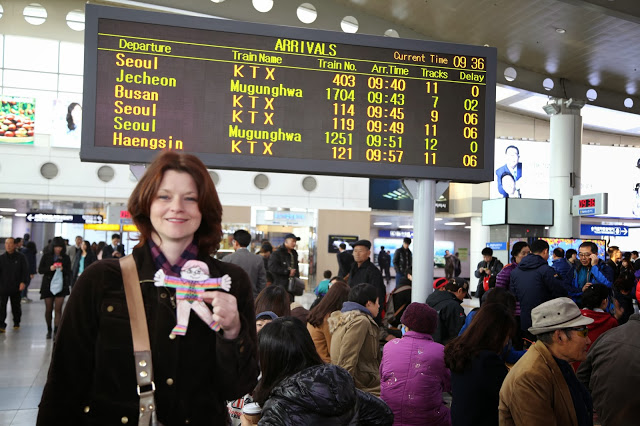 Julie and I decided to take a day trip to Seoul last Saturday.  Why?  Well, why not?
A teacher from the states (a friend of a friend) sent me Flat Stanley, so he tagged along for the trip.  He told me to tell you that he had a fabulous day!
Daejeon's subway system doesn't even begin to compare to Seoul's…it was SO crowded.  Just when you thought more people couldn't fit, here come more people.
Our first stop was Nandaemun Market.  This place was A-MA-ZING.
Need any shoes?
Flat Stanley shopping
So…many…people…
Meme would flip out eating at a place where this was where they cooked the food.
Ah…the smell of raw fish…
Check out what's in the bowl on the far right side….
Intestines perhaps…?
Staying warm in her tiny little area inside her "shop"…
Nasty rice cakes…
Only in Asia will you find raw meat in a basket or a box…
This souvenir shop had tons of K-Pop calendars, postcards, mouse pads, etc…
Christmas store…
Kristin, show Ryan this Psy doll!
We found a little store that sold all kinds of American food.  Happy happy joy joy!  I wanted to buy everything….but I didn't.
I settled for Cheetos…I LOVE Cheetos!
Haha….BIG size!  I wear a size 7 at home and am a 240 here.  That's about a 9 1/2 or 10, and it is pretty unheard of to find shoe sizes that big in Korea.
Coats for your dog…
In food alley…
Our lunch spot…little old ladies are down the alley passing out flyers trying to persuade you to go to their restaurant.
Flat Stanley had kimchi to clean out his insides…
And then mandu…he really liked the mandu.
Food alley…
Remember the larva cartoon?  Here are larva toys!  Mandy, want me to send you some?
Flat Stanley at the market…
There were so many different streets and alleys….you could easily get turned around…
Free for all shopping…just a large pile of clothes where you dig and dig to find what you want…
Koreans LOVE their fur!
Flat Stanley trying to decide which way to go on the subway…
Stairs or escalator…stairs or escalator…btw there were 7 flights of stairs.  So we joined all the smart people and took the escalator!
Now we are in Itaewon, the famous area for foreigners.  I've never seen so many foreigners in Korea!
We went to the famous English bookstore in Itaewon, "What the Book?"  It was awesome!
NO WAY!!!!! A Texas A&M sweatshirt!! It was only 20,000 won (about $20), so you can bet your bootie that I bought it.  It's an XL and so incredibly warm that I am SO glad I bought it!
Narrow tiny little walkway in the kebab place for dinner…
Flat Stanley really enjoyed his kebab…
Found a cute little bakery/cafe for dessert…
At the train station heading back home….until next time Seoul!