Understanding School Etiquette and Classroom Culture in South Korea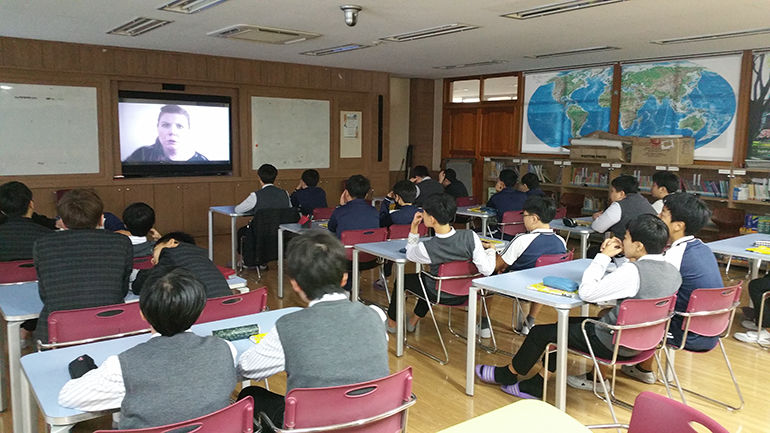 Every single school in South Korea is very different when it comes to classrooms and school culture. Actually, this is going to be true of every single aspect of teaching English in Korea, and my experience does not reflect on everyone's experience.
Teaching at a Korean middle school (where I teach) is very different than teaching at an elementary school. Besides the obvious difference of not teaching the same age, the "teaching with a co-teacher" experience will be much different as well. EPIK prepares you to teach with a co-teacher in that you learn different ways to manage a classroom collaboratively, how to plan lessons with another person, and how to communicate effectively with your new co-teacher.
It is important to note that as the guest English teacher, you will nearly always defer to the Korean teacher's judgment in most matters, even if you are in collaboration with the Korean teacher.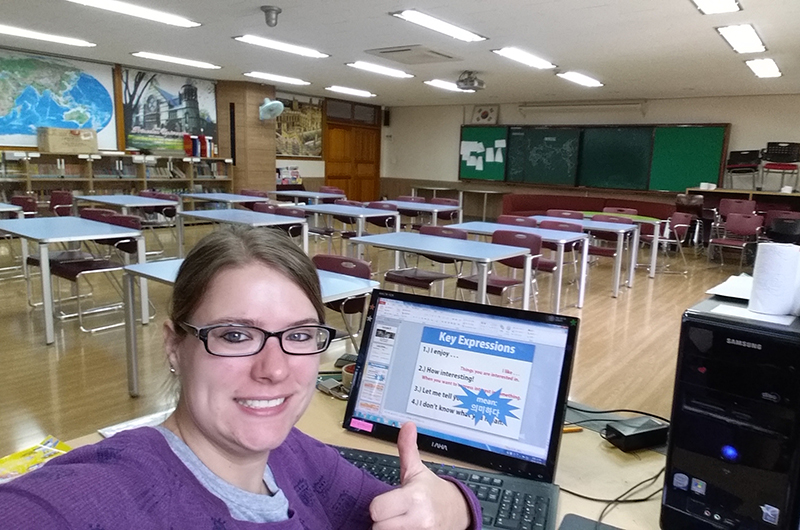 My experience in teaching at a middle school with co-teachers is not collaborative at all. I do not plan lessons with my co-teachers and with the exception of my very first lesson, my co-teachers do not know exactly what I will be doing for each lesson. So, why is this?
Co-Teaching as a Misleading Term
Any answer I have is pure speculation, but it might be because middle school teachers in Korea go to school for the subject they teach and Elementary school teachers go to school to teach all subjects. Possibly, some English co-teachers just don't know how to speak English and they need a native speaker there to help the students listen to English. It may also be because I only see my students once a week and some elementary school EPIK teachers see their students multiple times a week.
Whatever the reason, the middle school "English conversation class" (the title of my class) is meant to be a time for students to practice their listening and speaking skills. I teach at two separate middle schools and at both schools, I am meant to teach the 2 to 4 pages of listening and speaking for each chapter.
My first few weeks of teaching were very rough because I was constantly unsure of how I was doing (not because of anything my school or students did). I am a people-pleaser and like feedback from superiors and if you're like me, you're in for an unpleasant surprise.
Your co-teachers will probably not give you feedback. When I asked my main co-teacher how I was doing after two months, she said: "you should include more games and not focus on the textbook so much." That was it.
That being said, my second school's co-teachers will often remark about how much fun the students are having during different games and activities and that is always a really good sign.
So I don't actually CO-teach. What do my co-teachers do then? Well, it depends on the teacher, but the majority of my co-teachers act as disciplinarians and translators when needed. I have one co-teacher who is extremely active in translating nearly every direction I have; and another who won't translate even when I need her to for management purposes.
Most middle school co-teachers will read the room and step in when they need to. This arrangement works very well for me because I can teach my students without feeling like I'm stepping on my co-teachers' toes and my students can try to focus as much as they can on what I'm saying and doing.
Understanding the School Culture and Etiquette
The overall culture at each school is very different. It is very important to be open and friendly when you first start working because this will set the tone for how the other teachers (not only your co-teachers) perceive you. They do not see how you interact with your students in the classroom, so will judge you from the interactions with you in the hallways and teachers' room.
I would also recommend learning how to speak at least a little Korean.
Phrases like:
annyeonghaseyo (hello!)
mannaseo bangapseumnida (Nice to meet you)
kamsahamnida (thank you)
These are just some very basic phrases that could show you are interested in Korean culture and make your new coworkers realize that you want to get to know them, even if you can't speak their language. Trust me on this, the effort goes a long way and at my second school, I've even made a few friends with the teachers.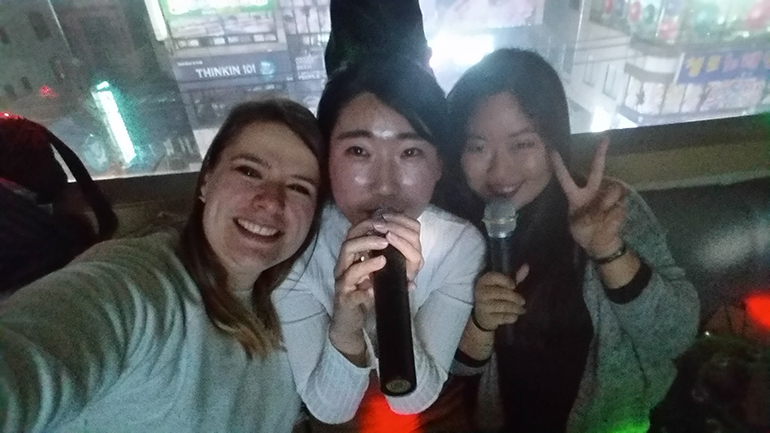 I do know some EPIK teachers feel very lonely at their schools because of how isolating it is to not speak the native language of the staff. On the other hand, I have friends who have become very close with the teachers. You just don't know what kind of school atmosphere you will have until you're there.
Besides rudimentary etiquette such as removing your street shoes and wearing indoor slippers, the school etiquette is delicate and oftentimes not obvious. Koreans are programmed to bow to their elders and colleagues and thus whenever I see a Korean teacher in the hall, I must do the same.
Now, I don't outrightly bow (that might be seen as condescending), but I always incline my head slowly and sometimes say annyeonghaseyo. I am from America and I am so used to this motion now that I know when I go home, I'll subconsciously nod at my friends and family, I just know it. It's an odd habit, but you will form it pretty quickly.
Another culture quirk is "letting your elders leave the lunch table first". This is something I still haven't quite figured out. When you eat lunch, you will probably eat with the other teachers. I generally use the rule who sat down at the same time as me to decide who "my elders" are in this situation.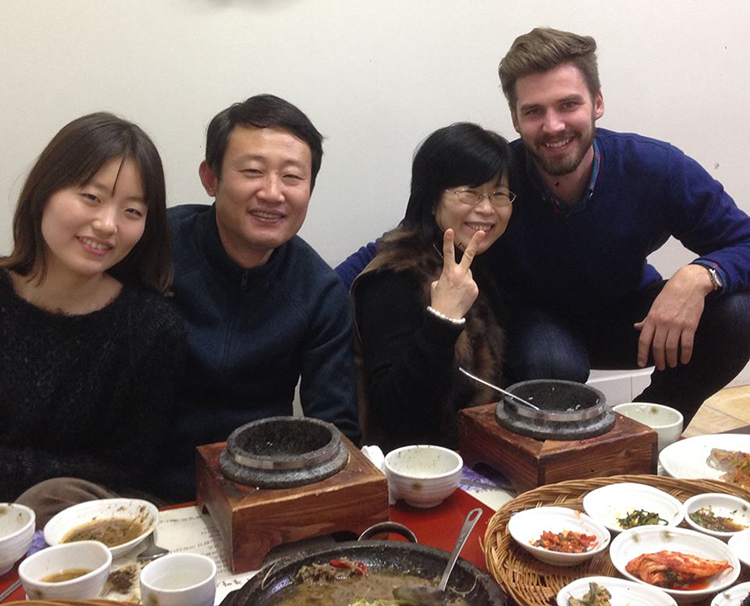 Being a foreigner and new to teaching, I am at the very bottom of the school hierarchy, so no matter who I am eating with, I nearly always wait for them to finish and stand up first before I leave the table. One of my co-teachers always tells me to "leave first," but I will say this aspect of food culture is something that is very awkward for me because you just sit there.
The last thing I'll say about school culture is to make nice with the Principal and Vice Principal. The Vice Principal is in charge of the teachers at the school and has their desk in the main teachers' rooms at both my schools. I rarely see the Principal, but see the Vice Principals every time I work. Even if they can't speak a single word of English, it is important to show them kindness by smiling and saying annyeonghaseyo and yes, nodding, at them when you see them. They are the ones after all who will decide if you're worth keeping around for another year!
Korean classroom culture is something I never thought I'd get used to, and after nine and a half months, I can say that I'm still not 100% comfortable. Ever. The kids' moods and ability to focus that day play a major role in how challenging the teaching day will be. I am lucky in that I have supportive co-teachers and friends to talk to about any situation that arises and hopefully, you will experience the same support when you get to Korea.