Lessons Learned: My First Month in Thailand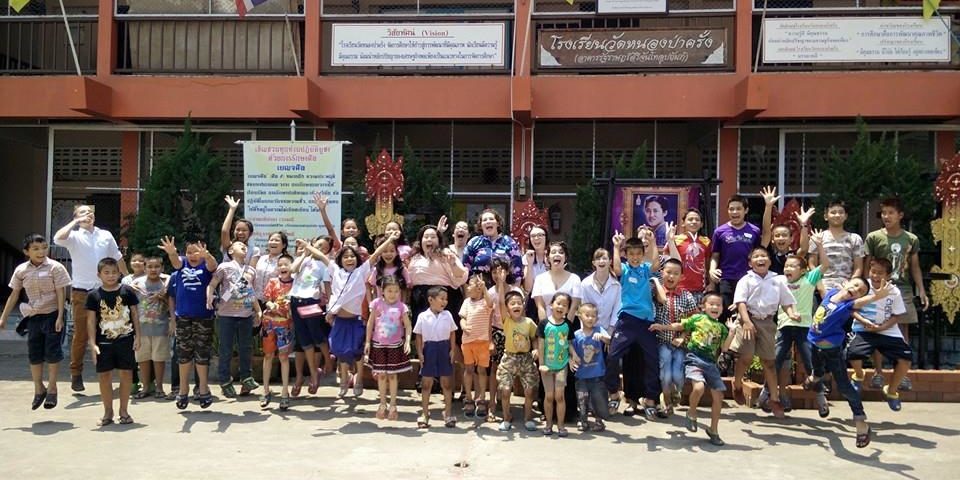 Just sitting here I can already tell that this post is going to take me a long time to write.  I think it's because it's impossible to put into words what this last month has been; what it has meant.  As I boarded my flight I remember thinking to myself that I had no idea what to expect.  Even as the plane left the ground I wasn't fully aware of what was about to hit me.  I've learned so much in my first month here in Thailand and my time here has reached beyond any expectations I could have had. 
                I've spent a month in northern Thailand, in the popular city of Chiang Mai.  A beautiful place with many things to see.  I got to interact with elephants up close, visit the famous Wat Doi Suthep, swim at Mae Sa Waterfall, celebrate Songkran (best holiday ever!), and even learn a little Muay Thai.  However all of these experiences, while memorable, don't hold a candle to the best thing about Thailand; the people. 
                I am constantly in awe of the people here.  From strangers taking care of a helpless me in a Thai supermarket to a monk showing us his best Wisconsin accent, I can't help but fall in love with this country.
               It isn't, however, only the Thai people I've encountered here that have made my experience so fulfilling.  It is also the handful of westerners who like me left their home for a challenge.  These are the people who I've spent late (sometimes drunken) nights with talking about anything and everything.  People who helped me survive my first month in a new place.  Together we attempted to tackle our new lives.  There were embarrassing moments (I fall a lot), food poisoning, hot hot HOT days, and late nights leading into early mornings.  But there were also lots of laughs, discoveries of delicious Thai food, great nights out, and the continuous improvement and growth of a bunch of farangs training to become English teachers.  These people made my transition into life in Thailand so much easier.
                 Jump to two weeks later and I'm still working on this post.  I told you it would take me a long time.  I'm now living in Korat located in North Eastern Thailand.  I've been at my school for about a week and a half and I am loving life here.  It is not easy.  Everyday life is exhausting.  With the language barrier even the simplest tasks needed for survival (like eating) prove to be a challenge.  But it is a good challenge.  Life here is challenging me to learn a new language.  It is challenging me to step outside my comfort zone.  It is challenging me to grow more and more independent.  It is challenging me to put faith in people.  It is challenging to let go of things which I cannot control.
                In Thailand I have learned the value of kindness.  I'm surrounded by people who smile and wai me every day on my walk to work.  I'm surrounded by people who will drive me to the supermarket just because I mentioned I was planning on going there.  Because of what I've learned from Thai people, going out of my way to help someone no longer feels like going out of my way.
                Most of all, Thailand has taught me to let go.  My experiences here have shown me that I can never know for sure what the future holds and that it is okay.   In my short 6 weeks here in this beautiful country I have learned that more than ever it is important to go with the flow.  My favorite phrase I've learned in Thailand so far is "sabai sabai" meaning "it's okay" or "no worries".  This is something we say every day.  It helps me overcome every hurdle and obstacle, large or small- and it keeps things in perspective. 
                To sum things up, I love it here.  I've never gone and lived in a different country before.  It is something that I would encourage of anyone who's even considering it.  It seems like an immeasurable task at first- "Where do I work?" "Where will I live?" "How will I afford the move?"  but trust me when I say that it is possible and so worth it. 
So go for it.  Take the risk. 
Your life will change.