Greenheart Travel's Ultimate Going Abroad Packing List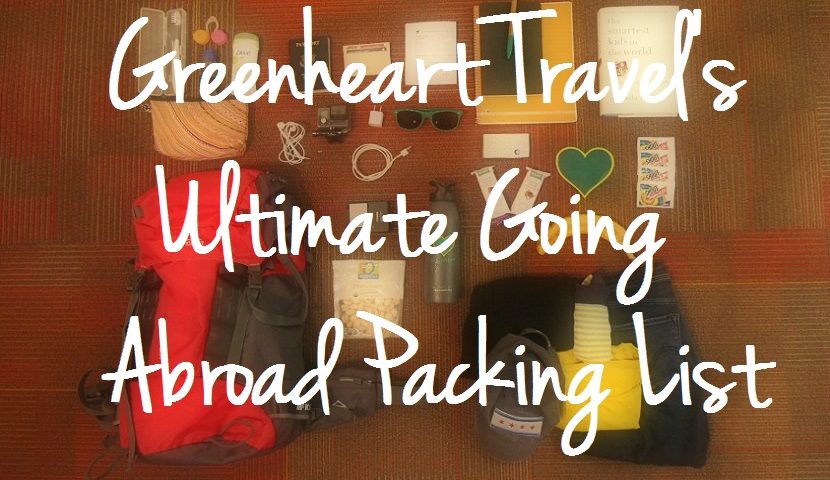 Whether you're going on a short weekend trip or a long-term stay abroad, packing is an essential part of the travel planning process. It can be stressful figuring out what to bring, and how much to bring. Lots of people put it off until the last minute and then pack all the wrong things.
Feeling overwhelmed by the packing process? Have no fear! Greenheart Travel is here to help! We've compiled the ultimate packing list, including checked & carry-on bags, for you as well as some of our staff's favorite tips. With this helpful list, packing will be a breeze! Now, you won't have to worry about over packing or spending an arm & leg on baggage fees.
Checked Bag or Suitcase
Depending on your length of stay abroad, you may decide to check a bag with the airlines. It will allow you more space for your items (and souvenirs you buy later!) but keep in mind, there are trade offs –larger size can be cumbersome in certain countries, may harder to move around, airlines might lose it — so it's always good to have the essentials & valuables in your carry-on bag. If you are checking a bag, make sure to check with the airlines ahead of time about cost & weight requirements to avoid fees at the airport.
Greenheart Travel's Packing List
All of these suggestions are assuming a 2 week stay, but you shouldn't need much more than 2 weeks worth of clothing (regardless of length of stay) since you'll likely be doing laundry along the way.
It's important for female or female-identified travelers to do a little extra research about the destination country before packing. In many countries, there are societal norms about modesty, appropriate dress and skin exposure that disproportionately affect women. Be aware that your appearance & apparel may draw unwanted attention to you, so it's always good to try and fit in with the local customs.
Please Note: You may not use some of these items. If they don't apply to you, feel free not to pack them!
| | | |
| --- | --- | --- |
| What | How Many? | Special Notes |
| Shoes | 1-3 Pairs Recommended | Sandals, Sneakers and Flats. Heels not necessary. |
| Bottoms | 3-5 Pairs | Shorts, Jeans & Slacks |
| Tops | 4-6 Shirts | T-shirts without writing or logos. At least one button down or polo is recommended.  Avoid low necklines |
| Dresses | 1-2 Dresses | Maxis are modest & comfortable |
| Pajamas | 1 Set | Shorts & t-shirts are usually fine |
| Outerwear | 1 Coat | Raincoat for rainy climates, heavy coat for cold climates |
| Underwear  | 7 -10 pairs | Can be rolled for easy packing |
| Socks  | 6-8 Pairs | Might consider less for a warm climate if you'll be wearing sandals |
| Bras | 3-5 bras | Don't forget at least 1 sports bra! |
| Swimsuit | 1 -2 sets | Bikini, one-piece or shorts. Check social norms first. |
| Hat | 1 baseball hat or sun hat | Helps to avoid sunburn |
| Sunglasses | 1 -2 Pairs | Polarized make it easier to see in the sun |
| Scarf | 1-2 Scarves | For quick cover up, or outfit change |
| Prescription Glasses | *if needed | You never know when you might run out of contacts |
| Shampoo & Conditioner | 1 month supply | Keep in small containers |
| Toothbrush & Toothpaste | 1 month supply | Mini sizes under 3.4 oz are best for TSA |
| Cosmetics | 1 make-up bag | Just the basics is usually enough |
| Razor | 1 handle & extra blades | Avoid electric if possible |
| Contacts | *if needed | Have at least a couple extra sets on hand |
| Feminine Products | As much as you'll need | Tampons are REALLY hard to find abroad.  Bring lots |
| Basic First-Aid Kit | 1 Kit | Should include bandaids, over-the-counter meds (tylonol, imodium, etc) & cold meds |
| Towel | *if needed | Check if it's included in your accommodation. If not, quick dry towels are best! |
| Cross-Body Bag | 1 Purse or bag | Make sure it has a zipper! |
Other Items You Might Want to Consider
Prescription Medication — If you have any prescription meds, you should bring enough with you to cover your entire stay because finding the same name brands abroad can be challenging. Always keep a doctor's note with the written prescription available just in case you get stopped in customs.
Wrist Watch — Your traveling buddies will get sick of you asking what time it is every time your phone dies.
Alarm Clock — Even though most people use their phone, you might be without power and still need to wake up!
Bug Repellent — Depending on where you're going, the mosquitoes and bugs might get a little nasty. Repellent can be hard to find, and is usually expensive.
Converters & Chargers –– Check whether the power in your destination country will be different than at home, and buy a converter if you need it. Nowadays, companies make universal converters which are usable around the world, and are definitely worth the extra money if you plan to travel a lot! Keeping all your cords & chargers in one zipped bag makes organization easier.
Mini Detergent — You might not always have access to a washing machine, and may have to wash your essentials (ie underwear) in the sink so having mini detergents will help you wash stuff more easily.
Shower shoes — If you're going to be changing hostels or accommodation frequently, the communal showers can get gross. A cheap pair of flip-flops will make your life easier.
Greenheart Travel T-Shirt — Don't forget this comfy shirt! If you snap a picture in it, you might be featured on Instagram!
Large Carry-On Bag
Here at Greenheart Travel, we are big supporters of the #carryononly trend for travel, but for longer programs, it can be hard to fit it all in a small bag! You might check a bag and still need a backpack or larger carry-on. In that case, here is your complete list.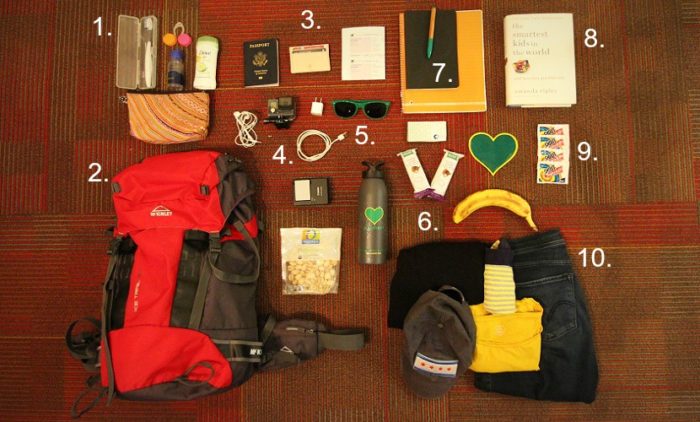 Basic Toiletries — On long international flights, you're going to want your basic amenities. Its a good idea to pack your toothbrush & tooth paste, contact solution, and deodorant. Other nice things to bring are some cleansing face wipes, hand-sanitizer and perfume/cologne so that you can freshen up right when you land.
Comfortable & Easy to Carry Bag — Whether you prefer a roller bag or backpack for your carry-on, it needs to be comfortable and easy to move around in. Lugging a heavy or uncomfortable bag through an airport as you change flights is a hassle you just don't want to deal with.
Passport & Important Documents — Having easy availability of your passport and wallet is an absolute necessity in your carry-on bag. You won't have access to your checked bag before passing through immigration, so you need it in your carry-on bag. It's also a good idea to have copies of important documents, like your visa (if applicable), address of residence, and a copy of your credit cards on hand in case the immigration officer requests it.
Electronics, Chargers & Headphones — Maybe it's just me, but I don't trust the airlines with my expensive electronics! Computer, tablets, cameras and chargers are always in my carry-on bag where I can keep an eye on them. It's also a good idea to pack at least one power converter in your carry on bag if you need a quick power-up once you arrive in the foreign country, because their outlets might be different.
Sunglasses — These are easily broken in checked bags, and you'll probably want to put them on right away!
Snacks & Water Bottle — Buying food and water at the airport is expensive! And these days, the airlines hardly give out any freebies, so it's economical to come prepared. For domestic flights, you can pack pretty much any food you might want. Your water bottle will need to be empty when you pass through security, but you can fill it up on the other side. Plus, you're saving plastic from ending up in a landfill! If you back any perishable fruits or veggies, you'll need to eat them before you land so you don't have to declare them in customs.
Journal, Pen & Paper — With hours on a plane, your mind is likely to be racing with excitement and energy. You might feel inspired to reflect or write about your upcoming adventures, so having a journal on-hand is a great way to pass the time.
Book — Even in the days of electronics, nothing beats a good book! We recommend paperback if you can manage it, since it's lighter weight.
Shout Wipes — Because you never know when you  might spill on yourself.
Extra Change of Clothes — There is nothing worse than landing after 14 hours of travel to find that your bag didn't make it and you're stuck in your dirty clothes. Always back an extra pair of clothes (especially socks & underwear) in your carry-on bag, just in case!
Small Carry-On Bag
If you prefer having a smaller carry-on bag (like a purse or small backpack), that's fine too! You'll need to downsize a few things, but the essentials are still likely to be in your bag. Check out what we suggest below.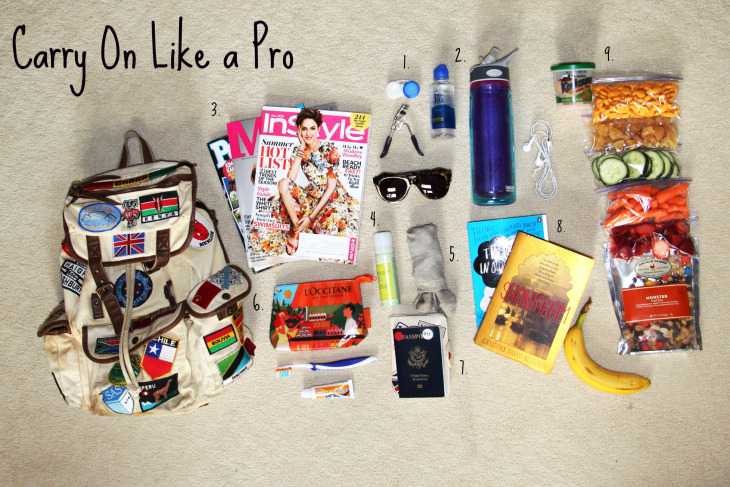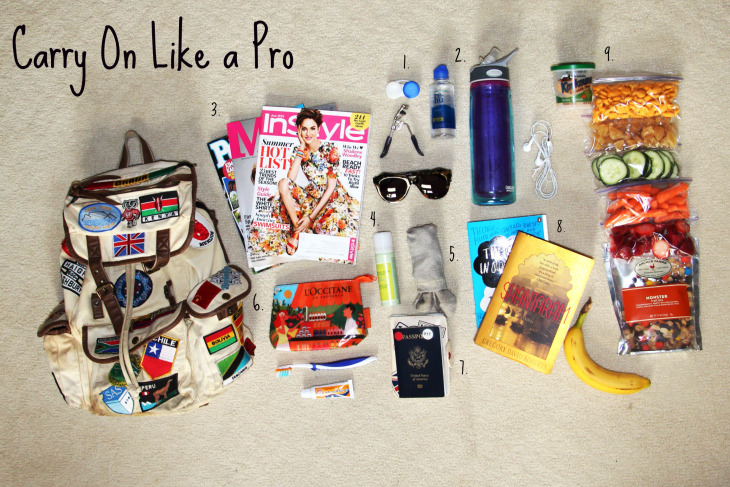 Eye drops & Contact Solution— Dry eyes are the worst!
Water Bottle — Saving the planet and dollars at the same time.
Magazines — These are easy to pick up and swap at airports.
Sunglasses — Yup, still make room for those!
Socks — If your feet get cold like mine, socks are always in my carry on bag, even if it's just a purse.
Toothbrush & Toothpaste — Gotta get that fresh breath, amiright?
Passport & Important Documents — I'm not trying to get rejected at the border.
Books — Something to fall asleep to.
Snacks — No hangry travel for this savvy traveler.
Packing Tips from the Greenheart Travel Staff
"I keep a bag for my dirty clothes and I always put a dryer sheet inside the bag to keep it smelling fresh. That way it doesn't stink up the rest of your stuff! You can also turn your clothes inside out to know which ones are dirty vs clean" — Savannah McDermott, Teach & Work Program Coordinator
"Pack your favorites. Never bring something that you haven't worn before. I always travel with basics, like a white t-shirt or black vest, and then jazz up my outfits with jewelry or a colorful scarf" — Sara Dorsey, Senior Teach & Work Abroad Program Manager
"I never travel with a suitcase. My trusty backpack has been with me since the beginning and I love it. It's so much easier to move around with a backpack than a suitcase, especially in developing countries. No matter how long my trip is, I will find a way to fit it all in my backpack" — Kara Menini, Teach & Work Program Manager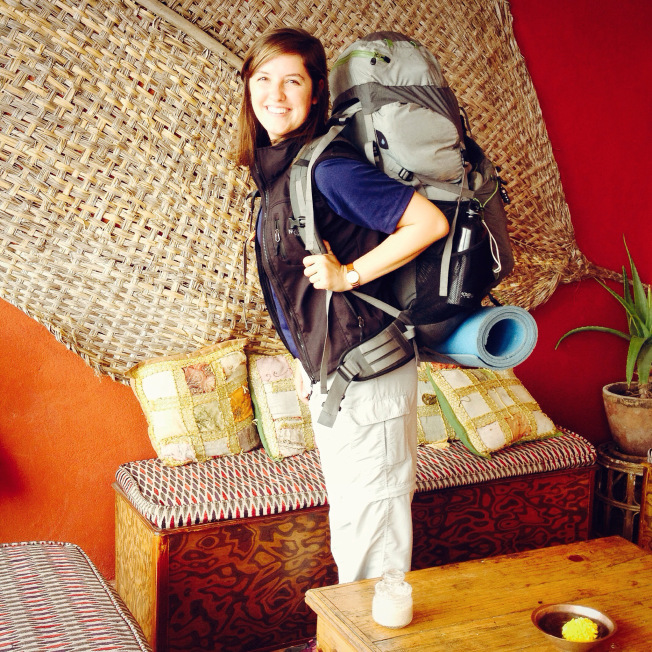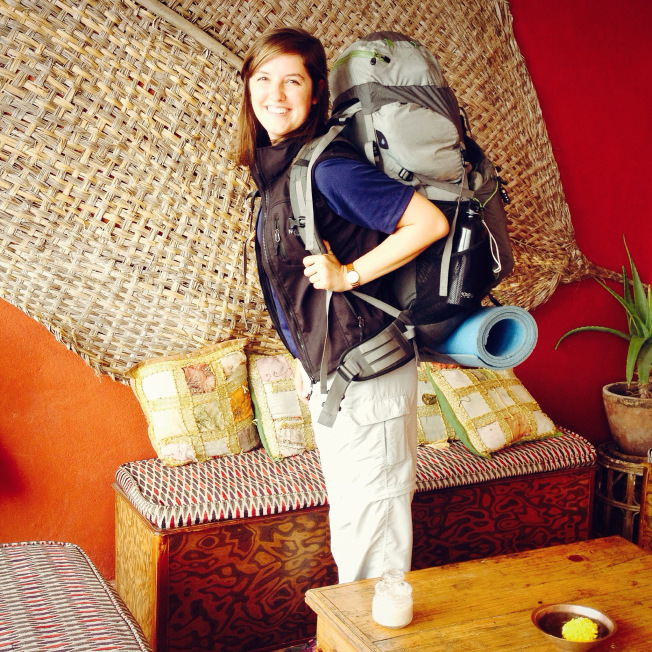 "Rolling underwear & socks and then stuffing them into my shoes helps save space. Plus, it helps maintain the shape of dress shoes or for the ladies, keep your flats less flat." — Kyle Trebotich, Director of Greenheart Travel
"I save up all the cosmetic & lotion samples that I get from like Birchbox and Sephora for my travels. They're the perfect little sizes, and are easy to pack. Those mini perfumes are the best!" — Lauren Bauer, Teach & Work Abroad Director
"I am a big exercise nut, so I always think about how I am going to work out while traveling. I pack a swimsuit instead of running shoes, because it saves space and still gets my heart rate up!" — Hope Pavich, High School Abroad Director
"I pack all my small things (shirts, underwear, socks, etc) into gallon plastic bags. It makes it easy to squish them down and save space, and it also makes it easier to find inside a big backpack or suitcase. I always pack a few extra too, for dirty clothes and toiletries. Sometimes the air pressure explodes the bottles, and I don't want lotion all over my stuff!" — Megan Arzbaecher, Short-Term Programs Manager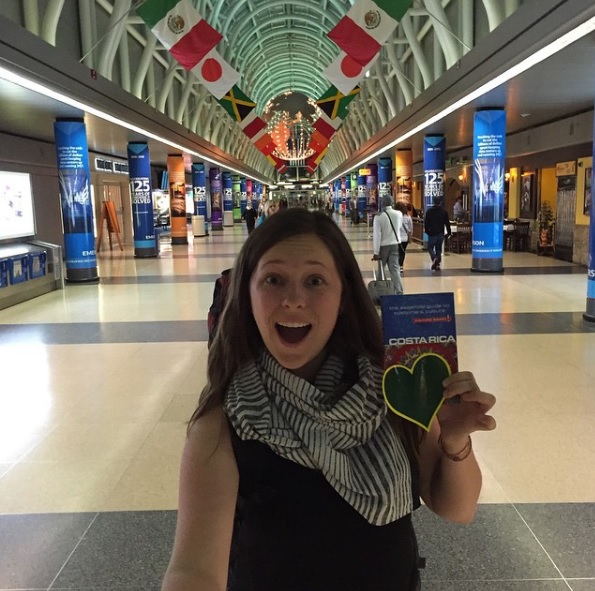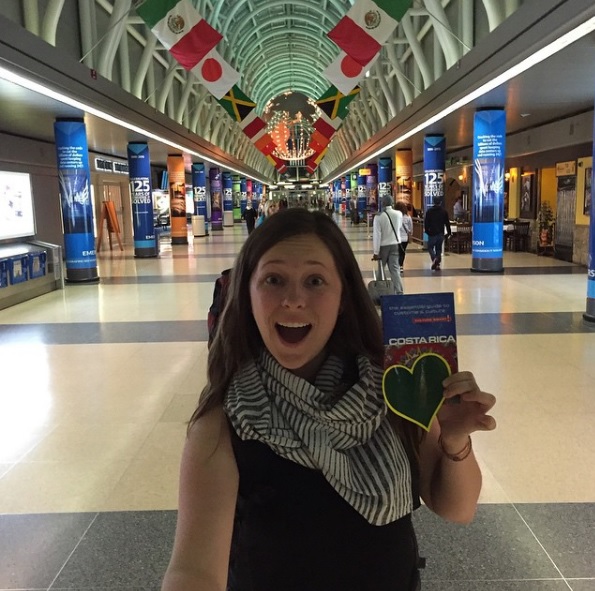 Did we miss anything? Comment below with any packing tips or suggestions that you use while you travel!