Where Does My Program Fee Go?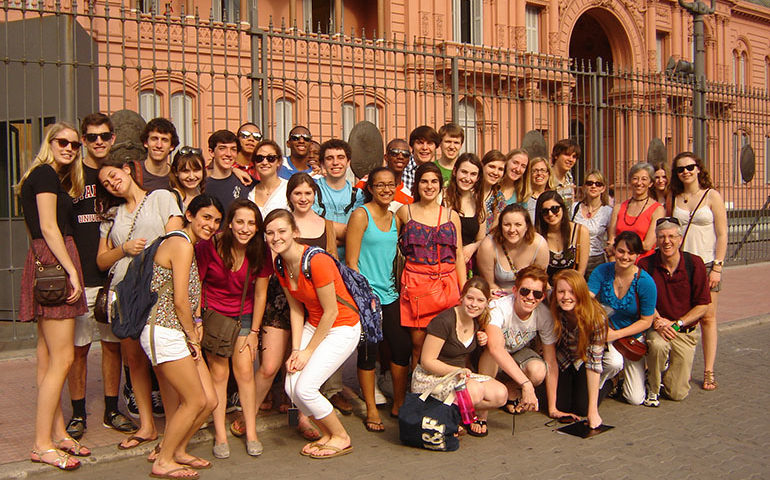 It sounds crazy, right? I have to pay for a job? I have to PAY to volunteer!?
If a program abroad is free it most likely has funding from the government to cover your start-up costs. Somebody has to pay for your expenses. Almost every Greenheart Travel program has a program fee, and while we do try to keep them as cheap as possible (we are a 501c(3) non-profit!) there are some costs associated with running a program when it does not have any direct external funding. Providing your programming and support costs money. While we'd love to offer everything for free, we have to stay open for business!
Here are some of the things that are usually included in your program fee with Greenheart Travel (please note: each program has different exclusions and this varies by program).
Tangible Inclusions:
Our goal is to package everything we possibly can into the program fee, to avoid surprise expenses for you down the road. Random expenses like airport pickup, accommodations during orientation, etc. add up! Thinking you're signing up for a cheaper program, only to find out you're still required to pay for a year of international medical insurance once you're registered? Not cool.
Here's the base of what is included in our program fees:
Insurance
Orientation excursions and trips (things like cooking classes, welcome dinners, museum visits, language classes, temple visits, kick-boxing classes, and more are including in some of our programs – depending on where you're going)
Accommodation during orientation
Airport pick-up and transfers. We'll pick you up and pick up the tab!
Accommodation or assistance finding accommodation
24/7 emergency phone number to reach us anytime
Administrative costs of placement with host school, family, job, or project
Can't forget some fun swag: Greenheart Travel t-shirt, canvas tote bag, & stickers
Unfortunately, there are some things that we're unable to arrange to pay on your behalf (ex: visa fees & documents). In these cases, we're sure to to list any additional expenses you can expect to be responsible for, so you can plan ahead!
Behind the Scenes:
Support staff in the Chicago office and our partner offices all over the world.

These expenses include things like our salaries, office space, and the general overhead it takes to run and coordinate programs like yours. We are here to answer any and all questions about your program or traveling abroad in general!
We are also all working together behind the scenes to coordinate all of the logistics of securing your placement and planning for your departure and arrival to go smoothly. We'll tell you what we need from you and when, and you'll just need to worry about what to pack! (We've got packing lists for you too, don't worry!)

Marketing budget to advertise the programs, build a website, and reach people like you!
We've got your back! Having issues on your program? No worries, we're here to help resolve them. We are your go-to for anything from culture shock, delayed flights, or questions about traveling abroad.
Pre-departure preparation: Vaccinations? Documents required for entry? Don't worry, we've done this a lot. We'll make sure you think of everything, before you even realize you needed to think about it.
Visa guidance. Do I even need a visa?! We've got you covered.
Program vetting: we carefully choose and vet our programs abroad and visit many of them frequently to ensure quality and safety.
Host family search & vetting: if you're staying with a host family, rest assured that they have been vetted before your arrival.
Emergency Support: Of course, we do everything we can to ensure that things go smoothly during your time abroad! However, the unexpected can happen. Should you find yourself in a tough situation or need support in an emergency while abroad, you want to know that you have someone both in-country and at home that you can call who cares, and to help you navigate a foreign hospital, paperwork, etc.
Bottom line, you're investing in smooth sailing and having a reputable organization make sure you'll be landing in a good situation. We'll make sure your new host country is ready to welcome you to a safe and secure experience. Getting on that plane is a whole lot easier when you know someone is waiting on the other side, you don't have to worry about finding accommodation, and you have a job/school set up for you already. If, once you get there, you need anything – we're here for you. That support, however, is not free.
While we absolutely love our jobs and coordinating and preparing people for their programs, we'd probably be out traveling the world if we could live without a paycheck 🙂