Four Months After Volunteering in Costa Rica, Gary Comer Students Inspire a New Group of Volunteers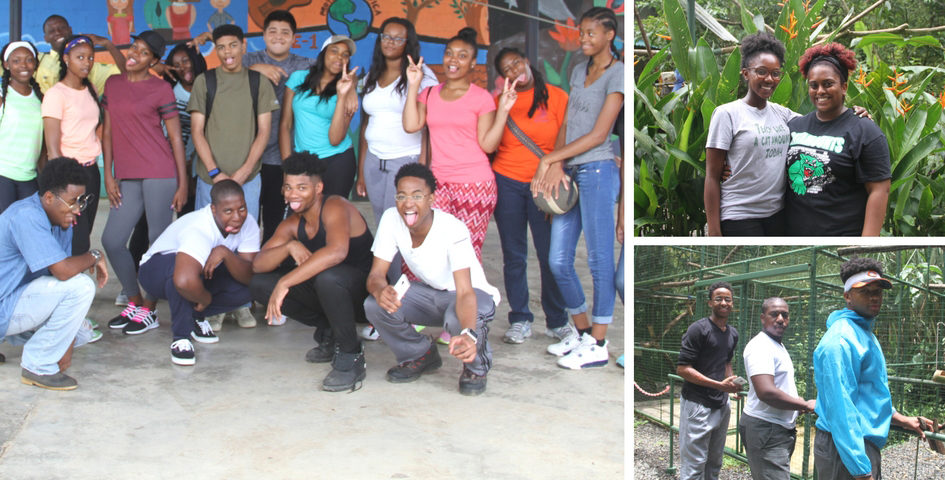 Gary Comer College Prep volunteering at the Animal Rescue Center in Costa Rica: (clockwise from left) the whole group getting goofy at a local school; teachers Ife and Aiyeshia chaperoned the group; Darrion, Malik and Santrell cleaning enclosures.
On Tuesday, December 6th, a journey that had started over a year earlier came full circle. Two seniors from Gary Comer College Prep, now in the throes of the college application process, presented at Foundations College Prep on a school night with a very important message:
Going abroad changed my life, and it will change yours too.
Sencere and Malik had volunteered for a week in August 2016, at Greenheart Travel's Animal Rescue Center in Costa Rica, building and cleaning enclosures for rehabilitated animals that had been either sold on the black market as pets or found injured and brought to the center by locals. The students' hard work would serve to give animals like peccaries and parrots room to roam while recuperating, in hopes that they could one day be released back into the wild.
In support of their former Race, Class and Gender Studies teacher, Aiyeshia Wong, now the English teacher at Foundations College Prep, Sencere and Malik told a room of students and parents why the teens should commit to go abroad in the summer of 2017.
After months of fundraising thousands of dollars with the help of their teachers, Sencere and Malik spent a week in the rainforest volunteering with animals, living with local host families, and immersing themselves in a new language and culture. Their appreciation and passion for their experience served to motivate the new group of volunteers and help their parents understand why this was an opportunity their high schoolers couldn't afford to miss.
Malik spoke about how the program had served as the perfect inspiration for his college application essays. "They want to see that you've been active, and my time in Costa Rica proved that I was involved!" He's been accepted to 8 schools already and is waiting to hear from 6 more!
Sencere reminisced about an excursion to a local Costa Rican school where they got to play with elementary-age students. It was a highlight of the whole experience for her, and seeing their facilities made her more appreciative of the access she's had to good education and other resources.
Sencere and Malik definitely warmed up the crowd. The parents were talkative and smiling. A couple were so excited, they asked if they could chaperone. One mother, when asked how she was feeling about sending her child abroad, humorously exclaimed, "Send 'em!"
The night was bittersweet. It was touching to see the Gary Comer seniors reunite with their teacher and inspire another class of students to take the leap abroad. It was also satisfying to see Aiyeshia's incredible work come to fruition.
It had been her personal goal to take student groups abroad, specifically students of color from the South Side of Chicago who might not otherwise be afforded the opportunity, and she'd accomplished every bit of it. Now, with more experience and the support of 19 former students forever changed by their experience, she was well on her way to impacting a new school and a new generation.
Has your life been transformed by travel or volunteering? Pay it forward and donate to help send Foundations College Prep students abroad!