Life as a Volunteer in Hua Hin, Thailand: A Look at a Typical Day at the Stray Dog Rescue Project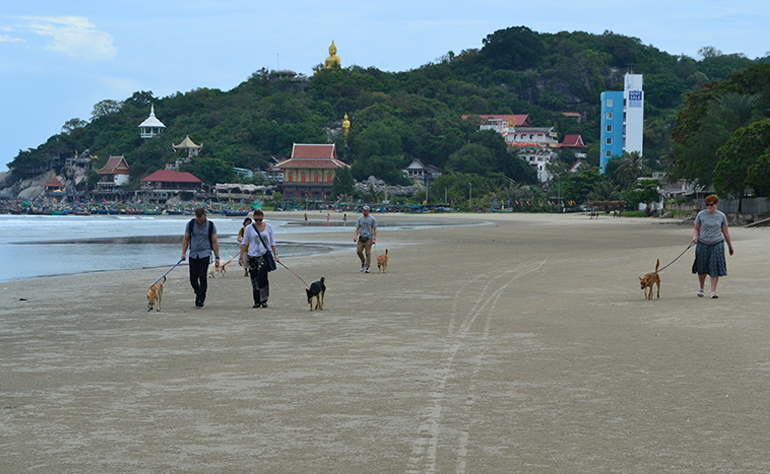 This past week, I finished up my second week of volunteering in Thailand. Two weeks down, six more to go… And I can't help but think how happy I am to be able to continue my work here and adding to the impact Greenheart Travel volunteers have been making in Thailand.
A Big Rescue at Rescue Paws
I have always believed that animals are people too, and they should be cared for just as much as we care for ourselves. The work that I am doing at the Rescue Paws volunteer project embodies that. The dogs at the shelter have all been found around the Khao Tao and Hua Hin areas, and all have been found in less than optimal condition.
One of the biggest rescue stories happened on my first day here, as we rescued a wounded mother dog and her five brand-new puppies. The Rescue Paws team had been trying to catch the mother for three years! She is just skin and bones, and her puppies were all covered in lice. Without our help, none of them would have survived much longer.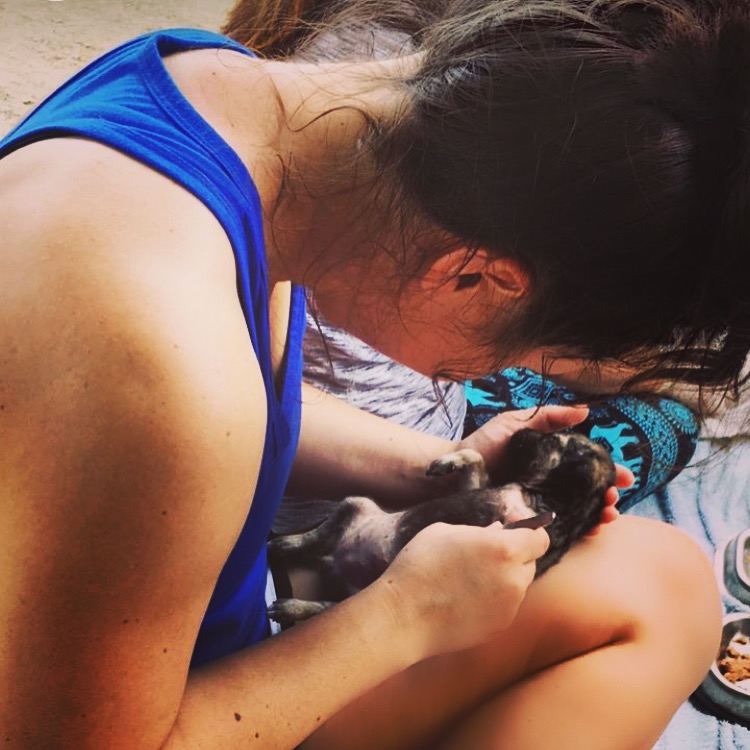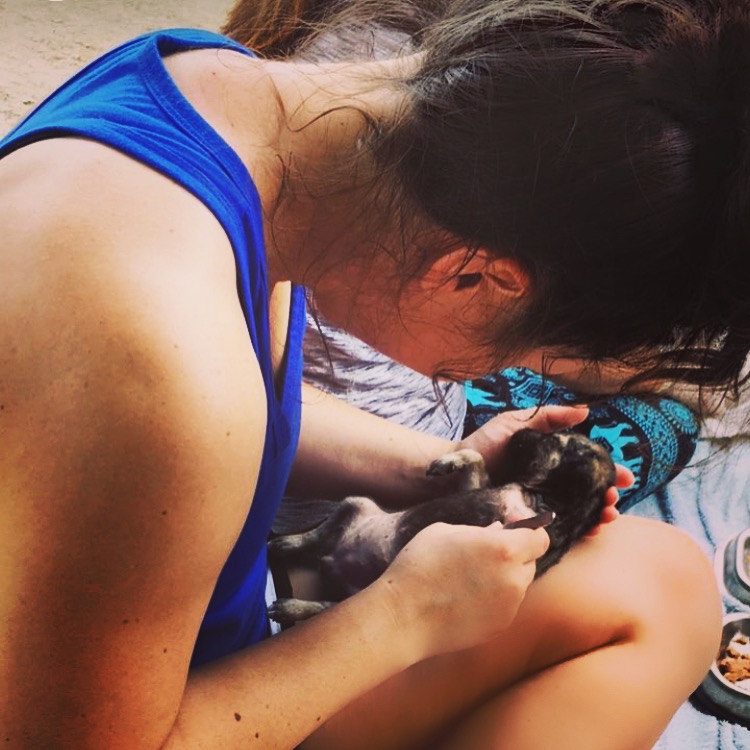 A Normal Day in the Life of a Volunteer in Thailand
Other than rescues like that, our normal day consists of cleaning the clinic and the kennels, feeding and walking the dogs, and any other little odd-jobs around the office.
Our day starts at 8am (Monday through Friday), when we leave the volunteer house with Hanli, Rescue Paws' Operations Manager, who drives us to work. If she is ever unable to drive us, we walk to work, which takes about 15 minutes and is beautiful the whole way. At the clinic, our main priority is to clean the floors, which the dogs "go" on during the night. After that, we give the dogs their medications and food, which is specific to each dog.
At first, all of this information was very overwhelming — how was I supposed to remember all these dogs? How am I supposed to know what to do when everyone is just jumping in and doing it? But luckily, all the other volunteers were wonderful and helped me to get acclimated. By the third day, it was like I had been there for years!
Play Time for the Animals
After we are done taking care of the clinic dogs (and occasionally cats!), we head over to the kennels, which are also located on temple grounds. It's about a five-minute walk. At the kennels, we start by splitting up into two groups: one group takes the dogs for a walk on the beach, while the other group stays and cleans the kennels.
While the dogs are out of the kennels, we power-wash and mop them down with diluted bleach water. Once the kennels are clean and the first round of dogs comes back, we all take the remaining dogs to the beach, where we let them off-leash. Watching them run around and play with each other is definitely my favorite part of the day. I also really enjoy cleaning the cat house that we have up at the clinic because I get to play with the kittens while I do it. Right now we have three little kitties!
After the walks, we head back to the clinic and break for lunch. We usually choose between three different restaurants that are around the clinic area and they all have DELICIOUS food! My favorite is called Loft Indy Kitchen, which has great food for very reasonable prices.
Afternoon Assignments
After lunch, we head back to the clinic, stopping at a small coffee stand along the way for a little pick-me-up. Back at the clinic, we usually are assigned something to do, which varies depending on the day — there are usually three or four different things that might come up:
One is to clean up in/around the clinic area to make it look as nice as possible and to improve functionality.
Another is to give tours to visitors and help them to walk some dogs on the beach (which usually happens on Thursdays).
And a third is to go around to different towns and administer parasite treatments to the stray dogs in the area.
Every Wednesday, we split up into two groups, with one group going to Hua Hin Dog Shelter to help their staff administer medications and give medicated baths, and with one group staying at the clinic to set up an adoption table.  Every Wednesday there is a market in front of Rescue Paws with local vendors and we always have a little booth set up to try and get people to adopt! Being at the market on Wednesdays is my favorite part of the week.
Closing Time
After the afternoon activity, whatever it may be, we begin our daily closing-up tasks. We feed and administer meds to the dogs at the clinic, then go down to the kennels for the same thing. We clean up any messes that might need our attention before we go home for the night.
Back at the volunteer house, we are basically free to do whatever our hearts desire for the evening. I love to go straight to the beach when we get back, which is just a short five-minute walk down the road. Most of the time, there is no one even there so it's like my own private paradise! For dinner, we all go to Mama's, which is the only restaurant on our road. The owner is the nicest woman ever, and I am pretty sure we are some of her only customers… But, her food is to die for!
My Advice for Future Volunteers
So far, my life as a volunteer in Thailand has completely exceeded my expectations. I have fallen in love with the Rescue Paws team and with the town of Khao Tao. I'm only two weeks in and I have seen more of Thailand from a residential perspective than most foreigners see in their lifetime.
To all of you future volunteers out there, be open to the experience! You might be scared and confused at first, unsure of what to do and where to go, but don't worry. In time, you will find your place and it will be amazing.  You will learn so much from this experience as long as you are willing to do anything that is asked of you. Don't turn down opportunities because you think they won't be up your alley. You never know what surprises might come your way.
Be sure to bring clothes that are both appropriate to work in AND appropriate for temple grounds (shoulders covered and knee-length shorts). I made the mistake of bringing tanks with me, so I have to cover up whenever I walk to and from the kennels. But, if you stick to that, and smile a lot at the monks and the locals, your time here will be extraordinary!
About the Author:
Emily Evans is 20-years-old, from Waimea, Kaua'i, Hawai'i, and is a Greenheart Travel Correspondent for our volunteer in Thailand program!  One of the many things Emily looks forward to during her program is experiencing the Thai culture through the food and the Buddhist temples and walking the rescue dogs on the beach. Follow her adventures here! 
Learn more about how you can make an impact in the lives of stray animals in Thailand AND get to play with puppies and kitties!