A Typical Day in Salamanca at My Language Camp in Spain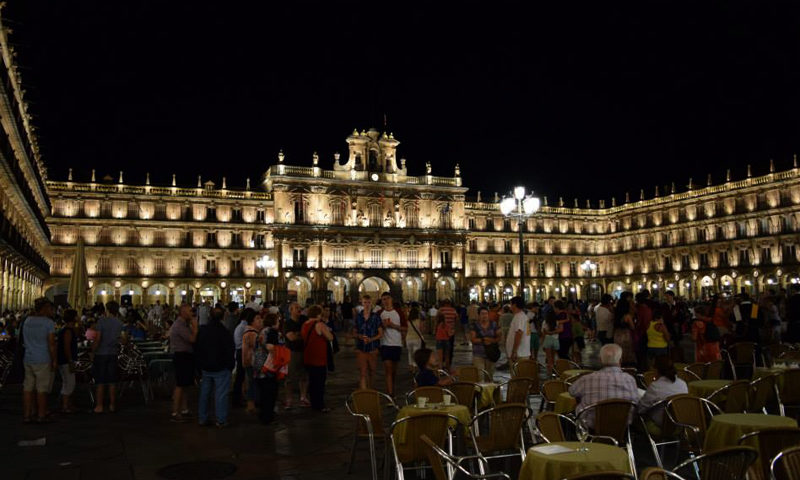 ¡Hola!
I am just finishing my first week here at my summer language camp in Salamanca, Spain. The time here really does fly between classes, activities, and exploring the city with new amigos.
I've noticed my comprehension of Spanish to improve immensely in the short few days I've been here. While being taught Spanish in Spanish is difficult, the immersion helps tremendously. A typical day at school starts with gramatica at 9:00 am, and lasts until about 10:00. Then from 10:00-10:30 we play games (juegos) where we put what we learned to use. We play anything from Guess Who to Uno to Hangman and so many more. Then we get to have a thirty minute break where most of the students head to the Plaza Mayor. When we return at 11:00 and  resume class again with discussions to practice our conversation skills.  We've discussed history, favorite books, things we like, and other similar conversations.
At 12:30 pm we are let out of school to return home for lunch, which is typically at 1:00.  We then have some down time in which students are able to further explore the city, hang out with friends, or simply stay home and rest. We all return to school at 5:30 pm for an activity. So far we have taken dance lessons and gotten to see the city with our teachers. The weather in Salamanca is fairly rainy at the moment, and as a result our sports and swimming excursions have been cancelled.  Instead we stay at school and play board games or watch Harry Potter (en Español).
Students return home at 8:00 for dinner with the family, similar to lunch. After dinner I've been meeting up with my friends in the Plaza Mayor to hang out until our curfew of 11:00 pm.
I can't believe how fast the time has gone by, or how fast my Spanish has improved. This trip has been truly spectacular so far.
¡Adiós!