Why You Shouldn't Wait Until College to Study Abroad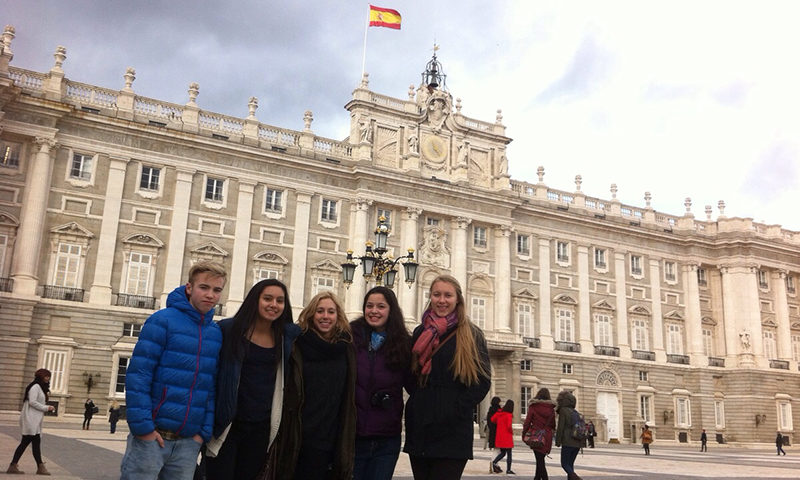 If you do a quick online search for the "benefits of studying abroad," you'll find testimonials from students with broadened perspectives of the world, a greater sense of confidence and an ability to adapt to new situations. For many students and educators, it's not whether or not a study abroad experience is worthwhile; the challenge is deciding when to study abroad.
As our world becomes more globalized, the push to get a head start and study abroad in high school is motivating a growing number of students looking for a unique academic experience. If you are trying to convince your family and teachers to support your dream of studying abroad in high school, but they aren't budging on their stance, here are a few reasons that might persuade them to change their mind.
Support and Safety
As a high school exchange student, you will have the security of living with a host family and being supported by local coordinators and teachers in the country where you are studying abroad. Living abroad is a life-changing experience, but one that doesn't come easy. It doesn't matter if you are a sophomore in high school or in college, homesickness, culture shock and trying to communicate in a new language are all challenges you'll face while living and traveling abroad. Having a support network is essential in these moments and is much more readily available as a teen exchange student.
Safety is another big concern, and one that is a priority for any organization or school helping students have cultural immersion experiences. Greenheart Travel completes regular check in's with in-country staff, communicates constantly with students' parents and our overseas partners about a students' experience, and monitors the political climate of where each student is placed on a daily basis.
Parents and teachers have the peace of mind of a 24/7 emergency network or are able to call the office and talk to their personal program manager about concerns. Studying abroad as a university student might still offer in-country support, but as independent adults, most parents often has to depend on their son or daughter to keep in contact rather than being able to rely on a school or organization.
Full Cultural Immersion
There are two different academic experiences when studying abroad as a teen versus a college student.  Studying abroad in university offers a great academic experience, but it is also very easy to find fellow students from your hometown college, or country, and stick to the familiarity of your native culture. There is more independence as a university student, but that also allows for staying in a comfort zone and observing a country and culture from a distance.
Studying abroad as a high school student, on the other hand, doesn't offer such luxuries. Living with a local host family, attending a school where your classes are in the host community language and embarking on this adventure as an individual student rather than a group, is a unique experience in full cultural immersion. As a teen living and studying abroad, you will have an authentic, cultural experience allowing for a deeper understanding of a country and language, and also yourself. Not to mention you will be experiencing first-hand the sites and historical traditions of academic subjects you might be studying.
"Travel early, so that you may learn more about yourself sooner." Leah Miller, Greenheart Travel High School in Costa Rica alumna
Stand Out on University Applications
When you study abroad as a high school student, you are immediately distinguishing yourself from your classmates. Your overseas experiences gives you tangible examples of why you are prepared to attend a university as a mature and independent individual, thanks to being an exchange student in high school. Plus, you can study abroad AGAIN during your time in university!
Our teen high school exchange students have life-changing academic experiences they would never have had back home. Alumni like Sarah, who studied in Austria and was a member of the symphony orchestra, was able to immerse herself in the tradition of the great composers that lived in Vienna while perfecting her musical craft. Her college applications didn't just state she was a musician, she was able tell a story of her commitment to her studies, ultimately helping her to be accepted into the University of Chicago.
It's not only about being able to stand out on college applications. Studying abroad in high school helps students make more informed decisions on where they want to go to university, and what they want to focus on in their career.
Greenheart Travel high school in Costa Rica alumna, Rachael Maloney, is experiencing this firsthand as she begins the college search a year after studying abroad.
"Studying abroad in high school has helped me discover my interests, as well as given me a better sense of what I am looking for in colleges. I am more confident, and now know myself well enough to determine what schools and locations could suit me best. I feel qualified to pursue my passions and shape my own future."
The Return on Investment is Higher for Studying Abroad in High School
Program fees to study abroad in high school can require fundraising, saving and budgeting, but the return on investment can be huge. If you consider that your high school abroad experience could also help you receive future scholarships or stand out on university applications once you return home, the return is even higher.
Yes, study abroad programs in university are a great way to stand out on job applications, just think what multiple international academic experiences will do for job interviews and networking?!
Having a global experience, in high school or later as an adult, are both important and life-changing endeavors. Studying abroad as a high school student, however, gives you a head start on your personal, academic and career success long into adulthood.
Rieley McCullough, Greenheart Travel's Teen Language Camp in Spain alumna sums it up best:
"Traveling is such an internal experience. This is a time when you discover your true self and get to know the diversity of the world. So do it as soon as possible!" 
Need some extra support on convincing your parents or teachers to let you study abroad in high school? Connect with us and we can help you get started on the conversation!