School is back in session and we're coming to a town near you! Greenheart Travel is excited to meet travelers interested in our programs this fall semester. Interested in going abroad but not sure where to start? We can help with all of your questions! Come talk with us about travel (our favorite thing to talk about) and how you can participate in a cultural exchange program this year!
September 13 – Indiana University-Bloomington
We'll be chatting about our full time paid teaching English positions and our Work and Travel programs as options for after college graduation!
College of Arts + Sciences Fall Career and Internship Fair
September 13, 2018
3 – 7pm
Alumni Hall, IMU
September 13 – Zionsville High School, IN
We'll be talking with the students at Zionsville about all of our programs abroad for high school students, including studying abroad and volunteering.
September 22 – Go Global Expo in Toronto, ON, Canada
At this event, we'll cover all of our international opportunities and dive a little deeper into Teaching Abroad with our seminar "Teaching Abroad 101: What You Need to Know for a Successful International Work and Travel Experience." Look for Greenheart Travel staff members Kate and Kara at this fair! Both of them taught English in Thailand with Greenheart Travel and have experience with living abroad to share!
More info on the Expo here: www.letsgoglobal.ca
Come to North America's best-attended event of its kind. Register here (it's free to attend!): GoGlobal Expo Registration
September 24 – Charlotte-Mecklenburg High School Study Abroad Fair in Charlotte, North Carolina
Greenheart Travel will be discussing high school study abroad options for students in the Charlotte-Mecklenburg area, where we've had a large number of previous travelers come from!
September 25 – Purdue University Hospitality Fair
At this fair, we will be focusing on our Hospitality and Tourism opportunities abroad for current students and recent graduates, ranging from internships to paid seasonal positions.
1-4pm Purdue Memorial Union, South Ballroom
More fair details here: https://www.purdue.edu/hhs/htm/undergraduate/career_center/career_day.html 
Whether you are looking for inspiration, or joining us on a Greenheart Travel program, our free webinars are open to anyone who has a passion for exploring new countries and cultures!
---
---
Upcoming Webinars:
Check back soon for our next webinar!
---
---
Weren't able to hop on a previous webinar? No worries! Check out the recordings below:
---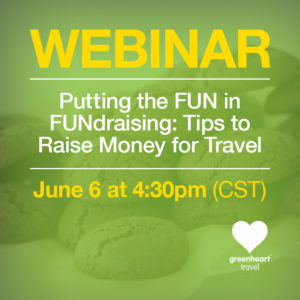 Putting the FUN in FUNdraising: Tips to Raise Money for Travel
Affording travel can sometimes be the biggest barrier, but there's a solution: FUNdraising! This means making money for your trip AND having fun while doing it. Watch this free and informative webinar to learn our favorite ways to FUNdraise!
---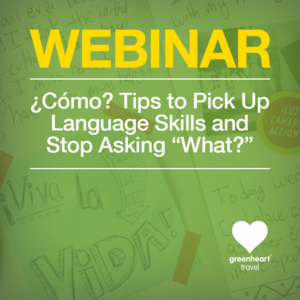 ¿Cómo? Tips to Pick Up Language Skills and Stop Asking "What?"

Tune into this free webinar for some must-know language learning tricks to make your time on your Greenheart Travel program even more beneficial. You'll stop saying you don't understand and start feeling confident in your speaking like a local!
---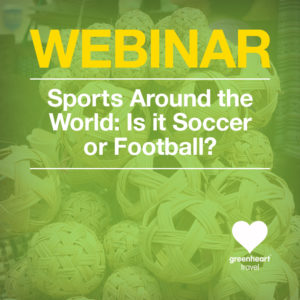 Sports Around the World: Is it Soccer or Football?
Want to travel abroad but worried about missing out on sports at home?! View a recording of this webinar to learn about some of the most popular sports (and maybe some you've never heard of) around the world, how you can get involved and how it will positively impact your skills!
---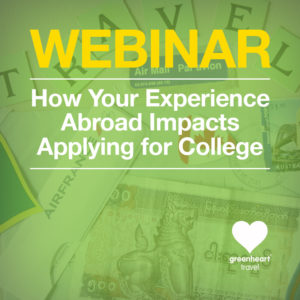 How Your Experience Abroad Positively Impacts Your College Application
Studying abroad in high school seems like a big decision. But, getting a head start on your overseas experience can positively impact your future, from college acceptance to career. Hear examples from Greenheart Travel alumni in this free webinar!
---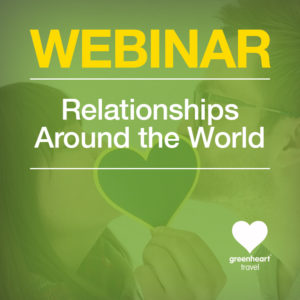 Cultivating Different Relationships Around the World: Why It's Important
You'll meet a lot of people and make many connections during your Greenheart Travel program. Tune into this free webinar to hear about the different types of relationships you'll cultivate abroad and why they're all important!
---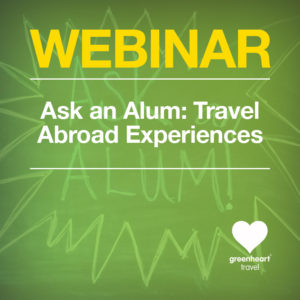 Ask a Greenheart Travel Alum: Travel Abroad Experiences
Wondering what going to another country on a Greenheart Travel program might be like? This free webinar is your opportunity to hear directly from our alums about their travel abroad experiences. Get inspired to travel for a change!
---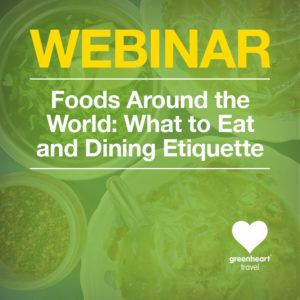 Foods of the World: What to Eat and Proper Etiquette During Your Travels Abroad
Excited to experience culinary traditions around the world? Journey with us through delicious foods of the world in this free webinar! You'll learn about local delicacies, dining etiquette and how to approach eating preferences while abroad.
---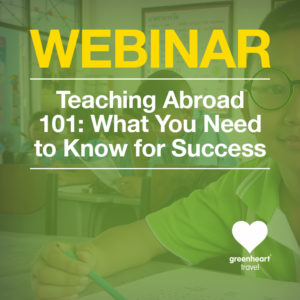 Teaching Abroad 101: What You Need to Know for a Successful Experience
Daydreaming about living abroad, but wonder how you would support yourself? Just about any Native English speaker can do it, and you don't need to be an educator. Watch our free webinar on Teaching English Abroad and learn how to get started!
---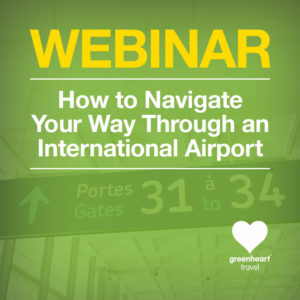 How To Navigate Your Way Through an International Airport
Does the thought of flying through an international airport give you butterFLIES? Check out our free online webinar to learn how to effortlessly navigate your way through international terminals, customs, baggage claims, and right into the heart of arrivals!
---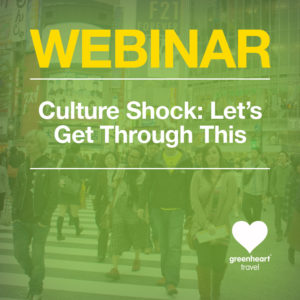 Handling Culture Shock: How to Prepare and Tips for Navigating Travel Challenges
Traveling to a different country is a life-changing adventure, but it can also be challenging. This free webinar covers a ways to address culture shock before it happens and how to work through it when it begins to set in.
---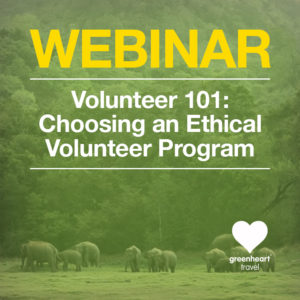 Choosing an Ethical Volunteer Program: Questions to Consider and What to Expect
In this free online webinar, we discuss the realities of volunteering abroad and address the ethical issues surrounding the voluntourism industry, while also highlighting its important role in cross-cultural exchange and service learning.
---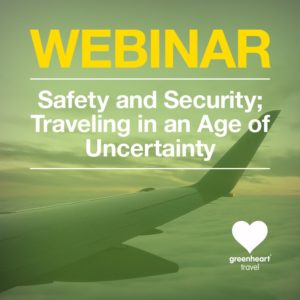 Safety and Security: Traveling in the Age of Uncertainty
Excited about the prospect of going abroad, but not sure if it's the right time to do it? On this free online webinar we discuss why the current world climate makes this a uniquely important time to travel and how you can safely explore it with confidence.
---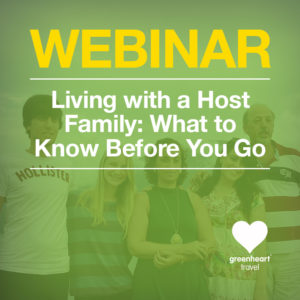 Living with a Host Family: What to Know Before You Go to Have a Successful Homestay Experience
In this free online webinar, we talk about how to best adjust to your new family dynamic, what to expect in your homestay and advice for settling into a new culture while living abroad.