Greenheart Travel Alumni Opportunities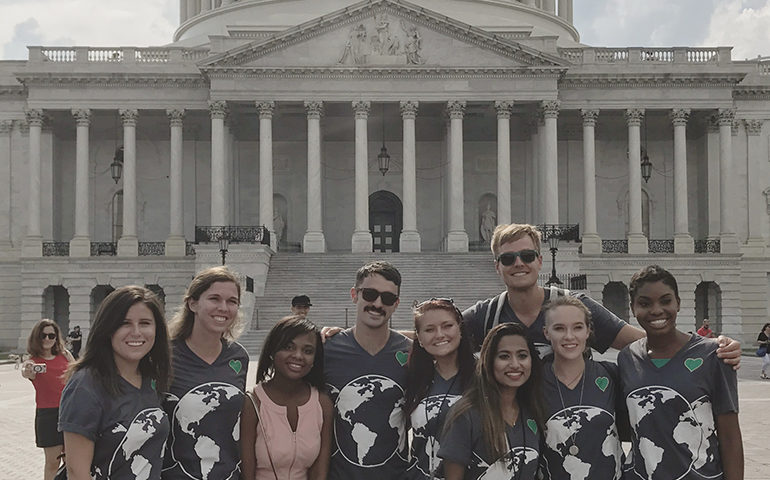 Congratulations, you're a Greenheart Travel alumni!  
Your adventure doesn't stop here! We can't wait for you to continue your journey with Greenheart Travel. Now that you're a part of our alumni family, you have many opportunities to continue your personal and professional development. 
The Greenheart Club
The Greenheart Club is our exclusive online community where civic innovators and volunteers can network, gain access to professional development tools, and measure their community impact. Customize your profile, share stories, receive badges and learn from others around the globe, all while logging your volunteer hours. You are required to have a Greenheart Club account to apply for the Odyssey Programs and Greenheart Grants.
Apply for a Greenheart Global Impact Grant (GIG) or Teach-Pair-Share Grant
A Greenheart Global Impact Grant (GIG) is a financial award of up to $1000 given to exemplary members of the Greenheart Club. It provides alumni with the opportunity to create, improve, or maintain a community-focused project abroad or at home. Find more information on the Greenheart Club. 
Greenheart's Teach-Pair-Share grant provides up to $1000 for Greenheart English Teachers to partner with a teacher from their host community on a project that benefits their students and school. For example, the grant can be used to fund a language-immersion event, launch an afterschool program, or build an educational garden. Apply here.
Become a Greenheart Travel Ambassador
The Greenheart Travel Ambassador role is a unique volunteer opportunity for alumni who want to share their international experience, encourage others to travel abroad on a cultural exchange program, and grow their personal network.
By participating as a Greenheart Travel Ambassador, you will:
Earn internship-like experience customizable to your interests
Develop advanced marketing, mentoring, and leadership skills
Expand your personal and professional networks
Connect with other highly accomplished alumni
Make connections and work directly with Greenheart Travel staff
Gain access to professional development resources and special events
What does a Greenheart Travel Ambassador do? 
Well, that depends on you! Are you a writer? Get published on our blog! An education major? Present with us in schools! Into marketing? Contribute to our social media and recruiting efforts!
These are just a few of the ways our Ambassadors are involved:
Mentor new Greenheart Travel participants
Host a Greenheart Travel meetup in your area
Give a stellar presentation and inspire your peers
Join us at a fair or conference to promote travel for a change
We're happy to answer your questions! Learn more or apply today by emailing travelalumni@greenheart.org. We look forward to hearing from you!
Apply for a Greenheart Odyssey Scholarship Program
At the heart of our mission is the Greenheart Odyssey, a series of five leadership programs providing full-ride scholarships (flights included!) to chosen alumni. All alumni can apply through their Greenheart Club portal following completion of their program abroad.
Junior Greenheart Global Leader's Conference (Under 18)
Jr. Leaders spend five days in Chicago exploring global leadership. They engage in service, public speaking workshops, cultural exchange, and one-on-one engagement with innovative leaders.
Greenheart Global Leader's Conference (18+)
Adult Global Leaders spend a week in Washington, D.C. learning how to be advocates for cultural exchange and community development. Business, social justice, and sustainability workshops culminate in a Department of State visit and panelist opportunity.
Greenheart Global Alumni Council
Six all-star alumni are chosen to be Greenheart board members for the year. Council members are empowered by the unique opportunity to come together in-person at the Purpose Summit in Berlin, Germany and in online spaces. They develop initiatives that have an international impact.
Become a Local Coordinator in the USA
Join our team of local coordinators throughout the USA, placing and supporting our high school exchange students and their host families. This is a part-time contract position that is open to alumni 26 years or older, with the opportunity for domestic and international travel to annual conferences. 
Fill out an inquiry form here: https://greenheartexchange.org/partner/become-a-local-coordinator/apply/ 
Host a High School Exchange Student in the USA
Located in the United States? You and your family can open your home to a high school exchange student from another country. You can host a student anywhere from a few weeks to an entire academic year. Volunteer host families provide our young ambassadors a wide range of landscapes, climates, activities, and lifestyles. 
Fill out an inquiry form here: https://greenheartexchange.org/host/host-an-exchange-student/apply/