New Adventures in Thailand – a First Time Traveler's 1st weeks Abroad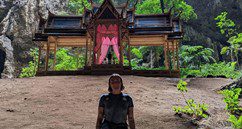 Skylar is one of our First Time Traveler Scholarship winners. She's arrived in Thailand for her Teach Abroad program and writes to us about her first few weeks there.
Settling down in Thailand
Under Thailand's Test-and-Go COVID policy, as soon as my COVID test came back negative, I was able to walk around Bangkok as I desired (I still would have to take an at home test on the fifth day). However, I have to admit, I did not take full advantage of this. While I know of friends who explored Bangkok well, I spent my first few days severely jetlagged by my +11 hour time difference. Instead, I chose to spend most of my days lounging by the pool, getting Thai massages, and eating all of the fresh mango, and dragon fruit I could get my hands on. This ended up working out, because my next week of orientation would consist of Muay Thai boxing, cooking classes, an excursion to a Thailand National Park, multiple trips to the beach, and hiking up a local mountain to watch the sunrise: aka, I was EXHAUSTED by the end of it.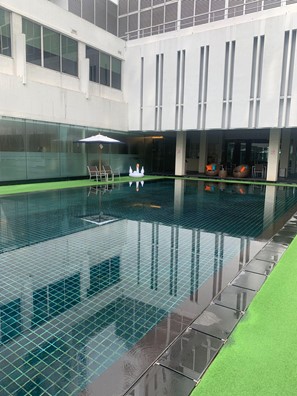 On to Hua Hin and Orientation
At the beginning of the last week of March, I made my way to Bangkok's airport to be picked up by a large coach bus with the rest of my group to make our way to Hua Hin. The drive went smoothly, and before long we were at our accommodation. I took in the view of my apartment, and felt ready to take my week on!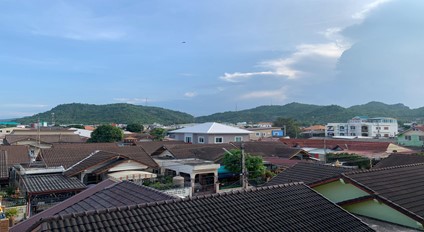 Orientation was A LOT of sitting through classes, although, I did learn some useful cultural tidbits. One thing that came in handy later in the week as we took a night to attend the movies, is that there is a montage dedicated to the Monarchy of Thailand, and you have to stand to pay your respects, even being a foreigner. We also learned about the West's influence on Thailand, largely due to Thailand never being colonized by another country. However, without a doubt, my favorite parts of the week were some of the excursions we took.
Learning The Thai Culture
Have you ever heard of Muay Thai? It is Thailand's version of boxing, and involves a mixture of martial arts and combat to invoke serious damage. Although I didn't get in the ring myself, the punching bag definitely felt my wrath. It was so much to train with local Muay Thai trainers, and it even inspired me to want to look into Muay Thai gyms in my placement city to learn proper self defense, while also blowing off steam.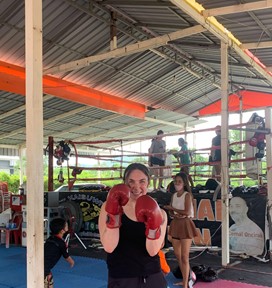 We also took some time to attend a cooking class where we made Papaya salad, one of my favorite dishes since being here. Papaya salad (called Som Tum) includes papaya, long beans, tomatoes, peanuts, garlic, dried shrimp, and fish sauce all mashed with a pestle to combine. Traditionally, it includes chilies as well, but my palette has not yet adjusted to the level of spiciness here! I'm working on it!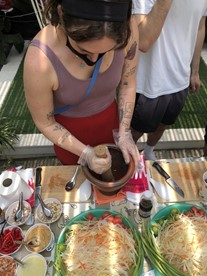 Most nights were filled with walking to the beach, or attending many of the night markets around the city. I had a chance to try crickets, mango sticky rice, coconut pancakes, fresh coconut juice, butterfly pea juice, fish cakes, and fresh spring rolls. The food here is too flavorful to not try everything, and with portion sizes being relatively small, it is easy to do just that!
My favorite thing I've done in Thailand thus far I did the first weekend in Hua Hin. It involved going to The Phraya Nakhon Cave. This cave was quite a hike, over and back down a set of mountain steps, across a beach, and then steps up again, before descending down steps into another cave. It also was slightly misting the whole time, making the rock steps a little slippery. But the magnificence of walking through the cave entrance into the large cave itself– which had a temple inside –was something I will never forget. The awe I had could never be put into words.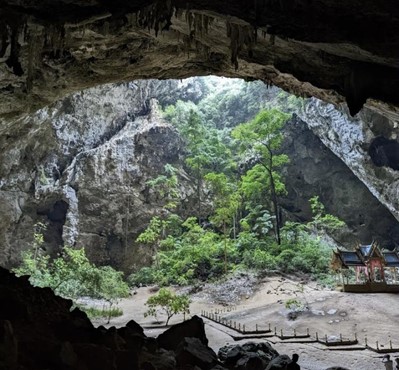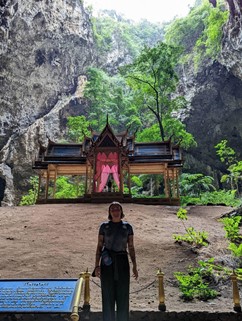 New Adventures are Still on the Way
Although my orientation week is over, and I am now in my city where my school placement is, I know that new adventures are still on their way. As I am beginning to adjust slowly to Thai Culture, build a support group, and find what I define as 'home', I feel myself settling in. But with all of the things I've done, and all I have to look forward to, it is hard not to be excited about each and every day.
by Skylar S – Teach Abroad Thailand
Thank you Skylar for sharing your experiences so far in beautiful Thailand!  Teaching Abroad is a fun way to learn about another culture, and to immerse yourself in it.  You can see all the countries Greenheart Travel offers for Teaching Abroad here and for Working Abroad here.