Teaching in Thailand was the adventure of a lifetime. Writing about it was, too!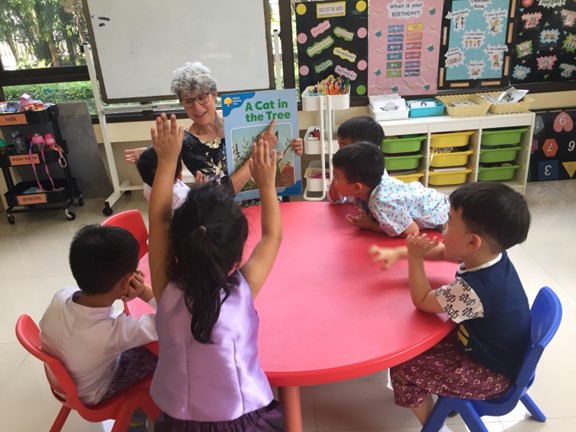 Greenheart Travel loves to hear from our travelers and to share their inspiring stories. We hope you enjoy this piece from Dian Seidel who went to Thailand with Greenheart Travel to teach English in 2019.
Teaching in Thailand was the adventure of a lifetime. Writing about it was, too!
by Dian Seidel (Greenheart Travel and XploreAsia alum, 2019-2020)
My husband Steve and I were not your typical "farang" (foreigner) ESOL teachers in Thailand. When we first walked into our XploreAsia (Greenheart Travel's partner in Thailand) orientation in Chiang Mai, it was obvious that the rest of our group were young enough to be our kids – or even our grandkids! Some were taking a gap year between university and work. Some wanted to live abroad while getting paid. Some were looking for love, some for healing, and some for enlightenment. As a retired couple, we were looking for a late-life adventure.
Since retiring from our government jobs, Steve and I had been volunteer ESOL teachers for adult immigrants in Washington DC.  We had hoped to teach adults in Thailand, too. Instead we ended up in kindergarten in Pathum Thani province, north of Bangkok. Since Thai kids can start at age 2½, kindergarten seemed more like pre-school to us. Our kids were adorable, fast learners, and rambunctious as all get out. Our days were filled with moments of delight, satisfaction, frustration, and exhaustion. For our kindergarten students, each day was a new adventure. The same was true for Steve and me.
We shared our adventures with family and friends back home via email. Each month we drafted long messages illustrated with our best photos. Folks seemed to like these missives and reported eagerly anticipating the next installment. What I didn't realize was that our messages were, themselves, the start of another adventure.
Our teaching contract ended March 1, 2020, and we returned home on March 3. We had planned to resume teaching English, but ten days after our return, our school, like most other schools and businesses, shut down due to Covid-19. Instead, I went in a room, shut the door, and started using our missives from Thailand as a springboard for writing a book. Eighteen months later, I completed Kindergarten at 60: A Memoir of Teaching in Thailand.
The online writing workshops, conferences, and critique groups I found during the pandemic were as much of an adventure as our time in Thailand. So was the publishing process, which took another 18 months. I met new people who supported me in my writing efforts and explored a whole new world.
Now that the book is out, I'm reliving my Thailand teaching adventure every time I speak about the book. My Greenheart Travel experience was the adventure of a lifetime – an adventure that keeps evolving and for which I'll always be grateful.
****
Learn more about Kindergarten at 60 at Dian's website, and find her suggestions for other books about Thailand at Shepherd.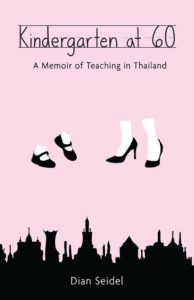 Kindergarten at 60 is available in multiple formats, including audiobook, through all major online booksellers and bookstores: