Orientation and Other Adventures During My First Week in Germany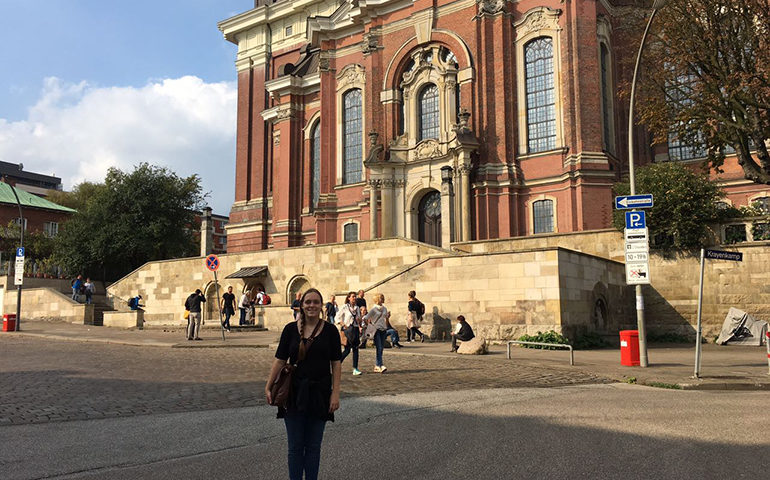 Deciding to study abroad in Germany is a difficult decision that didn't feel real to me until I was on the plane and everyone around me was speaking in German.
I met the other high school students when I arrived in Cologne. From there, we took a train and then walked to the orientation, where we would be staying for the next few days. Once we got settled, I met the rest of the exchange students from all over the world (most came from Italy).
Over the next few days we learned about what it would be like to live with our new host families and a bit about German history and culture. Our orientation leaders also created a scavenger hunt to do in Cologne and we got to see the Dom (which is very pretty). We were also able to start practicing our German during the activity by asking locals to sing a Kölnish song with us.
The chocolate museum was the final destination of the scavenger hunt and it took our group forever to find. The positive side is we got to use our German by asking for directions.
After the orientation, I went to meet my host family who were on Urlaub (vacation) in Italy. I spent the night in Venice and then we started the 20 hour drive back to Barsbüttel( town by Hamburg). Driving back was wonderful, and I got to see Austria, Italy, and Switzerland. Everything was so pretty.
We eventually arrived in Barsbüttel and I spent the next few days playing outside with my host brother and him showing me around town. We biked down to the EIs Cafe (ice cream shop) and bought ice cream. I chose Spaghetti Eis which is Vanilla ice cream that is run through a machine so it looks like noodles and is then covered in strawberry sauce and shaved white chocolate. It is only in Germany and I was so happy to finally get to try it.
After a few short days school started and I was very nervous, but it turned out O.K. Everyone is very nice and helpful and they are willing to translate and help me with my German. Luckily there is a bilingual history class so I can learn German history in English.
The first few days here have gone by quickly and I have already encountered a few cultural things that have surprised me since I have arrived.
They call white bread toast even before it has been toasted

They sell marshmallows and other products as "American"

You pay to use the bathroom and if it is a store you sometimes get the money back in a credit that you can use in the store but it's just like 75 cents

You also pay to use a shopping cart however you don't get money or a credit for that
That concludes my first week studying in Germany, and I look forward to more cultural experiences in the weeks ahead.