Reminiscing on La Mia Dolce Vita in Italia: My Sweet Life in Italy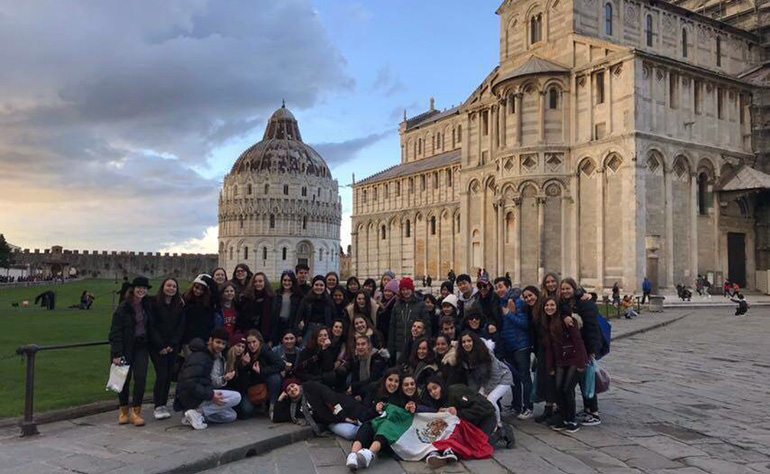 Now that I've been home for three weeks and the holidays are over, I finally have some time to sit down and truly look back on my experience studying abroad in Italy. Just from being home for a short time, I've definitely experienced some reverse culture shock. I've gained a new perspective that has made me appreciate both American and Italian culture in different ways. I've become more tolerant to cultural differences, open-minded to change and patient. Learning the Italian way of life wasn't always a piece of cake, but well worth it.
How Accomplishing My Goals Deepened My Relationships
I can start by saying I've undoubtedly grown in many ways this last semester. To point out some obvious ways, I achieved a few of my goals that I stated in my Student Spotlight article. I mentioned how I wanted to meet people, dive into the Italian lifestyle and munch on some good cuisine.
Well… I didn't simply accomplish these goals! I made lifelong relationships. I now have an extended Italian family, and friends who all love and treat me as if we truly are kin. My host family went out of their way to care for me and help me feel at home.
Not to mention the other exchange students. They were the ones I could really lean on for comfort; we could all relate and encourage one another because we were all living the exchange life. We were learning the language, school system, bus schedules, basically our whole lives all over again. It's times like these that you truly go through some personal growth and learn about yourself. And that's a big reason why I encourage others to study abroad. It will challenge you in ways you would never imagine.
As for the food, I don't think I could ever get enough of it. It's one thing that Italy absolutely has over any country. Mmmm, pasta.
If I could give pre-Italy Bethany a little advice, I would tell her this:
What you may think is weird is their normal. Don't stress too much. You're here to learn after all!
Study more Italian grammar!!!
Be patient in times of frustration. Never give up!
Laugh through your mistakes.
Communicate your feelings. Italians are all about good communication.
For any future students that are wanting to study abroad in Italy, I'll tell you this:
Beware of public displays of affection. I don't mean this in a bad way, but coming from the States I know it might be a shocker to some people. Italians greet with a kiss on each cheek, maybe three depending on the area. Close friends hug and kiss like they are family. It is a big part of their culture. Thankfully I knew about it beforehand!
Contribute to the family. This shows them you care and appreciate them. Attempt to cook and help around the house. Spend time with your host siblings. Family is the number one priority to most Italians.
Don't be afraid of the seafood. It looks pretty gnarly but it is amazing. And I don't even like seafood!
Bring your 'Sunday Best'. Italians believe in dressing to impress… 24/7. Oh, and athleisure is not socially acceptable. Or Birkenstocks, Chacos and vests.
You Will Grow in Ways You Never Expected
Above all, I'd like to share a little secret of what being a foreign exchange student really means: you're going to feel like you never have before.
There is no way around it. There is no way you can prepare for this but to face it and take it in stride. How it feels to adjust to a new culture and language, to travel to places you've never been before – these are the things that make exchange so invigorating!
You truly won't understand what it means to grow in this way until you return home from exchange and notice just how much you've evolved.
Your perspective is now a mix of many cultures, so living in your home country won't feel like it did before. How it feels to leave the life you've been living for the past semester/year and to return to what you thought you really knew: home. You'll have mixed emotions because it now feels a bit foreign to you. You'll hug and kiss your loved ones, but it won't feel the same. You aren't the same, and because home isn't only a place, but it's where your heart is. Now it's split in two.
A New and Improved You
And it's okay, because there is so much happiness that comes from living abroad. It's a whole new world that's waiting to be discovered. But the happiness comes with an equal amount of sadness, because you have to leave what you had in this new life and return home. But that is the beauty of it all. That's why it's worth going on exchange. I believe you truly live when you build relationships, learn a new language, and live a new life. You'll become a new and improved you.
Read more about Bethany's experience in Italy!