VIDEO: Insights into Being a High School Student in Japan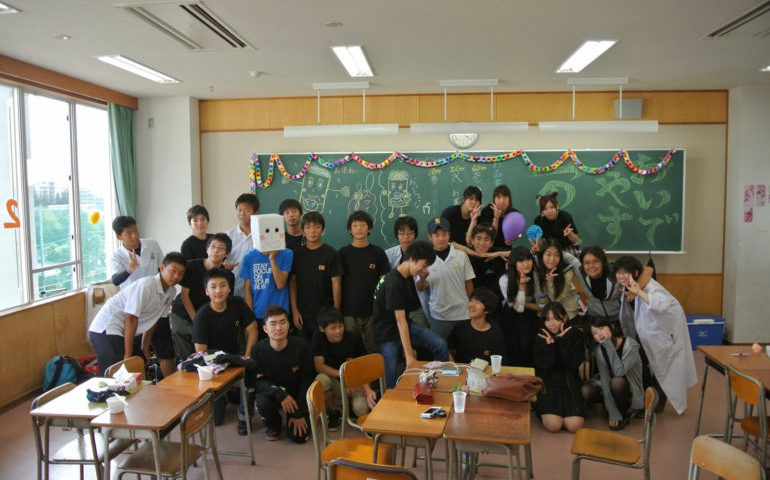 Check out my video or read on below for my tips about studying abroad in Japan.
First things first, making friends!
Now I`m sure you are already aware that this is absolutely important, but I still feel the need to mention it! Japanese students are very shy, so you really need to put yourself out there and make an effort to make friends. Once you make one friend, it should be a lot easier to make the next. Just keep reminding yourself to not give up, and that hard work is worth it in the end.
The second thing I mentioned in this video is some information about how the classroom in Japan works.
As I mentioned in the video, Japanese classrooms are extremely different from American classrooms. For one, you stay in your classroom and the teacher comes to you. Rarely do you go to another classroom unless it`s an exception like music or P.E class.
Finally, in Japan however, rarely does the teacher address the students.
In America, the students often raise hands, ask questions and the teacher interacts quite often with his/her students. This is not the case in Japan. The Japanese teacher will talk and write down on the board while the students listen and take notes. Those same notes will later be handed to the teacher at the end of the semester.
I hope this short video is eyeopening and answers any questions any potential Japanese exchange students might have!
Here`s the Japanese translation:
みなさん、こんにちは!
この短いビデオは、留学生として日本に来る誰もが知っておくべきことや準備すべき2つの最も重要なことをお伝えしています!何と言っても最も大事なことは友達を作ること!今、私は皆さんがこれが絶対に重要であることをすでに認識していると確信していますが、その認識では絶対足りないくらい大事なんです!
日本人の学生は非常に恥ずかしがり屋ですから、本当に必死になって友達を作るために努力する必要があります。1人でも友人を作ることができれば次の友人を作ることはずっと簡単になります!あきらめないでと、いつも自分を奮い立たせ続けてください!その努力は必ず報われます!
このビデオで2番目に挙げたのは、日本の教室の仕組みに関する情報です。ビデオで言及したように、日本の教室はアメリカの教室とはまったく異なります。 1つは、教室に留まり、先生があなたに来ます。まれに音楽やP.Eのクラスのような例外を除いて、別の教室に行くことはほとんどありません。
またアメリカでは、生徒は手を挙げて質問をし、先生は学生と頻繁に交流します。しかし日本では、先生が学生に対処することはめったにありません。生徒が聞いてメモを取っている間、日本語の先生が話し、ボードに書き留めます。同じメモは、後で学期の終わりに教師に渡されます。
私はこの短いビデオが目を覚まし、潜在的な日本の交換留学生の質問に答えることを願っています!