Trying to Communicate, in both Spanish and English, the Emotions of Living Abroad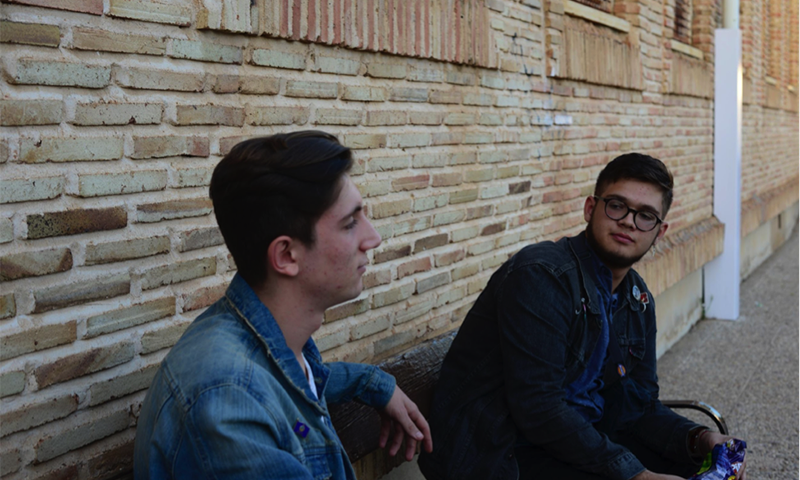 Eating sunflower seeds with my friend Yuri in one of the local parks
A Complicated Journey Studying in Spain
Studying abroad is often portrayed as empowering. An American student goes abroad and gains a new confidence in themselves and their abilities. The students in the community love the student and he becomes instantly popular and a fixture of the school and community in general.
While all that has been true for me in some way, my journey studying abroad in Spain has been much more complicated than that. It's an intense mixture of emotions ranging from loneliness to moments of happiness and feelings of powerful connections. I'm glad for everything I've felt and experienced here.
Words Escape Me in Trying to Explain this Life-Changing Experience
Everyday, I encounter something new and exciting. Simple things often present a challenge. I love that. I love being forced to think, forced to make everything deliberate. At home in the United States, I could just run on autopilot, but as an exchange student, that's not possible. Everything is vibrant, bright and complex. How do you explain that to someone who hasn't experienced it? The words for this feeling escape me in English and even more so in Spanish.
Although I have traveled abroad before, and even lived a month studying Spanish in Seville, this trip is much different. It is full immersion in language and culture. I am lucky to be in a small town that isn't full of tourists. As far as I know, I am the only native English-speaking foreigner living here. I can't say I've ever felt this challenged or loved a challenge more.
One of the challenges is losing some of my independence. I am used to being a pretty self-reliant person. Sometimes here I have to to rely on others here to get around or just to understand something.
My Spanish has improved and I can navigate my daily life well. I understand my teachers at school, grasp most of my class assignments and have meaningful conversations daily. My friends and I converse about many topics and often end up telling jokes and laughing for hours.
The one thing I can't seem to be able to communicate is the thing I really want to – my feelings. I just want to sit down and talk and let it all spill out but I know that won't happen, now. The emotions I feel here are things I'm not sure I can even express in English.
I am sure some people see me as a curiosity and source of entertainment. That being said, I have made some of the best friends in my life. I managed to find people who care deeply about me. They share their lives with me and make sure to include me in activities.
They make an effort to educate me without demeaning my intelligence. At the same time, they aren't afraid to throw me into the deep end when I need to be thrown into it. It was a trial and error process to finding a social circle. The process was well worth it because we have developed friendships that will last a lifetime.
About the Author:
Martin Tomlinson is 16 years old and lives in Overland Park, Kansas. His was inspired to study abroad in Spain because he feels "it is important to be a global citizen. Experiencing a different culture not only helps me understand it, but also helps me examine my culture and examine my views in deeper and more meaningful way. I want to become the most understanding person that I can possibly be." Follow Martin's adventures on our blog!