Picture Diary from Sweden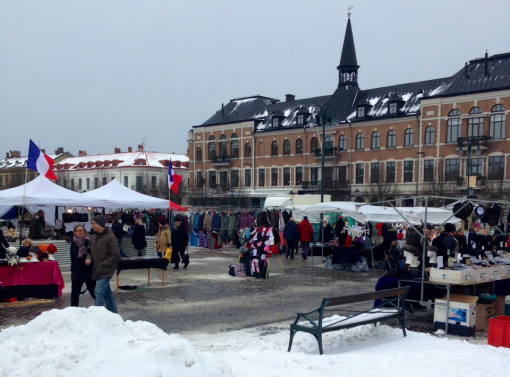 I have had so much fun taking pictures of everything in Sweden and on the weekends I am normally pretty busy and find it hard to find time to do a blog post, so I have come up with a perfect solution – a Picture Diary! I think that this will be a really fun and easy way to show everyone what I have been up to all day and give more insight to typical everyday Swedish lifestyle. I will try to do this more often if you guys like it, but for now enjoy!
As I was walking home from the library I passed through the market. Every Wednesday and Saturday there is a big market in the middle of town. They sell foods, clothes, jewelry, flowers, you know it. However, right now it is not all that good because it is winter, but when summer comes the market becomes packed with people and huts.
In the afternoon I had he pleasure of going to a play with Bea, Mur Mur, and Douglas. It was super fun and the theater itself was gorgeous. Best part was the play was in English, so I could actually understand what the heck was going on!
After dinner we are going to relax and watch a Swedish song competition show or something like that. It sounds similar to American Idol, expect they are competing based off of their original songs, rather than their voices. Then it is off to bed.
Tomorrow it is suppose to rain, so bye bye snow! Hope everyone has a good rest of their day.
-Hannah