48 Hours in Hua Hin; What to See and Do During Your Weekends in Thailand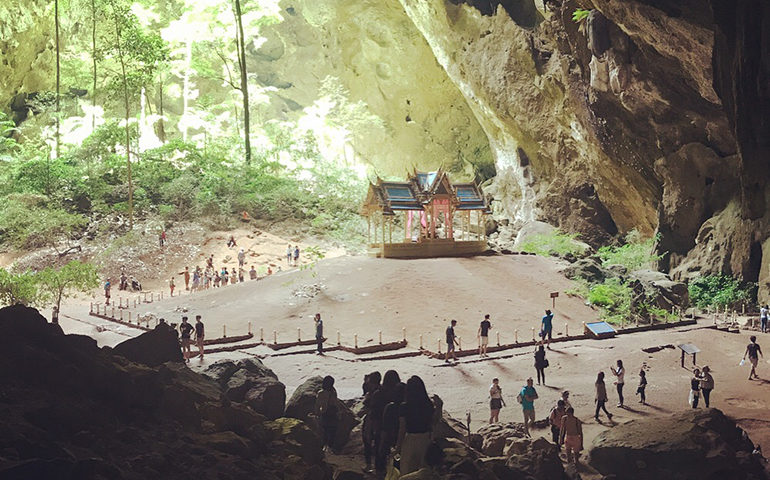 I have just passed my "halfway point" on my volunteer journey in Thailand, and while the work that I am doing is amazing, having time off is always appreciated! The volunteers at the Stray Dog Rescue project work Monday through Friday, so we have weekends off to travel, explore and indulge in the culture.
Thailand is a very exotic and vibrant country with so much to offer. One of the best things is the food! Right down the road from the volunteer accommodations is a local family restaurant which we call Mama's… her food is both delicious and affordable and I eat there almost every day!
The other volunteers and I also eat at S. Ken's Bistro a lot, which is right across the street from the Rescue Paws clinic. But if you are looking to switch it up, you can always call a taxi and go into Hua Hin (about a 20-minute drive away), which has a lot of options. It is a particularly good choice if you are looking to get a break from Thai food.
I highly recommend Hua Hin Vegan Café & Wine, which has delicious vegan and vegetarian food. I am far from a vegan, but their Dark Strawberry Smoothie is to die for!
Hua Hin is the closest big city to Khao Tao, which is where Rescue Paws is located. I personally like to spend my weekends on the beach just down the road, or in the Wat Tham Khao Tao Temple, where the Big Buddha is located. Being there just makes me feel so relaxed.
I do also try to do at least one adventurous thing on the weekends. A must-see are the Phraya Nakhon Caves, which are a series of "living caves," meaning they have plants growing in them due to the holes in the ceiling. One of the caves has a temple in it, which was built by hand in Bangkok and then assembled within the cave in 1890.
While the hike there is exhausting and treacherous, it is totally worth it! And when given the option to hike the first half of the trail or take a boat ride… take the boat ride.
Another great thing to do on the weekends is go to the markets, which is where you can get all your souvenirs and authentic Thai food. There are TONS of markets in Hua Hin, ad my favorite is the Night Market, which is right in the heart of the city. Another market worth visiting is Cicada, which is more up-scale version of the Night Market.
Just a short way from the Night Market is Market Village, where we do all our grocery shopping for breakfast foods. It is basically a giant mall, and a good place to go if you are looking to do any kind of western-style shopping. There is also an excellent massage place right next door.
Next weekend, the other volunteers and I are looking to go to Wat Khao Takiap, which is also commonly referred to as "Monkey Mountain," and Pala-U Waterfall. Monkey Mountain is the temple located in the next town over and is nicknamed according to the masses of wild monkeys that like to hang out there. The Pala-U Waterfall is in a national park near the border of Myanmar. Apparently there are five levels to the waterfall, and you can go swimming on several of the levels. I am really looking forward to it!
It is always great to get out of Khao Tao and see other parts of Thailand because it truly is beautiful. Thankfully, the volunteer project has been great about providing me with all kinds of information about where to go and how to get there. If there is ever anything you want to do or know about, you can always ask the staff — they know a lot more about the country and are willing to make your time there as memorable as possible.
About the Author:
Emily Evans is 20-years-old, from Waimea, Kaua'i, Hawai'i, and is a Greenheart Travel Correspondent for our volunteer in Thailand program!  One of the many things Emily looks forward to during her program is experiencing the Thai culture through the food and the Buddhist temples and walking the rescue dogs on the beach. Follow her adventures here! 
Do you have any other recommendations for places to visit in and around Hua Hin? Share them in the comments below!