What is Teen Summer Language Camp in Costa Rica like?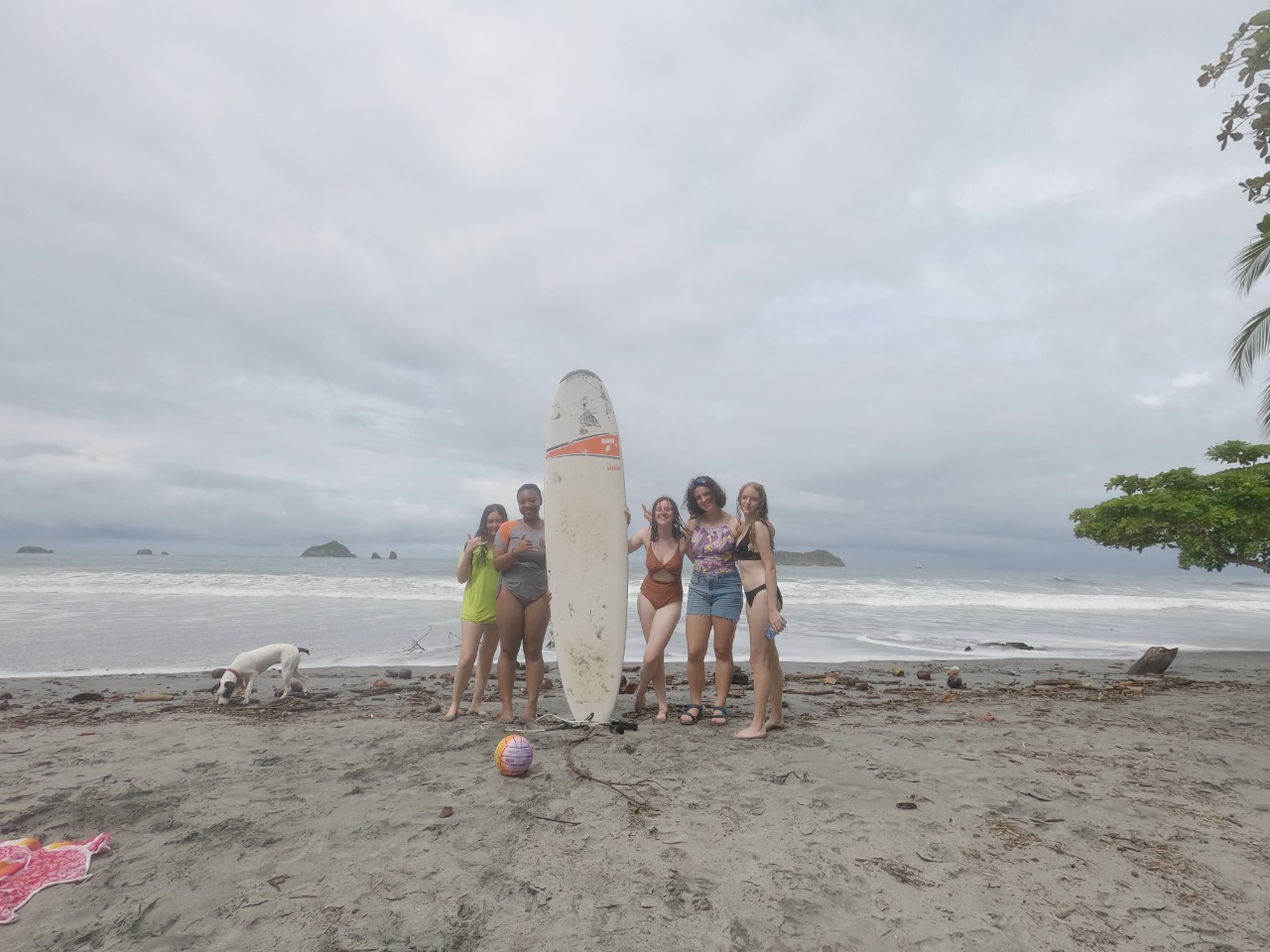 Going abroad is always exciting — experiencing new sights, new foods, new ways of looking at things.  And while the surprises of travel are exhilarating, we all appreciate a little "what are my days really going to be like" kind of reality.  Here are some journal emails to parents from this summer's camp in Costa Rica: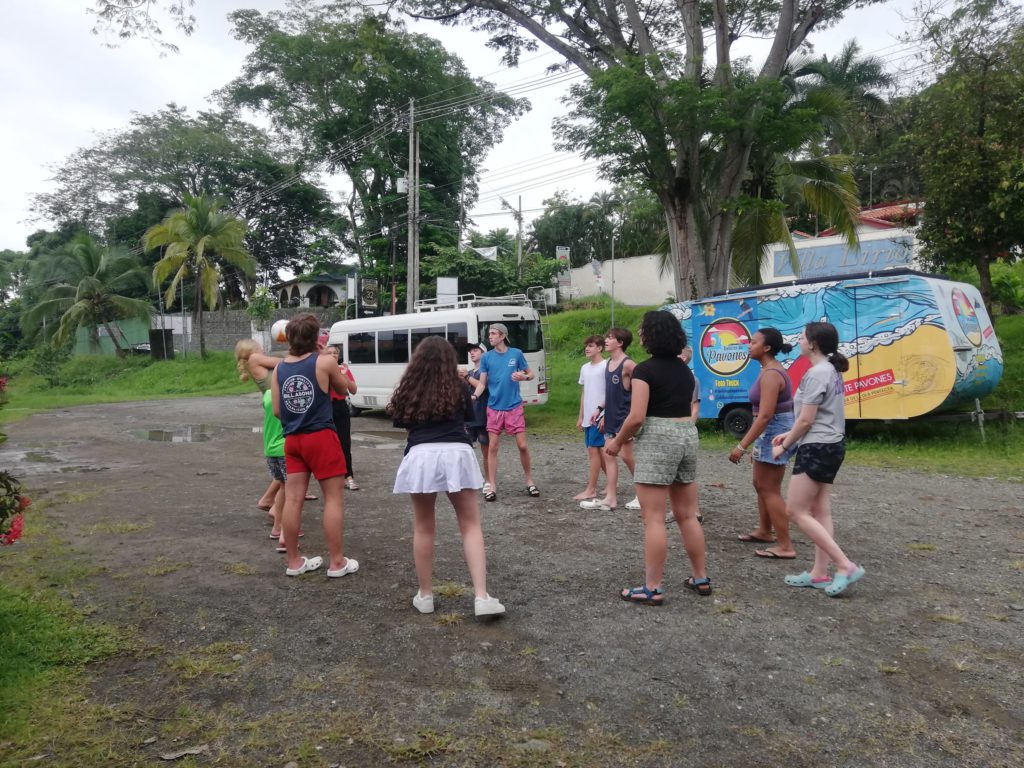 MONDAY – Hello Parents!
I trust everyone had a nice start to the week 🙂  Today, the complete group for the last week is with us, and we are now ready to enjoy the last week in tropical paradise!
Today in the morning we picked up the group early for their surf class, we went to Manuel Antonio Beach, but the tide was really strong, so we had to relocate to our trusted location in Quepos. There was a good amount of rain during classes, but Elsa, Adelyn, Austin, Christian, and Nicolae got to catch a few nice waves. The rest of the campers opted against surfing in the rain.
At noon, we went for lunch at a local restaurant, everyone got settled in their new groups and with their new teachers. In the last hour of class, the entire group got together again, for a game of forming sentences.
After class, we took everyone to the host families for dinner and a good night's rest.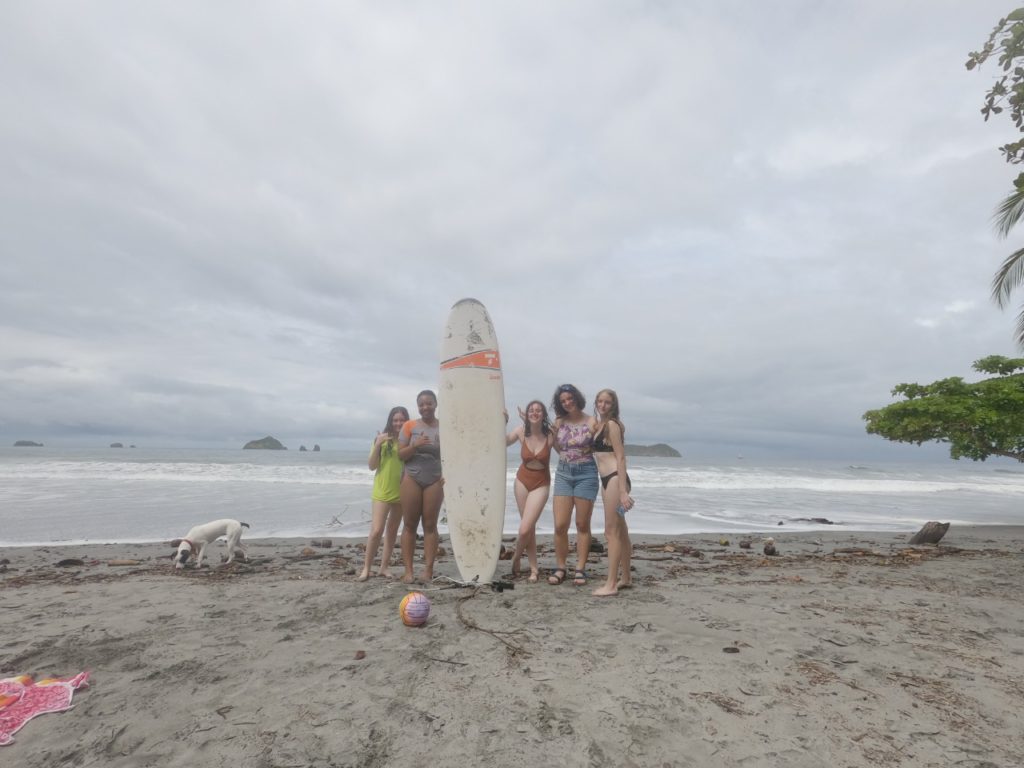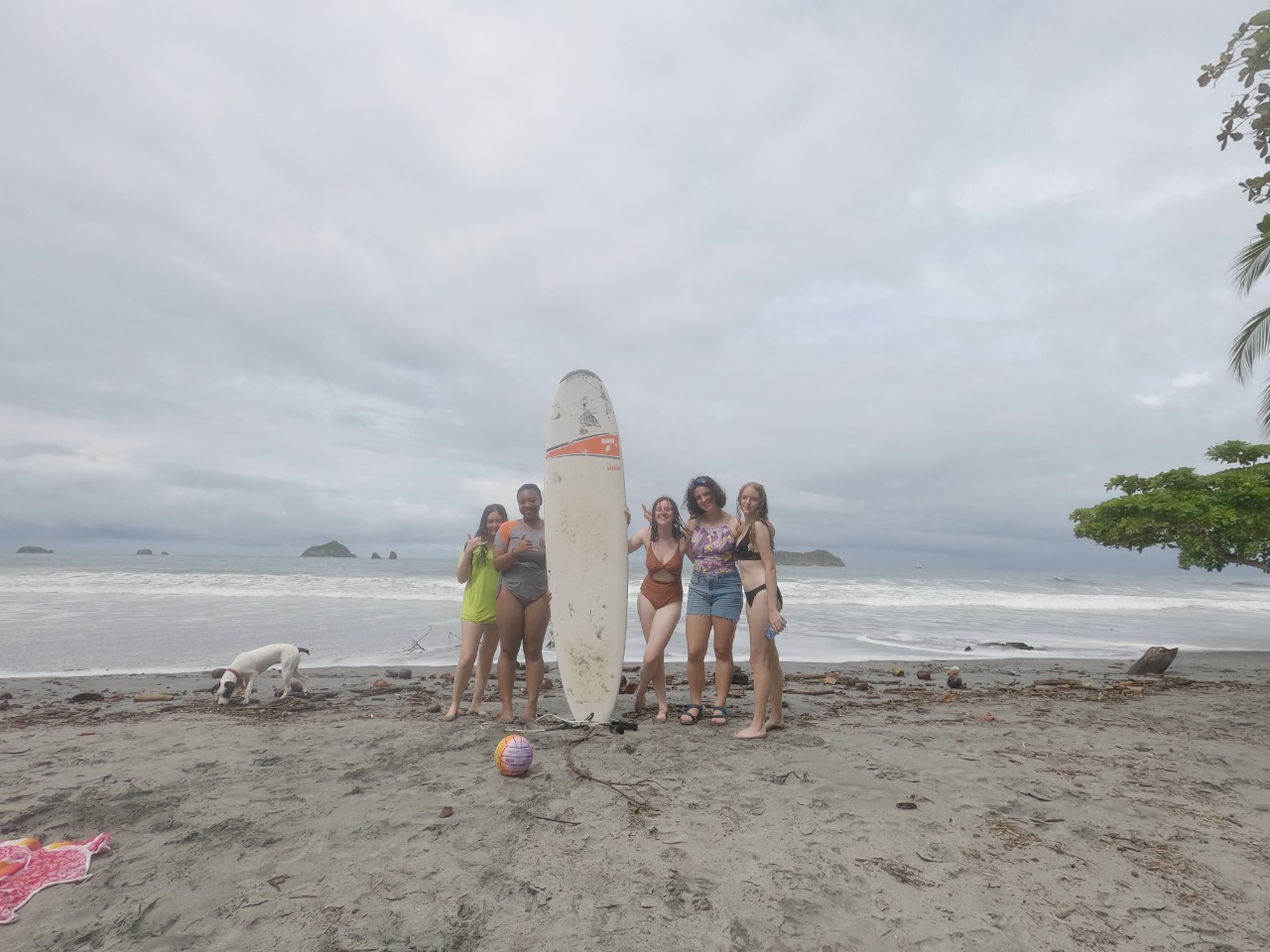 TUESDAY – Hello Parents!
Today, here was sunny and we got to go to the beach for a couple of hours. The group got to spend some time together in a safe and beautiful place and they played ball, body surfed, and swam for a few hours in the morning.
After the beach, we took the people doing Scuba for a quick lunch and the pool day, and the rest of the group went for a longer more relaxed lunch at my favorite burger place (Santa Plancha) before Spanish classes.
At the end of the Spanish Class, they played charades with verbs in Spanish, where someone had to guess the word they had behind them.
After Spanish Classes, we went for dinner at a food truck by the ocean, they went in for a quick splash, they got to see a baby sloth with its mom, and then we had a delicious dinner.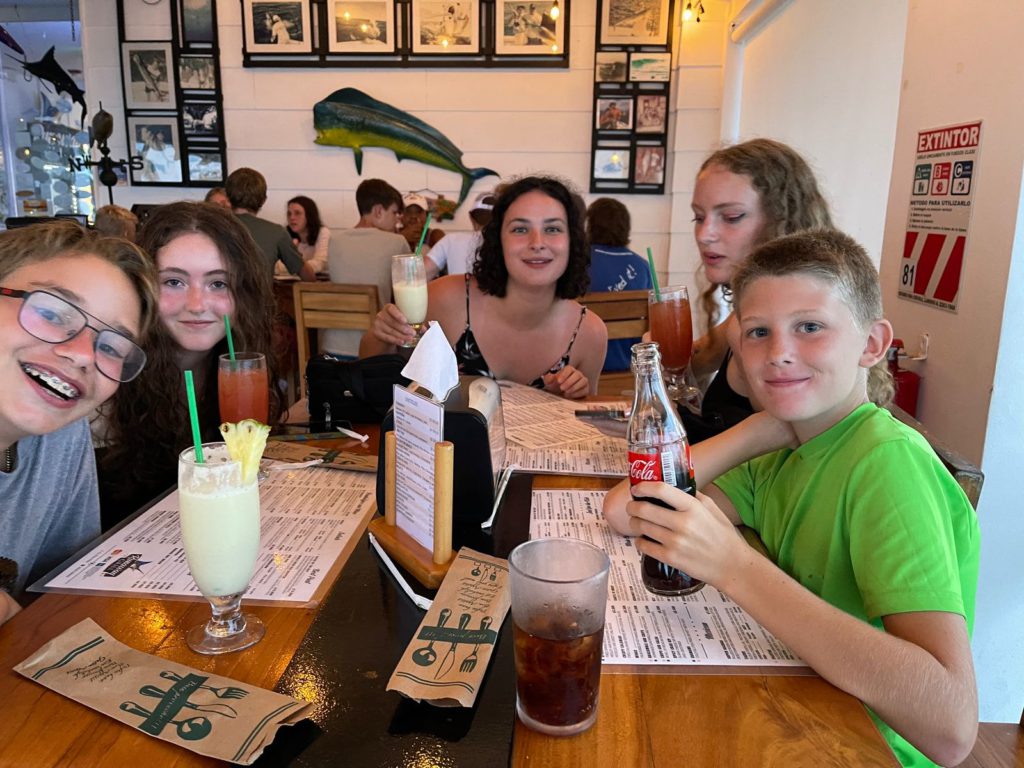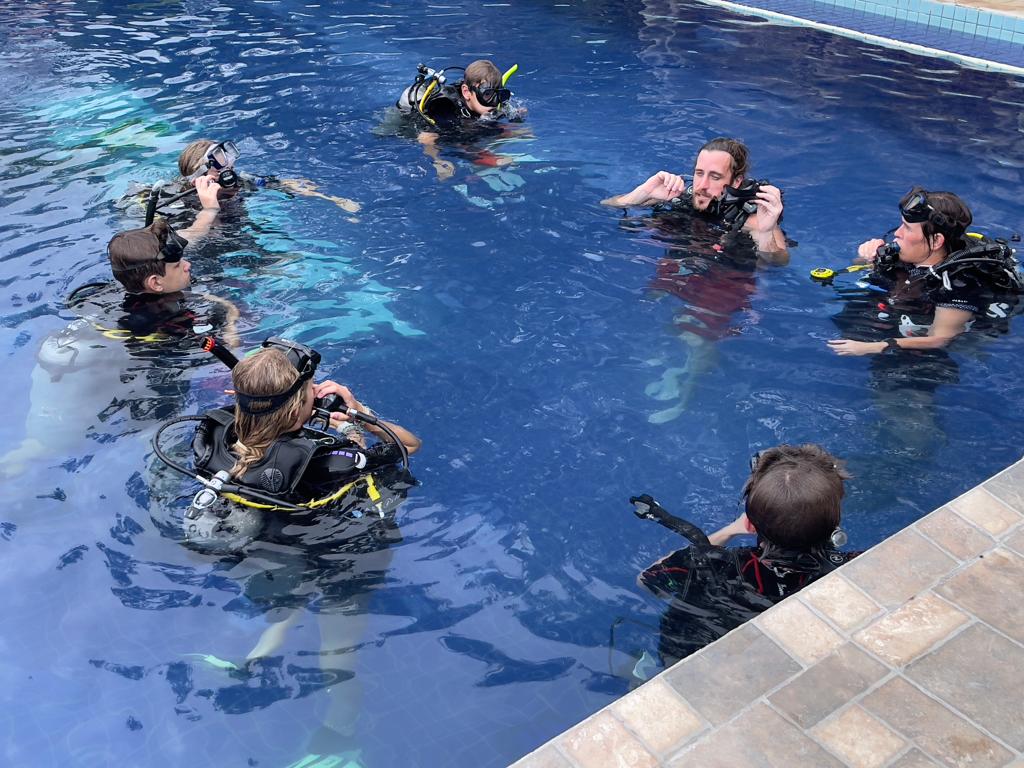 WEDNESDAY – Hello Parents! Saludos from Tropical Paradise!
Today we picked up everyone in the morning to go on the Catamaran Tour. We went to the Marina to register and board our boat and spent the next couple of hours dancing, sailing through the coast of Manuel Antonio, and then swimming and jumping off the boat's platforms and slides.
We had lunch and plenty of fruit juices on the boat, and then they drove us to Maximo Nivel For Spanish Classes. The teachers started their Spanish classes with a few games, to help everyone get active in the class, and after Spanish Classes, we went to the Marina for a nice group dinner before going back home.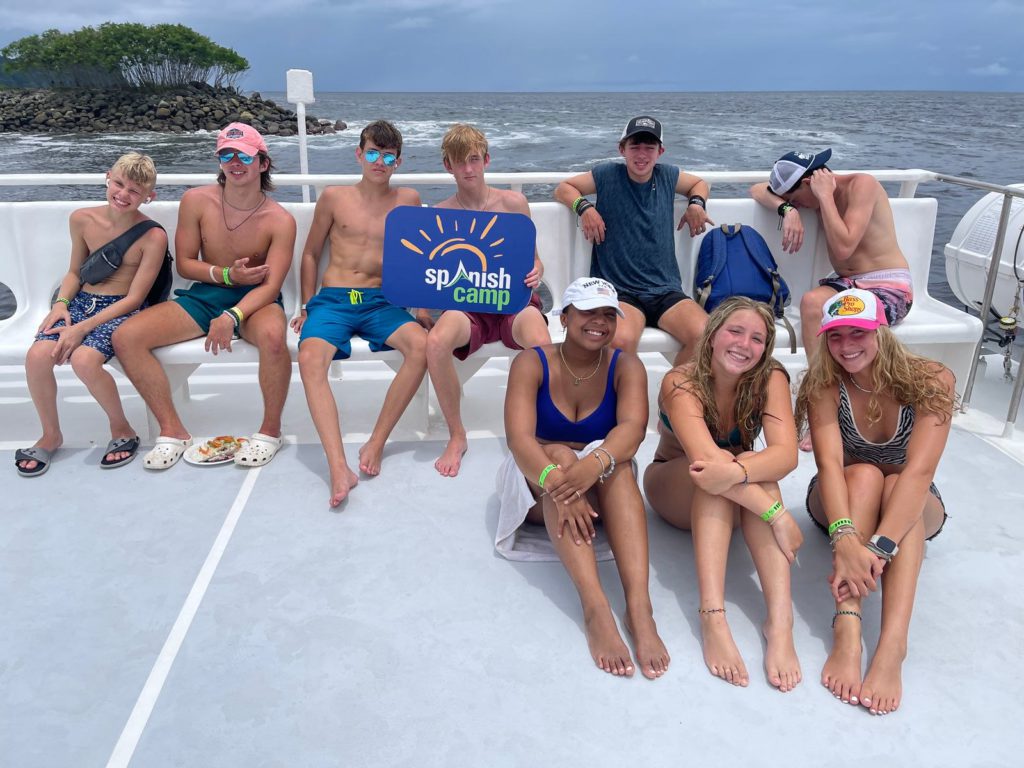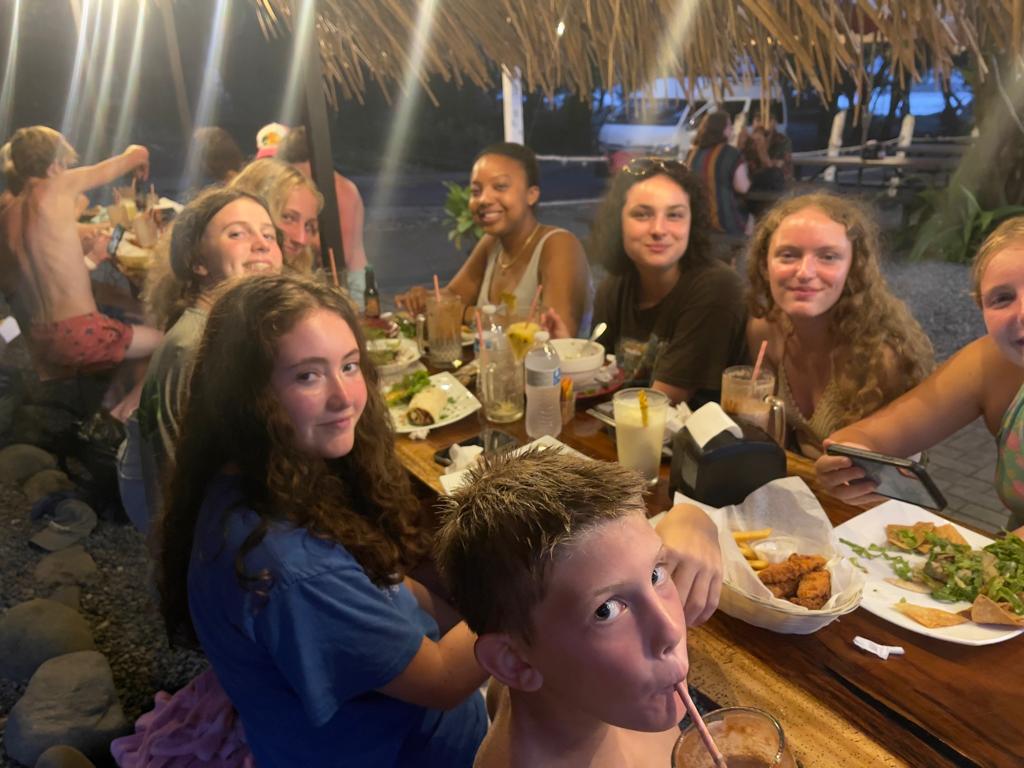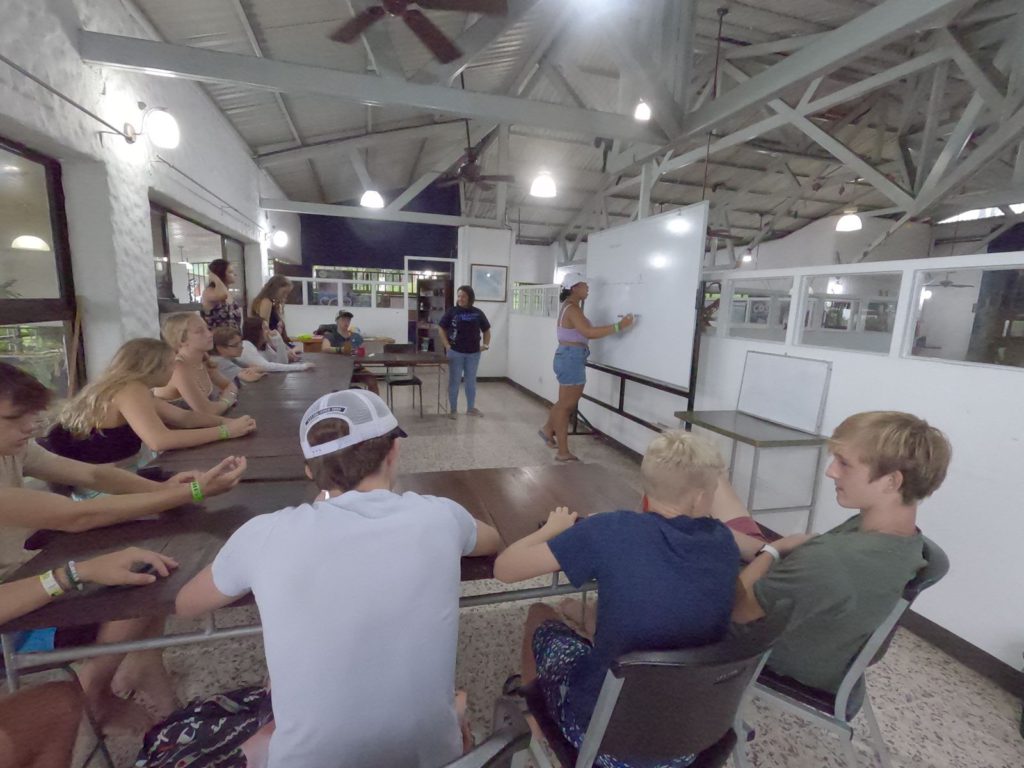 Hello Parents! – I hope everyone is having a great THURSDAY!
Today we divided the group in two for the last time… Five people went to Ocean Day for Scuba, we took a boat from the Marina with all the gear, and went for a 20-minute dive. There was a second Dive Scheduled after a break, but the group decided not to join it, so we picked up the rest of the divers on our group and returned to the Marina.
The rest of the 10 people in the group, went surfing with our chaperone Kembly to Manuel Antonio Beach. A couple of people preferred to just hang out at the beach, and the rest of them got to try their hand at surfing again!
After a busy morning, we went back to the Maximo Nivel Institute, while everyone was changing into dry clothes for class, they had lunch and then they were ready for class. The first couple of hours of the class they watched the movie Soul in Spanish, with some popcorn to keep them awake 🙂
After class, we took them to their last dinner with the host family in the house.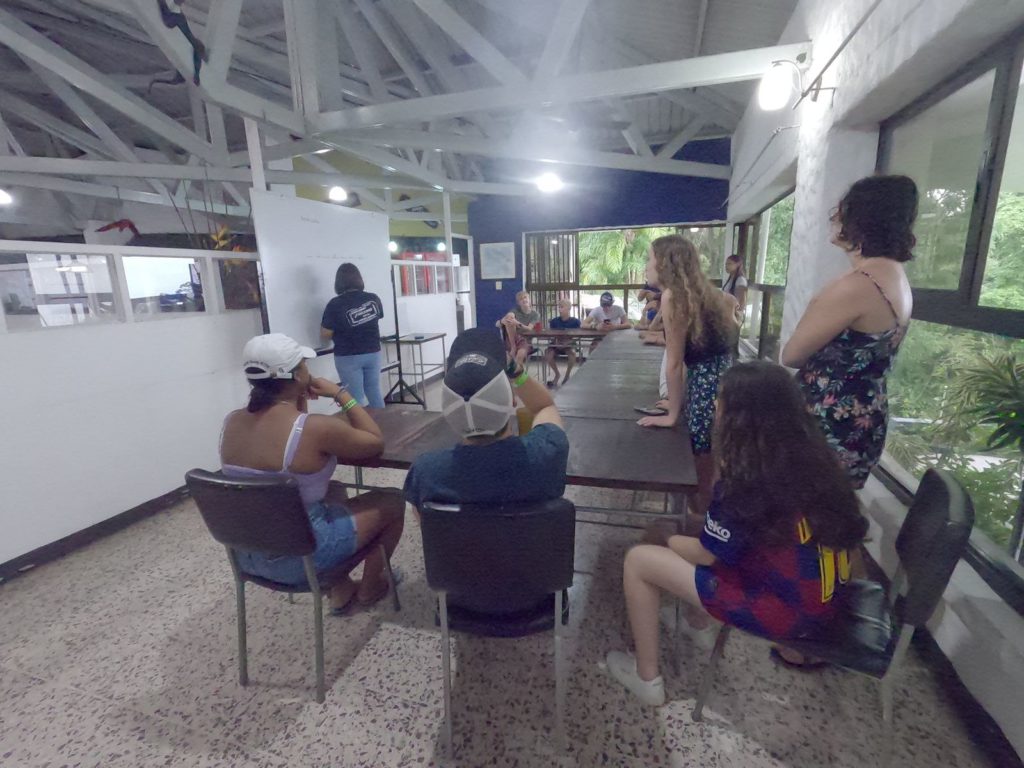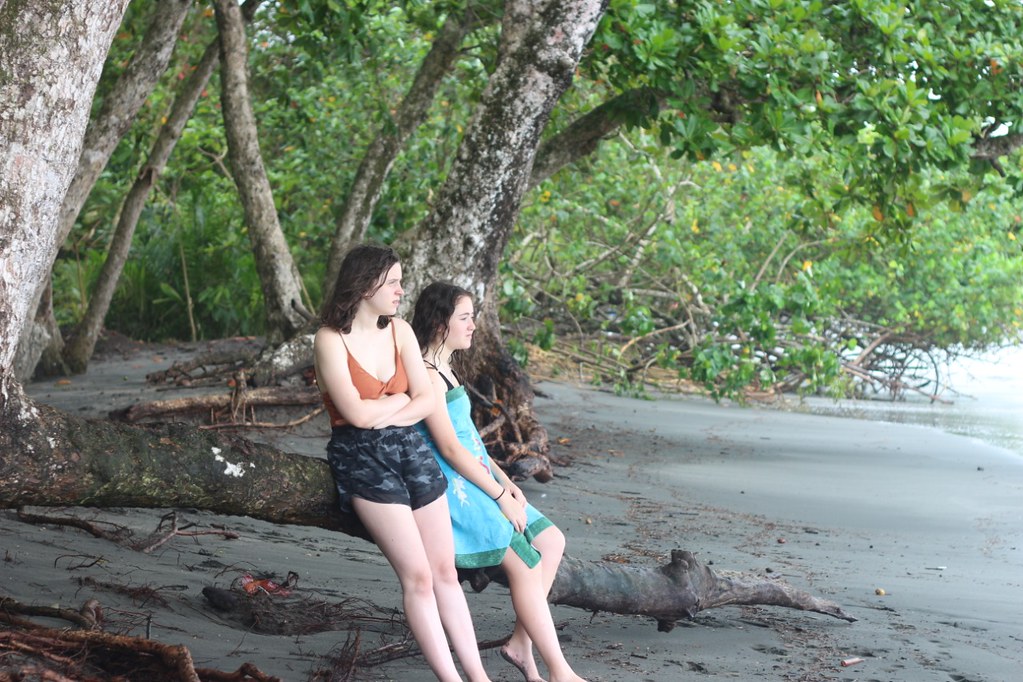 Greenheart Travel has a variety of Teen Summer Language Camps in many great places. 
If you'd like to be part of a future Costa Rica program, you can read more about this Teen Language Camp here, or High School Abroad in Costa Rica here.
Or if you are an adult looking for an adventure, check out Greenheart Travel's Teach Abroad program in Costa Rica.