Chiang Mai vs. Hua Hin; Where Should You Get Certified?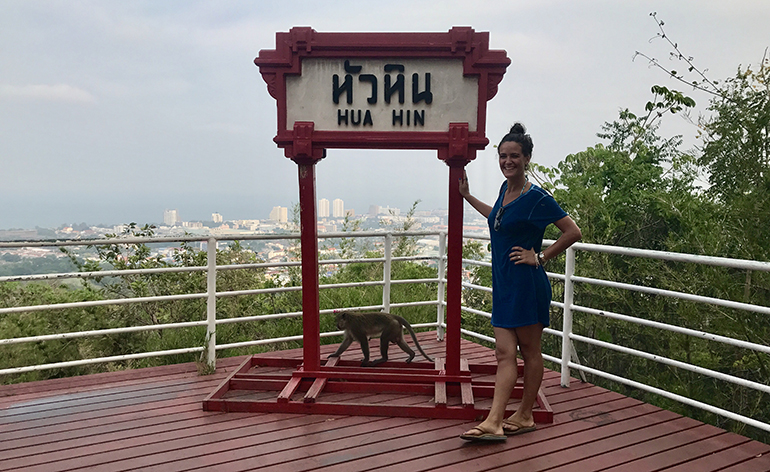 For those adding on a TESOL course to their Thailand program, you will have the choice to take the course in either Chiang Mai or Hua Hin (everyone doing "Teaching Placement Only" will be in Hua Hin for orientation). We get equally positive feedback for both courses and the courses have the same curriculum and accreditation; so it's honestly just a personal preference between the two cities. Here are some things you will experience on each course, to help you make the decision.
Chiang Mai
Chiang Mai is the largest and most culturally significant city in Northern Thailand, but is known for having a "small town feel" as compared to somewhere like Bangkok – which leads most travelers to fall in love with Chiang Mai as their favorite Thai city. Surrounded by mountains, Chiang Mai is famous for its temples and ancient history. Many of Thailand's vegetarian and hipster cafes and restaurants can be found in Chiang Mai.
There are fun events to partake in like the Sunday Market where many downtown streets are closed down for a craft market. Chiang Mai is also the "hotspot" to celebrate cultural festivals like Songkran (New Year) and Loi Krathong (lantern festival). Many teachers travel to Chiang Mai in April and November to celebrate these festivals in the cultural capital of Thailand.
The Chiang Mai course is capped at 60 participants per start date so it can feel like a more tight knit group of people. Also, everyone in Chiang Mai is taking the TESOL course (as opposed to Hua Hin where there are many "Placement Only" teachers who only stay for orientation).
Hua Hin
In Hua Hin we run an orientation and TESOL course here every month, all year round. Up to 200 participants are in Hua Hin at a time, so you will likely be broken up into class sections and excursion sections of around 30-40 people at a time. Having that many people in Hua Hin at the same time also means you'll have a rockin' time at the beach BBQ on the last night of orientation.
Hua Hin is a beachside city located about 2 hours south of Bangkok on the gulf of Thailand. The Royal Family of Thailand have their beach side royal palace in Hua Hin and it is a popular weekend getaway for those living in Bangkok. Hua Hin is a smaller city than Chiang Mai, and has more of a laid back beachy feeling.
Participants doing their course or orientation in Hua Hin will fly into Bangkok – so this is also something to consider if you'd like to spend a few days in Bangkok before the program begins. Sometimes there are more options and pricing is better flying into Bangkok as well. 
Either Way, You'll Have A Great Experience, So You Can't Choose Wrong!
Still not sure? Shoot your Program Manager, Kara, an email and she can help you decide at kmenini@greenheart.org!