Expectations vs. Reality of Teaching in Thailand and Tips for Adjusting to Life in the Land of Smiles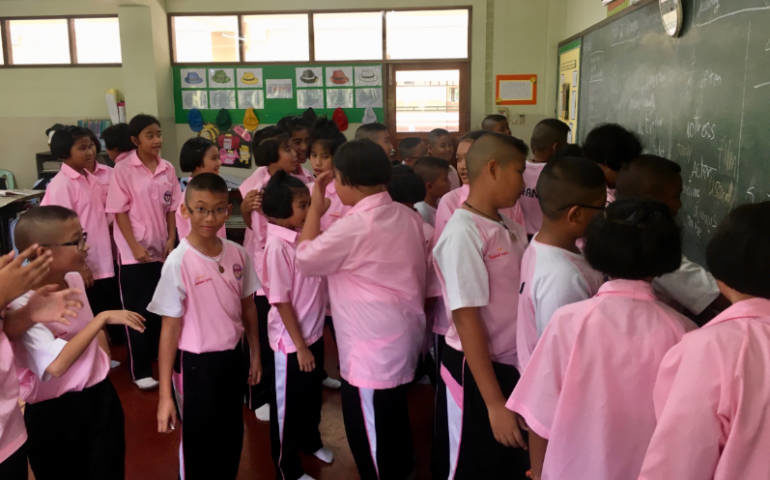 To be completely honest, my expectations of what my life would be like in Thailand have changed since I first began the process of deciding to teach abroad. When I was back home in the States, I thought less about my actual teaching experience and more about the logistical side of getting all of my paperwork together, arriving in one piece, and finally getting settled.
During orientation is when I began to shape my actual expectations of what living and working would be like for the next year.  Here are a few expectations I had about life as as an English teacher in Thailand, and what the reality has been since I have arrived.
Finding Housing in Thailand
Expectations:
My main housing expectation before coming to Thailand is that it would be incredibly affordable. During orientation we were told to have low standards and just expect a room with four walls, a bed, and a basic bathroom.
Reality:
While housing costs significantly more than I expected, everything about my housing here in Thailand has exceeded my expectations. My agent picked me up when I arrived to town and took me to the apartment building where I live now.
I live in a very nice, furnished apartment with a king sized bed, a fridge, hot water, air conditioning and an incredible view. But this is not the case for everyone! I have friends who were completely on their own when it came to finding an apartment and friends who do not have hot water, a fridge or air conditioning.
Having low expectations definitely benefited me in the long run because I was bound to be pleasantly surprised wherever I ended up.      
Advice:
Bring something small from home for your room. I brought pictures and my teddy bear and it makes my room feel like mine.
Don't settle for the cheapest housing that you can find just because it's cheap. Live somewhere safe, comfortable, and where you see yourself for your entire time here.
Teaching English in a Thai school
Expectations:
On the management side of things, before starting at my school, I learned a lot about how the Thai schools are run differently from Western schools. There is a different communication structure and you aren't necessarily given all of the details all of the time.
Basically, if you want information you have to ask for it. You also have an agent, who is your actual employer, who is there to help and manage the relationship between you and your school.  
On the student side of things, I was expecting to walk into school and have kids greeting me with hugs and high fives excited to learn from their new teacher (naive, I know). I expected to meet all of the Thai staff and teachers and slowly get to know them and become friends.   
Reality:
For management, the director of my school and the head of the English Department are both women, which is somewhat of a rarity here in Thailand. I was given a complete binder with all of the information that I would need for the year, including a calendar with days off, and my weekly lesson topics.  
During my first week of teaching I felt like a rock star. I had the undivided attention of 45 ten year olds because I was new and they were so excited to hear what I had to say. I am very lucky in that I use PowerPoint in all of my classes and have access to every resource possible.
When I arrived at school I was surprised to learn that the foreign teacher's office was separate from the Thai teachers and thus, I hardly interact with the Thai teachers. There are a few in my classes who are friendly and say hello, but I am still far from making friends like I had expected.
Advice:
All Thai schools are different and everyone has different experiences. Don't compare your school, students, or experience with anyone else's.
Just be yourself and be able to laugh at yourself. No matter the age of your students, they will appreciate you being genuine and real with them.
Stay hydrated and well fed while teaching, and don't forget to put yourself first!
Culture Shock and Cultural Immersion in Your Host Community
Expectation:
Being called the Land of Smiles, I had high expectations when it came to settling down and making friends here in Thailand. I expected to get to my new town and over time, easily be able to make friends with locals and other teachers. I did expect to experience culture shock, although you never know what form it will come in.     
Reality:
Making new friends and settling down takes time. I arrived in the middle of the semester which meant that everyone had settled into their friend groups and routines. Thai people are super nervous to talk to native English speakers because they are shy about their English.
I have had people turn and run away after I accidentally greeted them in English instead of Thai. Once you make a Thai friend you will become a part of their family and they will forever hold a piece of your heart. Even after settling down and making new friends, I experience culture shock in ways I never have before.
Recently, I have been getting so frustrated with the people who just stare at me as I walk down the street, workout, or eat in a restaurant. Sometimes I just want to scream "say something to me". Other times I embrace these awkward moments and surprise them with a smile and wave (it's especially funny when they are trying to sneak pictures of you). While I am still working on making Thai and Western friends, I am happy with the small little group that I have here.  
Advice:
Say yes to everything that fellow teachers or new Thai friends invite you to do.
Culture shock is real and it hits you at the worst times. Embrace the emotions and talk to your friends and fellow teachers about it. They can relate more than anyone back home can.
Travel and Free Time
Expectations:
When you think of Thailand you think of the busy city life in Bangkok, the temples in Chiang Mai, and the beautiful beaches down south. Well, when I found out that I would be living in Southern Thailand I was thrilled to be able to visit the islands often. I also expected to have a decent amount of free time while at school.
I'm there about 45 hours a week and only teach 23 hours so that leaves a good amount of time unaccounted for outside the classroom.       
Reality:
At school I have a few 45 minute breaks throughout the day and then a few hours at the end of the day. I try to plan and prepare for my lessons during the day so at the end I can read, blog, or watch Netflix for an hour before going home. I also use this time to research places to travel and things to do around town.
One big reality is that travel is exhausting and expensive. Even though everything here is relatively cheap, it is not free. And cheap still adds up quickly. There are so many things to see, and you probably don't need to travel far from home to see them. In reality I can only afford big out of town trips once every few weeks.  
Advice:
Develop healthy hobbies for your free time. I do Sudoku and read before I let myself on Facebook and Netflix.  
You earn in Thai baht and spend in Thai baht, who cares how much is costs in USD.
Don't run off and travel every weekend. Stay in your town and explore what it has to offer because those are what you are going to remember when you go back home. Some of my favorite places in all of Thailand are in my town.
As you prepare for your next travel adventure in Thailand, it is hard not to have certain expectations about what the teaching experience will offer. By keeping an open mind, you will be able to adjust to your new life a bit easier and potentially find that the reality is even better than what you had expected.
About the Author:
Hi! My name is Kelsey, I'm 23 years old, and I am a Colorado Native. I'm a sucker for cute dogs, margaritas, and anything outdoors. I am currently living in Hua Hin, Thailand and sharing my adventures from South East Asia!