Navigating Airports and Airplanes from a First Time Traveler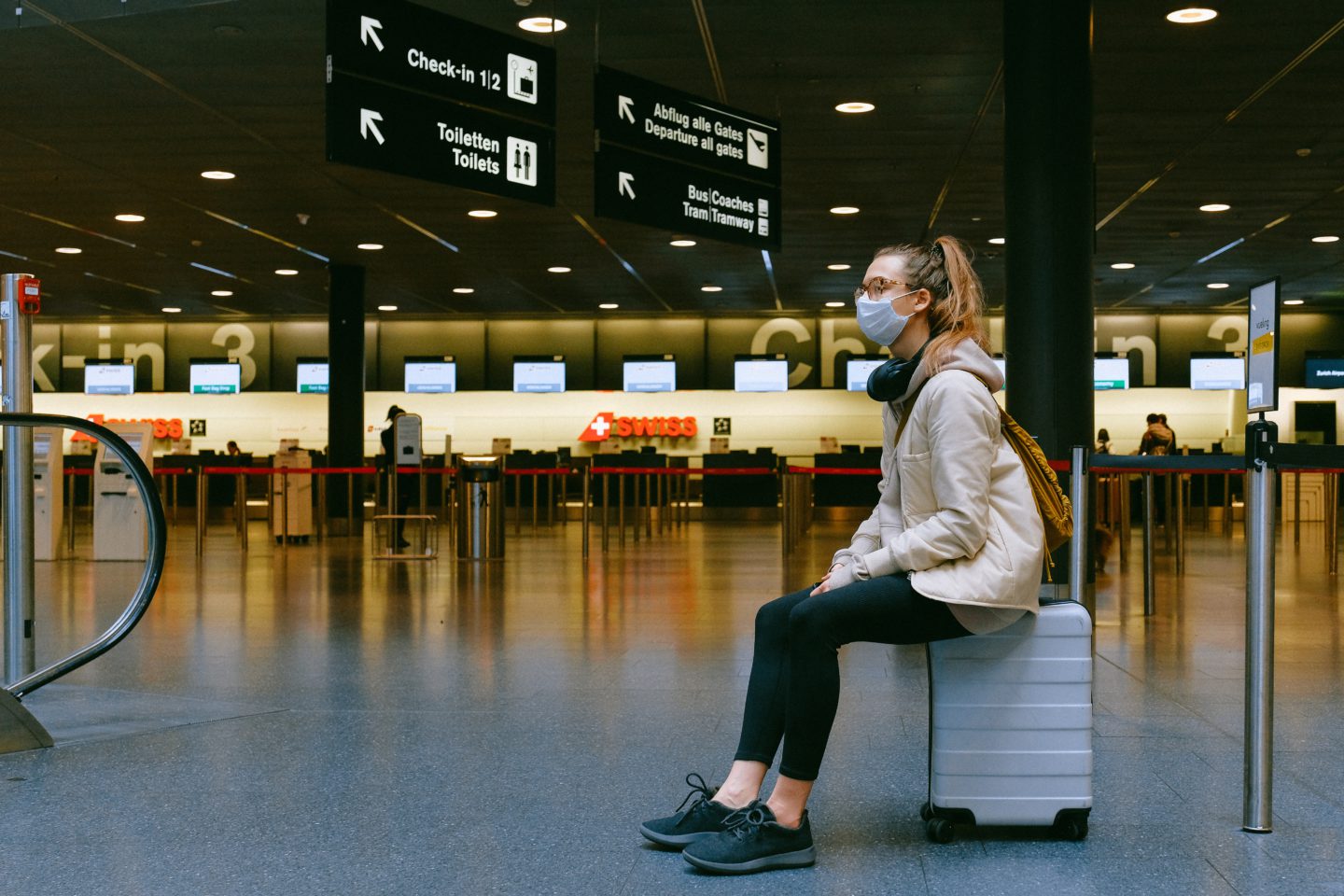 It's a whole new thing out there these days for travelers in our *hopefully* post pandemic world. Skylar, one of our First Time Travel Scholarship winners from last year, wrote to us about her recent airport experiences as she made her way from Boston to her Teach Abroad location in Thailand.
Navigating Airports and Flights on my way to Thailand
After a somber goodbye, and many tears outside of the Boston Logan airport, I soon became eager to begin my journey to Bangkok, Thailand. Although I was not looking forward to my 14-hour flight from Boston to Seoul, South Korea, and then immediately after another 6 hours from Seoul to Bangkok, the excitement of this new adventure kept me optimistic for what was to come.
Boston, Massachusetts to Seoul, South Korea
The check-in to board my flight went very smoothly thanks to the simple idea I had a few days prior of purchasing an expandable folder to keep all of my travel documents safe and secure in one place. I felt more calm knowing that everything was in one place and that when the time came to present the same documents to customs in Thailand, it would be hassle free.
I made my way to the gate where boarding had just begun. Having never flown the airline Korean Air before, I didn't realize how luxurious it would be! We were given a pillow, blanket, headphones, a toothbrush & toothpaste, and slippers (so you don't have to wear your shoes all the flight but aren't barefoot either). Another surprise I had waiting for me was that I had the whole row to myself–ample space to spread out and lay down. Before long, we were up in the air and the first meal was being served: a Korean dish called Japchae, which are cold stir fried noodles with vegetables. I have always been hesitant over airline food but this meal (and all of my meals to come!) proved me wrong.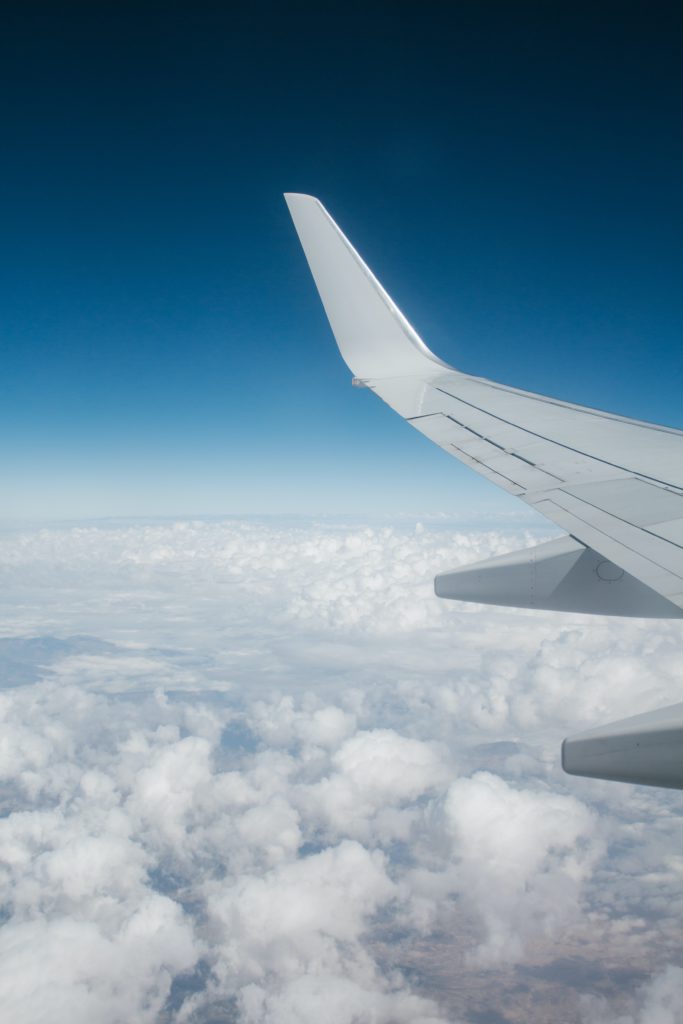 Fourteen hours passed slowly by the minute but fast by the hour. I spent most of my time watching Netflix, and taking bursts of naps. I highly recommend having more things to do than you think you need, in case something isn't holding your attention for long. As back-up, I had podcasts, playlists, and books on my Kindle just in case. Somewhere halfway through we were served a ham and cheese croissant and fruits, and then about an hour before we landed, another meal again! I didn't even need to dig into the snacks I had brought for my flights. (This has ended up being comforting to have some of my favorite western snacks with me on nights when I just miss being home!) Landing went smoothly and before I knew it, I was walking around the Seoul-Incheon Airport in South Korea!
My Brief Layover in Seoul
Unfortunately, due to the time of my flight being later in the night, most of the Seoul airport shops and restaurants were closed. It was still a lot of fun walking around, and seeing all of the different advertisements and shop fronts. One thing I found intriguing was that the Dunkin Donuts, which I'm very familiar with having lived in Massachusetts, sold hot dogs! The airport also had cute robots that moved around–you could put your heavy luggage on, and it would follow you to your terminal. Everything was going smoothly, but jet-lag was just beginning to catch up with me.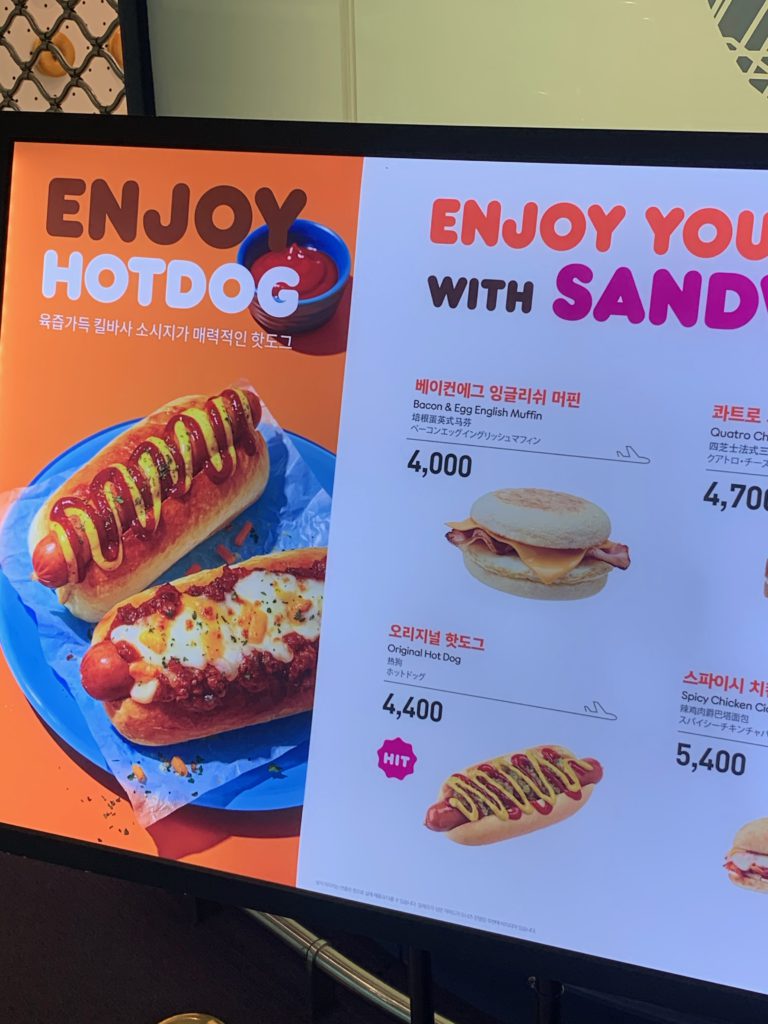 Seoul, South Korea to Bangkok, Thailand
The first thing I noticed about my flight to Thailand was that the airline safety video usually said by flight attendants before flights, was performed by a K-pop group onscreen! That was an entertaining surprise. We were also served a meal right away on this flight and even given ice cream at the end of it. As for this flight, I slept most of the way through. I woke up as we were landing!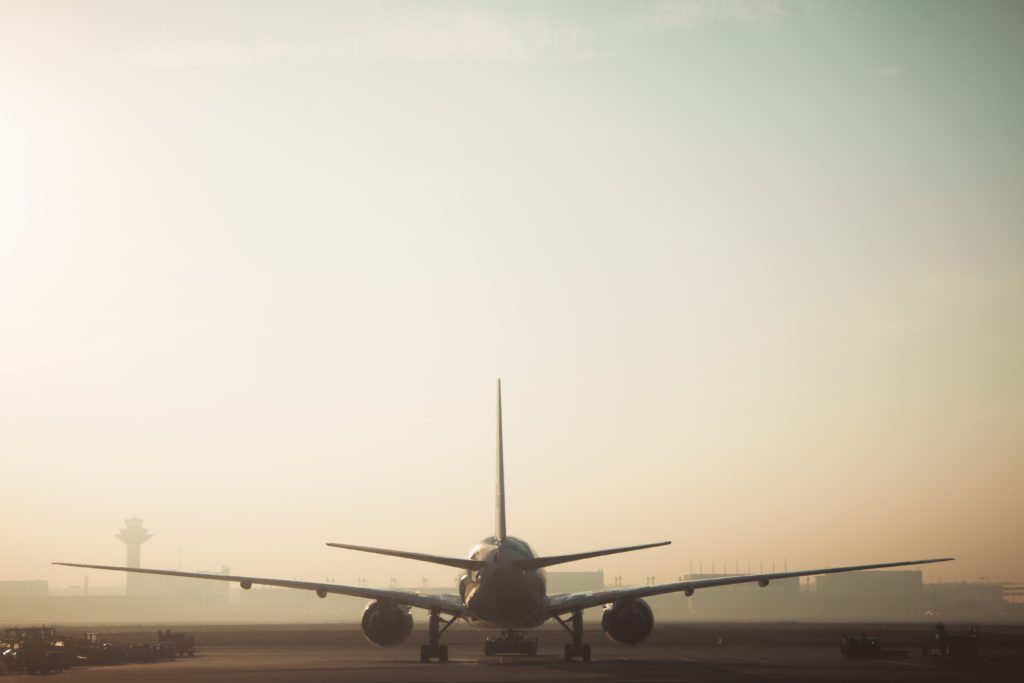 Suvarnabhumi Airport, Bangkok Thailand
I was nervous to navigate this airport on my own, especially due to not knowing the Thai language and the complexity that COVID measures had added. Immediately after we got off our flight, we were directed to sit in rows of big plastic chairs where officials were coming through to check our appropriate quarantine paperwork. Once they approved it, there was another line where someone checked our paperwork again, this time documenting it into a system on their phone. Once all of the COVID stuff was out of the way, I made my way through customs and then obtained my luggage. Finding my pickup for my hotel was very easy due to many workers there who spoke English. I was at my hotel and in bed about two hours or so after my flight had landed.
To sum this all up, I was terrified that I would have the wrong paperwork, or the whole process of getting through the airport would be confusing and that I would be all alone–but it went smoothly, and I imagine it would be hard for it not to go smoothly. The process was a well-oiled machine, and I never was confused as to what would happen next! Any important signs also had English translations, and every worker I encountered knew rudimentary English if I needed any other help.
With COVID restrictions further being lifted, and my fear of navigating airports and flights where English isn't the first language being defeated, I'm already planning a vacation or two while I'm here in Thailand for the next 6 months! Anyone want to join me en route to Bali?
Post by Skylar S. – 3/2022
Thank you Skylar for sharing your experience!  We're looking forward to hearing more from you Teach Abroad in Thailand time!  
If you're a Greenheart Travel participant or alumni and want to tell us about your post-pandemic travel, contact us. We love dispatches from around the world. 
To learn more about Teach Abroad programs, visit Greenheart Travel.
Safe travels everyone.