Photo Essay: 4 Ways to Spend 48 Hours Outside of Hanoi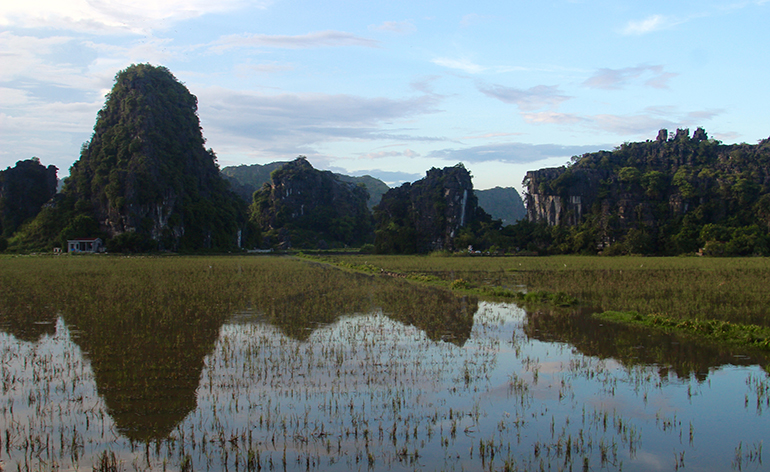 One of the best things about living abroad is the readily accessible travel. Taking a weekend getaway out of the city or even just a quick day trip on my day off has never been so easy and enjoyable. Since I work part-time as an English teacher, my schedule is also pretty flexible so making time for travel is relatively simple.  
Hanoi can be a very overwhelming place at times. Getting out of the city and away from the traffic has been greatly beneficial to my general well being while living abroad. Luckily, Hanoi is perfectly situated in the north of Vietnam, very close to many weekend getaways. You can explore the beaches, the mountains, and the rice fields, most of which are no more than a 4-hour drive away.
While there are still many places I have yet to adventure to, below are four destinations my boyfriend and I have explored since moving to live and teach in Vietnam. All of these can be done under (or at least close to) 48 hours, and I promise will leave you feeling rejuvenated and filled with an exuberance for travel!
Perfume Pagoda: A Perfect Day Trip
For our first time out of Hanoi, we chose to take a short day trip on our day off to the Perfume Pagoda. Located only an hour or two outside of Hanoi, this is a perfect excursion if you have less than 24 hours. We signed up for a group tour and departed at 8 am with about 10 other people. After the short van ride into the country, we took an hour long boat journey. The boats were small, similar to canoes and paddled by some very strong women. This was the first time we encountered the mountainous Vietnamese landscape and it was breathtaking.
Even though the boat ride wasn't the most comfortable and we were caught in the rain, the views were one of a kind. When we arrived we walked up the mountain for a bit to the first pagoda (different than the Perfume Pagoda). We had a delicious traditional Vietnamese lunch and then headed up to the top of the mountain. You can take a gondola or hike up, but the views from the gondola were pretty amazing.
The Perfume Pagoda was tucked away into a massive cave.  I had never seen anything like it, with shrines and statues deep underground and the stalactites lit up by hundreds of candles. After exploring, we headed back down to the bottom and took the boat back. Overall, it was a really great little trip outside of the city and only took about 10 hours, perfect for anyone who has one day to spare.
Cat Ba: A Priceless Experience
After about two months in Hanoi, we were ready for our first big trip out of the city. Cat Ba, a slightly less touristy version of Halong Bay, is about a 4-hour journey away that consists of two buses and a boat. The main attraction of Cat Ba and Halong Bay is the stunning limestone structures that fill the ocean. When you go to Cat Ba, you will still travel through Halong Bay on the boat tour, but the city is less touristy and trips from here seem to offer more (and cheaper) adventurous activities.
We set off early in the morning with Cat Ba Visions to cruise around the bay, stop for a swim, and sunbathe on the top of the boat. They prepared an excellent lunch before we embarked on a kayaking excursion through multiple caves. Even just sitting on the boat was entertaining because of the landscape that surrounded us.  
As part of the tour, we spent the night on a floating house in the middle of Lan Ha Bay, similar to the structures that many Vietnamese people live on in this area. At night, we also got to kayak to see the bioluminescent plankton. I was unable to take a picture of this but it was a priceless experience.
The next day, we headed back to Cat Ba and spent the rest of our afternoon cruising around on a motorbike and basking at a mountaintop pool. In total, we spent a little over 48 hours on this trip and it was the perfect amount of time. I would highly recommend traveling here for two days!
Ninh Binh: A Taste of Nature
For our third excursion, we traveled about three hours south of Hanoi to Ninh Binh. This is a great place to get a taste of nature not too far from the city. We only had 24 hours, but we were up for the adventure. Though you can take buses here, we chose to drive ourselves on a motorbike! It wasn't the most comfortable way to go, to say the least, but it was a pretty pleasant drive once we got out of the city.
Eventually we arrived to our homestay, a small bungalow-style accommodation, which was tucked away into the mountains with an absolutely gorgeous view. We relaxed in the hammocks admiring the peace and quiet. Next, we explored the nearby town of Tam Coc where you can find many Vietnamese restaurants and take a boat ride down a river.
Just before sunset, we decided to go to the Mua Caves and hike up 500 steps to the top of one of the many mountains. The stunning views made the walk totally worth it. I would recommend spending an extra day here if you have the time as there are more hikes and plenty of places to explore just driving around on a motorbike or renting a bicycle. But, it's also doable in a shorter amount of time as we did.
Ba Vi: Just a Motorbike Ride Away
Ba Vi is another possible quick trip from Hanoi.  If you're looking for an excursion you can do in less than 24 hours, this may be a good option for you. Ba Vi is a nearby national park that takes about two hours to get to. The drive there isn't so bad, but getting into the park can be quite confusing so I'd recommend speaking to some people before you go to get detailed directions.
Once inside the park, there are many nature related activities to do. There are a couple nice hikes and a waterpark! We walked to the top of some of the mountains, but there is also the option to drive to some of these places and skip the hike. There isn't an abundance of activities, so I think one day is an adequate amount of time for this trip.
Since four or more hours on a motorbike is a lot to drive in one day, it may be easier to spend the night as we did. There are a couple hotels around and some campsites (though they may only be open during some parts of the year). This was a nice quick trip and a great way to get into nature not that far from Hanoi.
Vietnam is yours to explore!