Making the most of your South Korean Adventure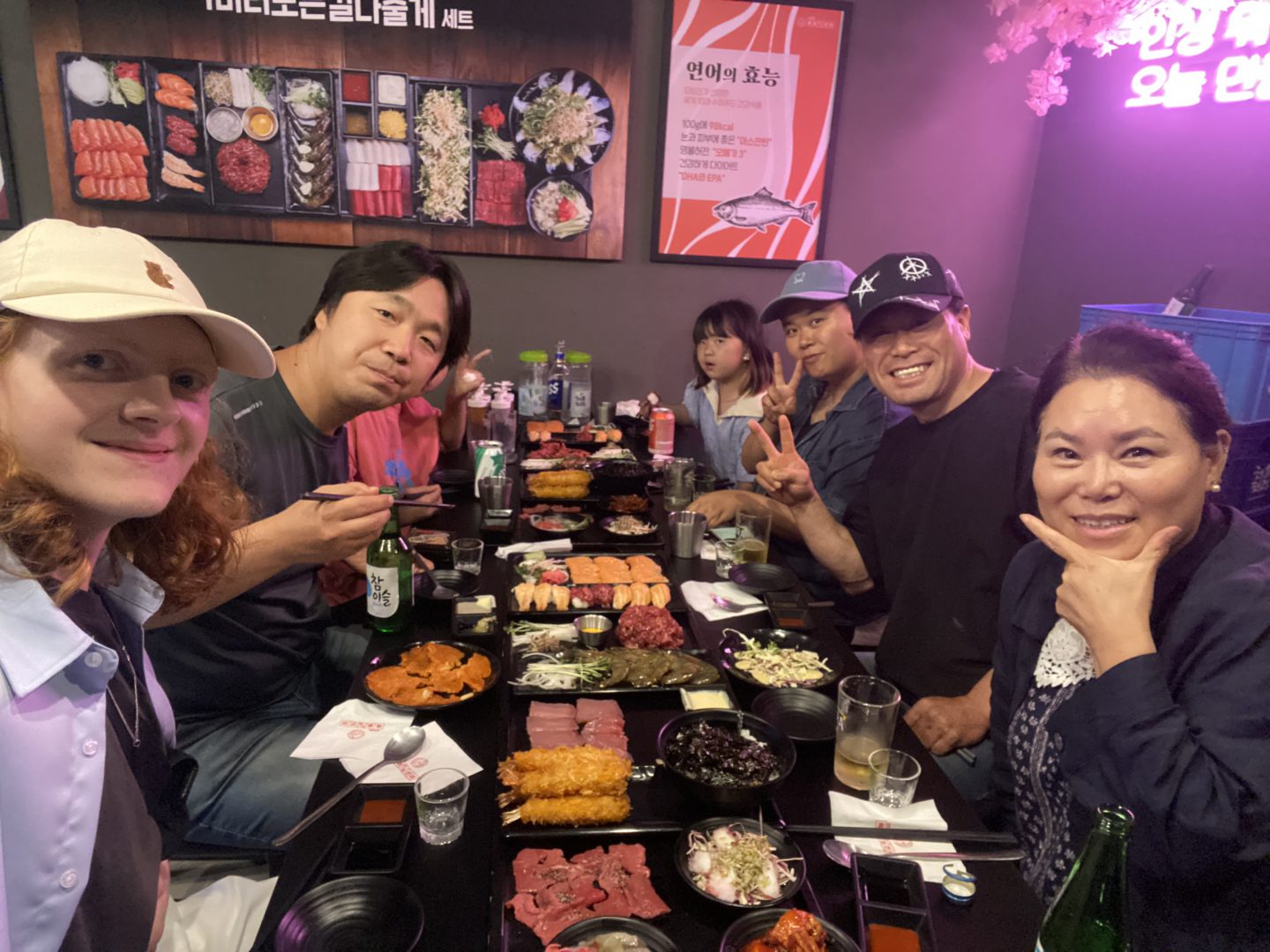 First Time Traveler, Stirling, just got back from a gap year experience with Greenheart Travel:  Teaching in a Homestay in South Korea. Here is his advice for making the most of your time in South Korea!
***
I am writing this blog for those interested in coming to South Korea and wanting to get the most out of their experience. I would not change the experience I had as it has been brilliant though here are some things I learnt along the way which will hopefully help other first time solo travellers.

When initially coming to Korea I did not have a plan, I was so focused on just working and saving money to get there that I did not put much thought into what I wanted to do when I arrived, I also didn't know where in South Korea I would be staying. I received the details of the family I was going to be living with in Incheon a couple of days before I travelled and they wanted to be involved in how I taught / spoke English with their children so I decided I would leave myself open to the experience and plan when I got there.

I was met at the airport by the Greenheart Korea homestay contact who organised a local SIM card for me and took me to the family's home. This took all the stress out of arriving in a foreign country. The family was very welcoming. I had taken several small gifts for them which I recommend doing. They also gave me gifts to welcome me to their family.
My first week was spent learning how the family I was staying with went about their days, getting to know them and understanding what they expected from me. It also took a few days to adjust to the time difference, settle into my surroundings and get the confidence to explore further afield.

After the first week I felt ready to be more adventurous. I messaged the Korea homestay contact for their recommendations as well as searching online. Later in my trip I found this website called koreanow.london which had a Korean bucket list which I used to enrich my own list. I also visited the Tourist information centres which I found helpful.

There is plenty to do when you are living in a new country and I created a long list of things I wanted to do which I called Seoul-searching. As well as places to visit I included foods and drinks that I wanted to try, as well as other unique experiences. I also talked to other travellers I met and asked them for recommendations.

Starting small

During my first week I started small, exploring the area I was living in in Incheon. I first climbed Manwolsan, which was a small mountain not too far from the house. I tried to use my map as little as possible, and got lost. As a result I found an amazing cake shop. The next day I planned to use the underground/subway as if I wanted to explore other places, including Seoul, it was important to know how the transportation worked. All these things I did at the start really helped boost my confidence. I also found that my list helped give direction to what I did each week. I would refer to it and score off the things I had done.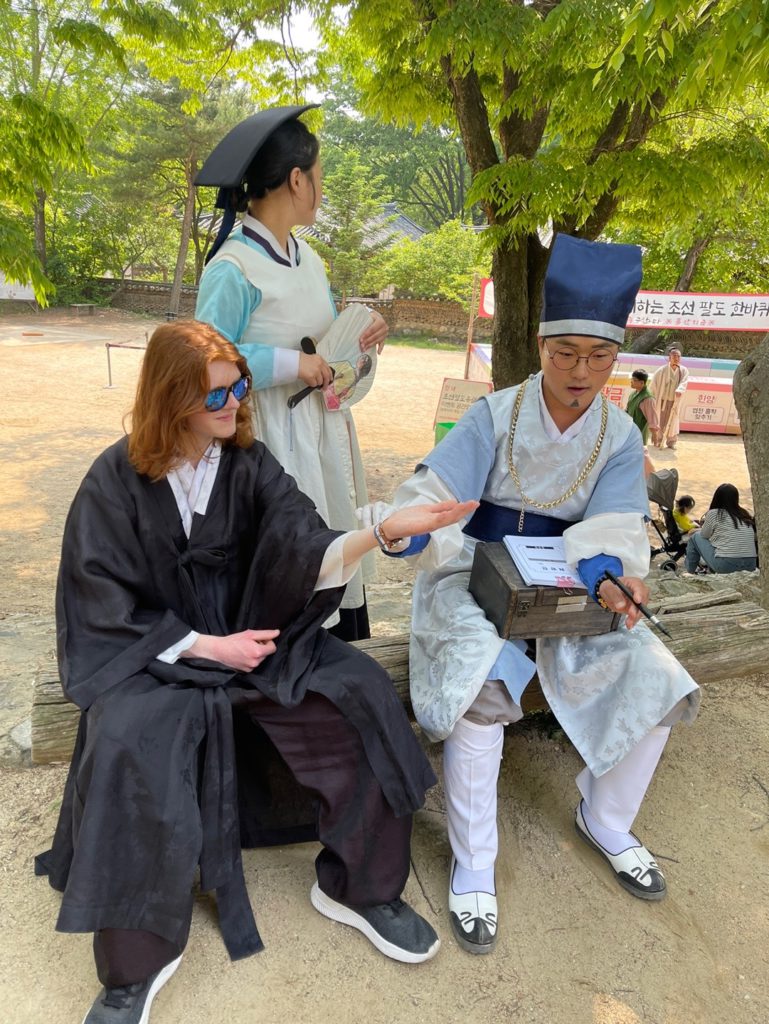 This is at the Korean folk village in Suwon where I am wearing the traditional Hanbok.

Here are some of my recommendations of places to visit and things to do:
Seoul:
● Baegundae Peak, Bukhansan
● Coex, Starfield Mall
● Gyeongbokgung Palace
● The War Memorial of Korea

Busan:
● Jalgalchi market
● Haedong Yonggungsa Temple
● Skyline Luge Busan

Experiences:
● Karaoke
● Kimchi making
● Rent Hanbok
● Korean folk village in Suwon
● Korean language class
● Korean sauna
● Temple stay
● Hapkido lessons
● Festivals!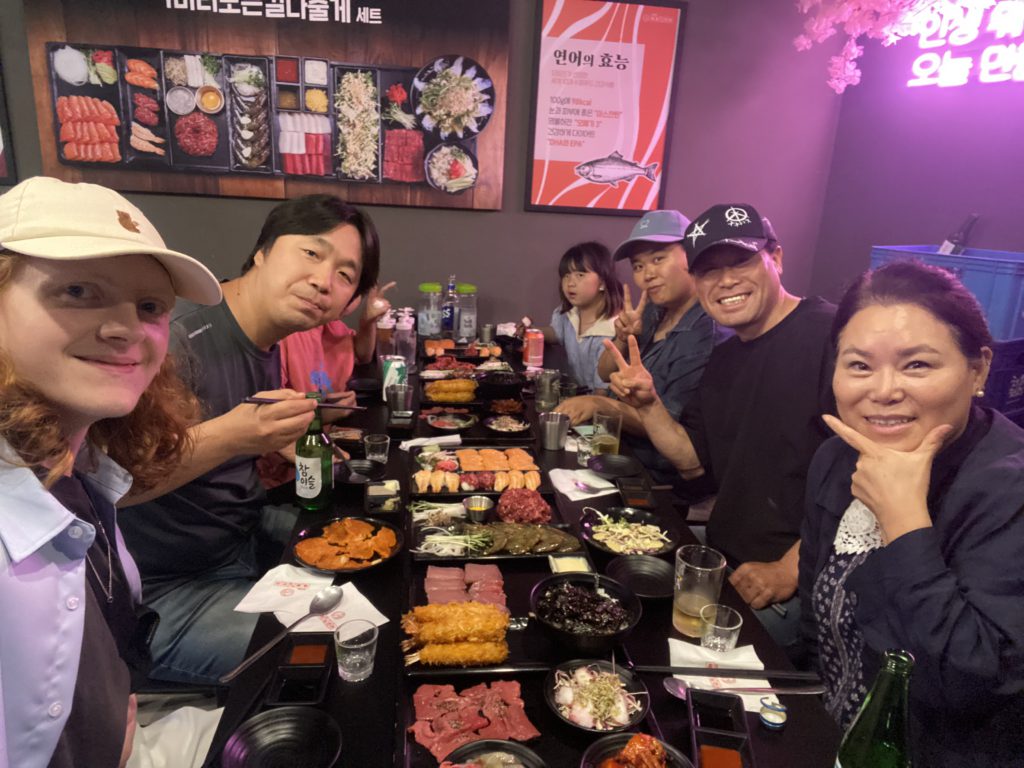 Food (note: Korean's eat a lot of meat and also like spicy food)
● Kalbi
● Pork Belly (samgyeopsal)
● Tteokbokki
● Bulgogi
● Pajeon
● Green tea ice cream

Drinks (note: there is a heavy drinking culture in Korea. Don't try and compete with the locals, there are lots of good non-alcoholic drinks as well)
● Green tea
● Milkis
● Chilsung cider
● Pine Bud drink
● Beer (maegju)
● Soju
● Rice wine (maggeolli)

Final pieces of advice
Don't be too rigid with your schedule and remember you also need to make sure you make time to relax depending how long your stay is, you don't want to burn out or become overwhelmed – I went to a Korean spa and also did an overnight Korean Temple stay. Be
open to new experiences. If you're doing the homestay program, be sure to talk to your host family about the things you want to do. I had many adventures with the family, going on outings, doing what they enjoyed and being part of the family way of life. They took me camping, surfing, paragliding as well as taking me out for meals, going to concerts and lots of karaoke!! They made me very welcome and I have stayed in touch with them on my return.

These 3 apps are essential and will allow you to navigate your way through South Korea with ease.
● KakoaMap (like Google Maps)
● KakoaTalk (like WhatsAPP)
● Papago (translation app)
Enjoy your trip, be safe and have fun!
Thank you Stirling for the advice!  What an amazing experience!  If you'd like to learn more about Greenheart programs in South Korea, visit:  Teach in a Homestay – South Korea, Teach English in South Korea, and Teen Summer Language Camp in South Korea.