Arriving in Prague: What to Know to Settle into your Community and TEFL Class Schedule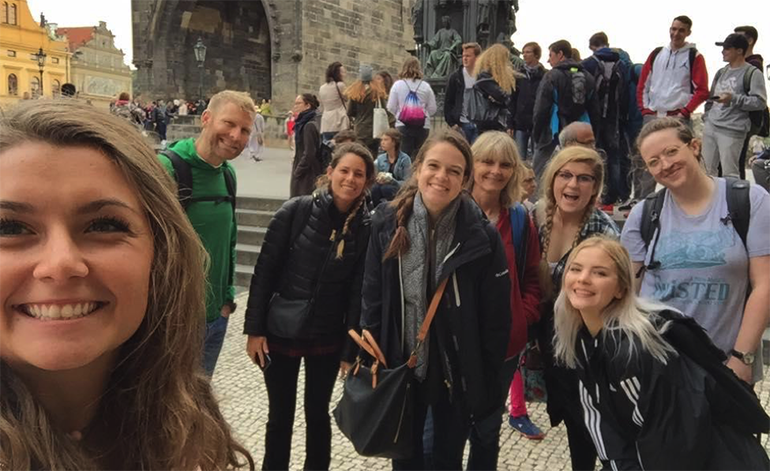 Wow, I cannot believe I've already been in Prague for over a week! The past 9 days have all had their shares of ups and downs – but mostly ups! I've gotten to explore the city, try a lot of food, learn Czech, take a trip, get acquainted with the school and observe some lessons – it's been busy but I already told my mom I'm not sure if I'm going to come home.
In Search of the Beautiful Sites in Prague
First off, the city… Prague is GORGEOUS! Part of the reason I chose this specific course through Greenheart Travel was because of the picture that is with the course description.
When I made the final decision to take the TEFL course in Czechia (the Czech Republic has recently, officially, changed its name to Czechia), finding that view from the course description was one of my top priorities. This might be a little bit of a spoiler alert, but this view is EVERYWHERE! Nearly every building has intricate details and cute, little terraces. They're brightly colored, sky high and give the feeling of an old, European city – which is EXACTLY the feeling I was searching for!
You cannot walk down any street without passing at least one little coffee shop and so far, I've noticed the Czechs must love their beer and wine. There are also "potraviny's," as they call them, which are basically little corner stores that have simple food, drinks and maybe travel size toiletries.
Settling into New Accommodations and Commutes
The accommodations we are provided during the TEFL course is in Prague 10, which is simply put, a section of the city. "Downtown" or the city center is Prague 1 and it kind of goes out from there.
To get downtown from our flat(European term for apartment) is about 20 minutes by tram. To get to where our class is, it takes about 15 minutes including the walk to the stop, the tram and then the walk to school. Our flat seems to be in a safe part of town – although the whole city seems safe. I have gone running past dark and only used one headphone just to be on aware of my surroundings and never felt unsafe.
A Tour of our Flat
The flat itself has 4 rooms, each with 2 twin beds. There is a toilet and a separated shower room for all of us to share and we were provided one bath towel. I bought a washcloth at TESCO for less than $1 USD.
There is a small washer and each bedroom has a drying rack. In the common area, there is a dining room table with four chairs and a microwave. We had a "family style pasta night" our first Monday living together and used this area, but some people had to bring their computer desk chairs to all sit in the area together.
Insight on Transportation in the Area
Figuring out public transportation has been shockingly easy considering I have no experience with it. Basically, it is broken down into 3 sections:
the metro (underground)
the trams, and buses
Taxis, but I haven't had to take one, nor do I plan on taking one because there is Uber here!
My first night here, a group of 4 of us were walking around and one of the girls wanted to go home. We were trying to figure out the late-night tram and decided to stop in a café, use their WiFi and order her an Uber. It felt like the safest option since we were all pretty new at using the public transportation, but after only a week of being in Prague, I feel pretty confident on the public transportation.
You learn the stops around your flat, where the school is and downtown – then you can kind of figure out where you are and where to go from there. Plus, if use Google Maps, there is a public transport option on the directions page!
We use trams most often. When looking at a tram stop schedule, the stop you are at is in bold. The names underneath that stop indicate the direction the tram is headed. So, for example, if you were at "Stop A" trying to get to "Stop 6", and you see that "Stop 6" is three names above "Stop A", you would want to get on the other side of the road and catch a tram going the opposite direction.
It's much easier to look at the schedule and understand what I mean but the bus and metro schedules follow the same pattern.
Communicating and Staying Connected in Czechia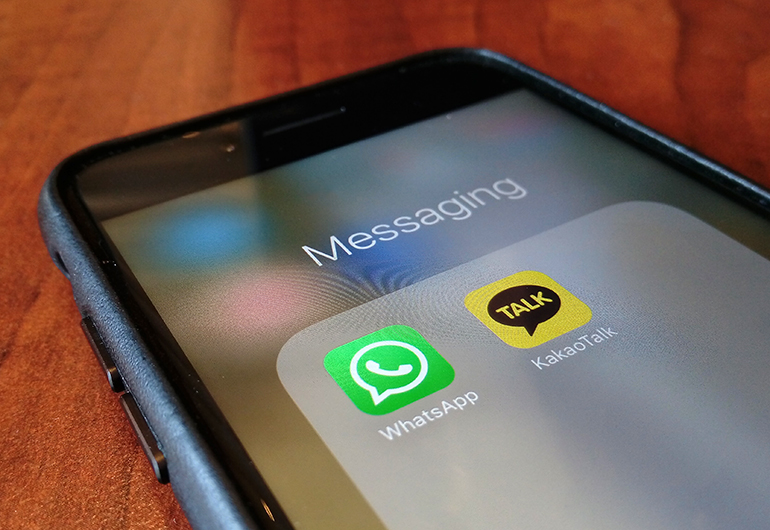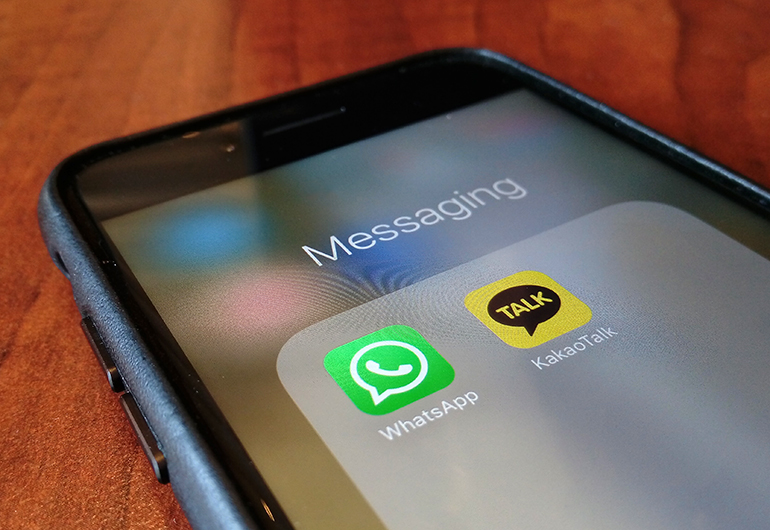 Planning Ahead for Using Your Phone in Prague
As far as phones go, I bought an international plan through Verizon before I left. It was $40/month and includes 100 outgoing texts, unlimited incoming texts, 100 minutes and 100MB of data. I usually go through nearly 5GB of data/month in the US so that worried me and I felt like 100MB would be useless. But, I've turned all my data off except for WhatsApp and Google Maps and have barely used any of my 100MB.
There is free WiFi at pretty much every café, restaurant, grocery store and even some trams, so I can always connect to those. Even if the password isn't posted, simple ask and I've always been told how to access the internet.
Learning and Speaking the Language
Speaking of asking… before I came to Prague, I didn't speak a lick of Czech. I'm not sure I had even heard the language before boarding the plane from Stockholm to Prague. It's an EXTREMELY hard language! That being said, every place I've gone shopping in or ate at, I've been able to get menus in English and my server or the person helping me has been able to speak broken English.
Never assume the person doesn't know English because the most unsuspecting people have had the most fluent English – including the little, old grandma that works in the bakery at TESCO (the main grocery store)!
My TEFL program provides Czech lessons throughout the month of the course. We had two lessons the first week. While they are initially intimidating because during the class the instructor only speaks Czech the entire time, they get easier and are very helpful.
After only two classes, I'm able to say hello, how are you, thank you, goodbye and excuse me/sorry (mainly for when I bump into someone on the tram). It builds self-confidence but also puts you into the position as a foreign language student. It's definitely a reality check being the student instead of the teacher!
My TEFL Course Curriculum in Prague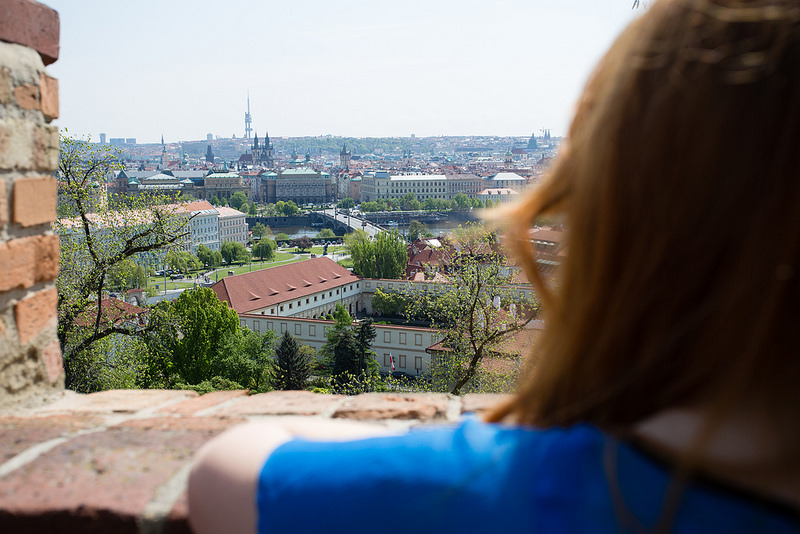 Why I Chose a TEFL Program in Prague
My major was elementary education and to complete the degree, you have to student teach for 16 weeks. Or, you can student teach in the US for 10 weeks and then teach overseas for 8 weeks. I chose the latter option, and through the preparation to go overseas, I was introduced to Greenheart Travel.
After my 8 weeks teaching in Ecuador, I knew earning my TEFL license was the next, logical step in my professional life. I originally planned on either taking the course in Colombia, Barcelona or Buenos Aires to be in a country that speaks Spanish since I speak Spanish, but I wanted to take the course as soon as possible and Prague seemed to be the right choice economically and perks-wise.
By perks, I mean finding accommodation, transportation and extra fees such as class materials – they were all included in the one flat fee and Greenheart Travel provides medical insurance, as well. However, there are some good points to know before arriving on this course.
What to Know About the Program and Partnerships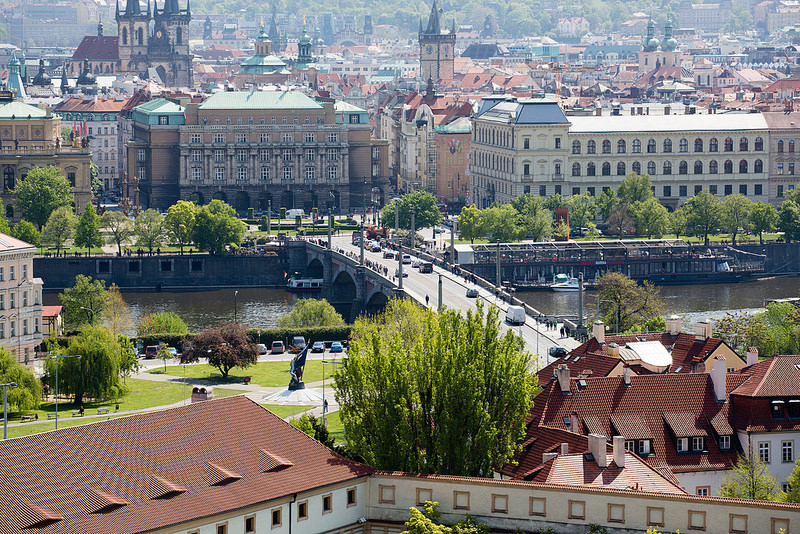 I'm not sure if I missed it somewhere in the orientation packet, but I was under the impression that this class was a Greenheart Travel organized program. By meeting some of the other students in my flat, I realized they hadn't gone through Greenheart and thad simply googled "TEFL courses in Europe" or "ways to move to the Czech Republic".
It's important to understand the TEFL course is led by a partner in Prague, and Greenheart Travel provides support and information to help you enroll in the class and answer questions or handle any challenges while you are in the country. One other girl in the course also went through Greenheart. She is planning on teaching in South Korea after the course and using Greenheart to get there. I am still considering a few options, but definitely going through Greenheart because of their constant support so far.
I mentioned previously that I have a background in teaching and studied education for the past 4 years in college. When I taught in Ecuador as part of my student teaching, I had very little training on Teaching English as a Foreign Language so I planned my lessons as I had planned lessons for my students in the USA.
My lessons were effective and the elementary students I worked with in Ecuador passed the government-standard tests that were given to all public schools in Quito, Ecuador. The permanent teachers at the school asked for my lesson plans and some of my activities and resources to be able to use after I left.
That being said, this course isn't what I expected. The structure of the lessons plans is pretty strict and it isn't what I'm used to. Professionally, I like to push myself out of my comfort zone, but personally, I feel like I don't know what I'm doing even though I have a lot of teaching experience.
If you have had no teaching experience – or very little teaching experience – I think this course would be great! The overall layout of the course is a "how to be a teacher" workshop and a "learn the ins and outs of the English language" workshop.
There is a lunch break, then a planning time in the afternoon, and then 2 one-hour sessions of classes. That is the typical schedule of the last three weeks of the course. The first week is a little all over the place.
I'm kind of a planner/schedule freak and like to know what is going on, so there were a few times during the first week I was frustrated. I felt like I didn't know what was going on and I didn't have a clear vision of what my days were like. Our instructors also had their annual conference during our first week of classes so we had substitute teachers Wednesday-Friday of our first week which, personally, wasn't ideal because we didn't get to know them very well, nor did we have them to talk with about our first lessons.
Connecting with the Culture in Prague
Another important part of this program is that you are teaching real people from Czechia that pay to come to this class. But, don't let that scare you! When they sign up for the course, they are told that the classes are taught by people training to be English teachers and they pay a fraction of the price of other English classes in Prague.
All of this being said, I really am having an amazing time in Prague. The instructors are very warm and welcoming. I'm excited for the rest of the course and to see what else I learn!
I immediately clicked with my roommate as well as the rest of the people living in the flat. This past weekend I went with two of the girls to Oktoberfest in Munich, Germany and I also planned a trip next weekend to Paris! I budgeted for weekend trips while I was staying in Prague, but also knew I'd have to have excellent time management which is probably why I was frustrated with the lack of a set schedule.
My classmates come from Florida, West Virginia, Virginia, Massachusetts, Scotland and I'm from Michigan. We all have a few things in common – we love traveling, we want to see more of the world, and we're willing to take risks. So far, four of my eight classmates want to stay in Czechia, one is looking at South Korea, one at Japan and I'm between Spain and Thailand currently.
The opportunities are endless through this course and my first week has been a rollercoaster but I'm sure it'll only get easier from now!