4 Years Later… Still Putting the HEART in Greenheart: Greenheart Travel Couples Abroad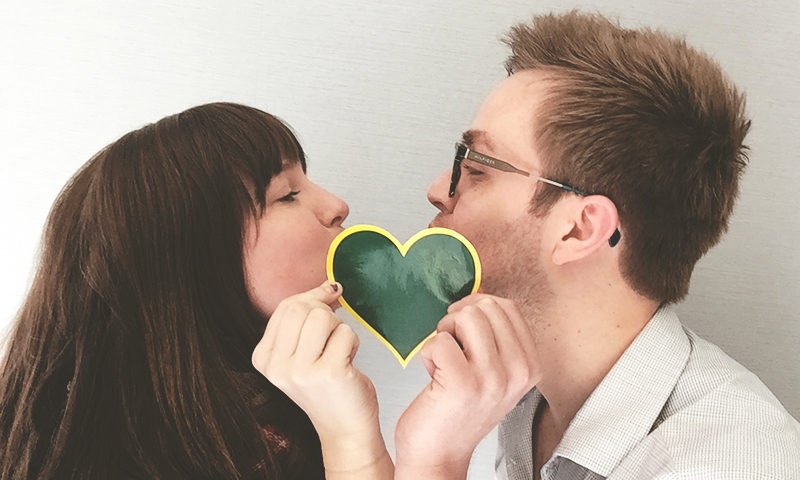 I've worked at Greenheart Travel for over 6 years now, and one of my favorite blogs to put together each year is our Valentine's Day post! The stories of couples finding each other in other countries, across language and cultural barriers is so amazing! Also, hearing about couples that decided to throw caution to the wind, ignore those voices back home saying married couples don't move across the world, and decided to live abroad together is just as inspiring. Read on to hear about some of our newest Greenheart Travel couples, that either met abroad or took the leap together. — Sara Dorsey, Greenheart Travel Teach Abroad Programs Senior Manager

Finding Change, Challenges and Love in Thailand: Mandy and Pup's Story (photo above)
I met Pup in a serendipitous moment while walking around Chiang Mai six months after arriving in Thailand. I was on term-end holiday, and I had yet to plan my next move after traveling with friends. Even as we carried on our first conversation, I felt as though I already knew him. The instant shift I felt in my heart dazed me. I was hesitant to leave for the rest of my holiday, and I surprised myself when I told him I would come back to see him. We talked every day for two weeks while I traveled, and then I solo-journeyed back to Chiang Mai with just my backpack and butterflies. That was October of 2015.
Everything in my life started to come together when I returned and Pup and I fell in love. I rediscovered my passion for weightlifting when he brought me to his gym, a new job fell into my lap, and I grew very fond of Chiang Mai. I still live and work here today, and fall more in love with Pup and Thailand and life all the time. Our days are filled with spontaneity and amazing food and so much laughter. Opportunity is abundant, and I am more true to myself than ever before. Anxiety and boredom are nothing but distant memories.
When I decided to teach abroad, I knew that Thailand would give me what I craved—drastic change, new challenges, and possibility—in only the vaguest sense. I never imagined I would meet my best friend and love of my life on another continent, or that he'd be fluent in Thai and not English. I also never thought I'd still be happily living in Thailand after two years, or that love could be such powerful fuel for my own personal growth. But, I never deemed them impossibilities either.
This is perhaps the most important lesson I've learned: As soon as I opened myself to all possibilities, suddenly every day became filled with love and magic.
Celebrating a New Life Together by Teaching Abroad: Chelsey and Cole Dunham's Story
I've heard people say that getting married young means you'll settle down and miss out on your chance to travel and explore the world. But, when I said "yes" to Cole at the beginning of our senior year of college, I knew I was signing up for a lifetime of adventures together. Three days after our one-year wedding anniversary we landed in Bangkok to begin the adventure of teaching English in Thailand.
Moving to Thailand meant boxing up all the wedding gifts that we had practically just opened, moving out of our very first place together, and leaving behind the familiarity of home. We immediately had a blast meeting a whole new group of friends together during the TESOL course in Hua Hin. However, culture shock set in when we arrived at our placement in the southeast corner of the Isaan region. It was just us, strange food, and an apartment full of bugs. I'm so glad I had Cole to support me during the challenging moments of adjusting to life here.
Looking back seven months later I can say that this experience has strengthened our marriage and brought us closer. We spend so much quality time together from cruising around to our motorbike to teaching right next door to each other. Dinner most nights is spent swapping stories about our kindergarten students and laughing about their adorable antics.
I'm confident that we'll return to America stronger than we came as individuals—and as a couple. Thailand has given us new friends, countless inside jokes, exciting dreams for the future, and hours of stories to bore our future children with.
Falling in Love with Colombian Culture: Kristyn and Daniel's Story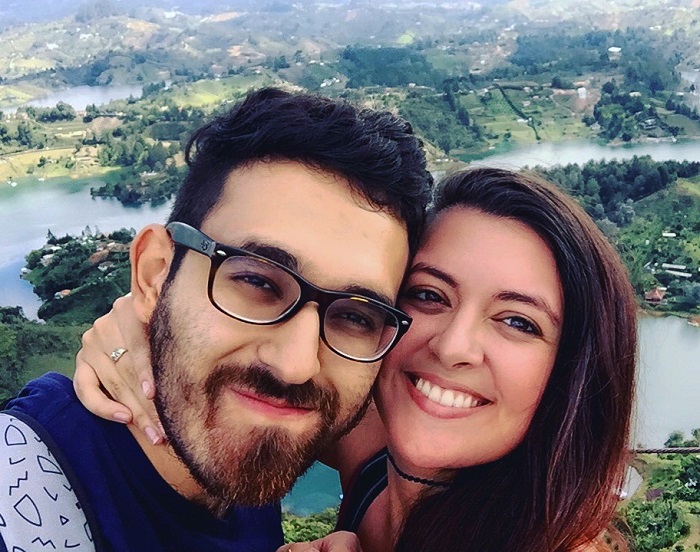 While our story as a couple begins in a high school in Texas, Daniel's story actually begins in Colombia as he was born in Medellin and then moved to the States when he was young. Having heard so much about the Colombian culture in the years we had been dating, I knew we would have to take a trip there together at some point.
We were able to do so after his graduation from university in May of 2015. We visited his family in Medellin for nearly two weeks and I fell in love with the country. When we came back from that trip, we joked that we would have to find a way to move there. Lo and behold, we found ourselves there just one year later with the Greenheart Travel Teach in Colombia program teaching with SENA!
Kristyn: We taught with SENA in Cali and experienced the most trying and exhilarating six months of our relationship. You would think you know someone after seven years together, but moving to a foreign country together really does make you discover so much about yourself and your partner. His Spanish skills were super useful when I was still feeling uncomfortable with my own, and having a built-in Spanish tutor was amazing. We also saved a lot of money renting a one-bedroom apartment (this word is used very lightly) together in barrio San Antonio.
We took salsa lessons together, saw nearly every movie that showed in the theater down the road, and made some lifelong friends during our time in Cali. We traveled nearly every corner of the country, helped each other with lesson plans, laughed about the crazy things our students said. But, the most incredible thing was watching Daniel fall in love with his birth-country.
While he grew up in a Colombian household, he felt that there was so much to learn about his culture, and it was so fun to watch him understand his family and his background more and more each day. I don't think we will ever forget those six months in Colombia, and I am so glad I had someone by my side for all of the absurdity and beauty that we experienced, and that we get to laugh and reminisce about those things for the rest of our lives.
Daniel: Traveling with the person that you love is an unforgettable experience. I remember when we were sitting in Nashville, eating at our favorite pizza joint, continuing our joke about moving to Colombia, when we decided to go ahead and take the risk of moving abroad and teaching in Colombia.
After a quick Google search once we got home, we started our Greenheart Travel applications. Four months later, we found ourselves in Colombia. We had plenty of beautiful and wonderful experiences, from seeing tons of waterfalls, to traveling by bus to fun local towns. I'll never forget how much fun we had when we strolled along the local markets trying new foods.
Being in Colombia was like being in five countries at once, given how diverse each region is, and it wouldn't have been the same without Kristyn by my side. We know we will find ourselves back there soon enough!
Sharing Special Travel Moments Together: Kristen and Charlie's Story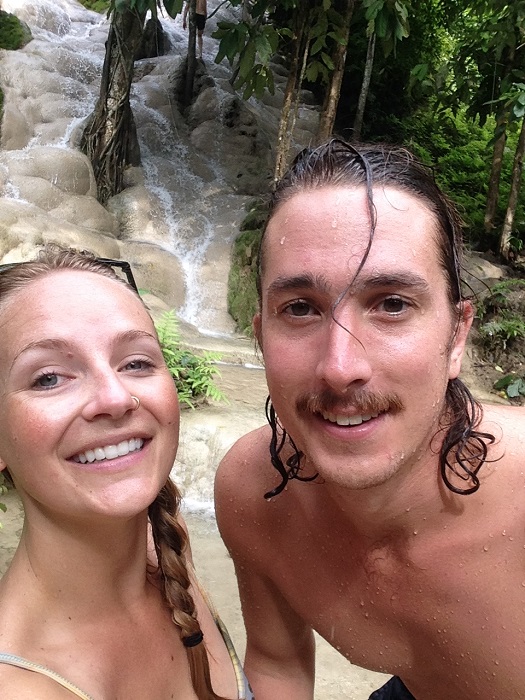 Teaching abroad is something I had always wanted to do, but after college I kept finding reasons to keep me from doing it: being broke and working full-time mostly, and then falling into a relationship with someone I really liked. Charlie.
We have been together over five years now, but it wasn't until 2015 when we first traveled together internationally around Croatia and Turkey, that he caught the travel bug, too. We have both backpacked on our own and agree that our solo experiences are what allow us to do what we are doing now. I'm the planner; he's got the internal compass.
We had spent years debating back and forth about what city to move to away from our college town. And somehow we decided moving to Asia made more sense than anything. So here we are now, with the world at our feet.
Living abroad together presents its share of challenges, but every morning I wake up blissed out of my mind that I get to do something that I had started to convince myself just wasn't going to happen for me. Plus, riding through classic "Thailandia" moments is more bearable, and exponentially more hilarious when I can giggle through it with my best friend. Getting the opportunity to know ourselves and each other on the other side of the world, and observing the ways that we explore, adapt, grow, learn, and love is an experience that will be uniquely our own, and one I'll treasure always.
The Gift of a Common Adventure: Natalie and Frank's Story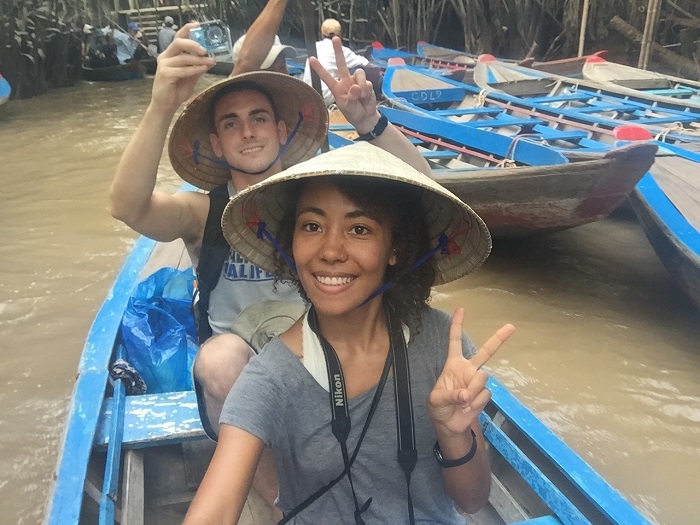 I came to Thailand wanting to experience the world. I wanted to meet new people, to discover more about myself and what I want in life, and to have a positive impact on the children of the country I've heard so many wonderful things about. The last thing I was expecting to happen was to meet my boyfriend.
I came to Thailand by myself and went through the TESOL course meeting many wonderful people along the way, but after the course ended I got on a bus to move to Nakhon Ratchasima, and once again, I was by myself. I won't lie, the adjustment was a bit rough and I was quite lost at this new school in my new home for the first two weeks.
But, this all changed the night I decided to go out with the other foreign teachers at my school. He teaches kindergarten at my school and I teach primary, so that explains why I never saw him before that evening minus a couple of times in the elevator at our apartment.
We hit it off right away and since then we have traveled to Koh Chang and Vietnam together, and we have a two-month trip planned after this semester ends in the spring! I have been incredibly lucky to have him for everything from motorbiking around an island (I definitely can't drive one as I'm too scared) to watching movies all weekend when we are exhausted from teaching to going out to dinner  on my first birthday and Christmas away from home.
I think moving to the other side of the world is quite the thing to have in common with someone and quite the adventure to share. I am so thankful to have him to go through this experience with, and I am excited to see what is to come!
Embarking on Travel Together the Second Time Around: Gaby and Blake's Story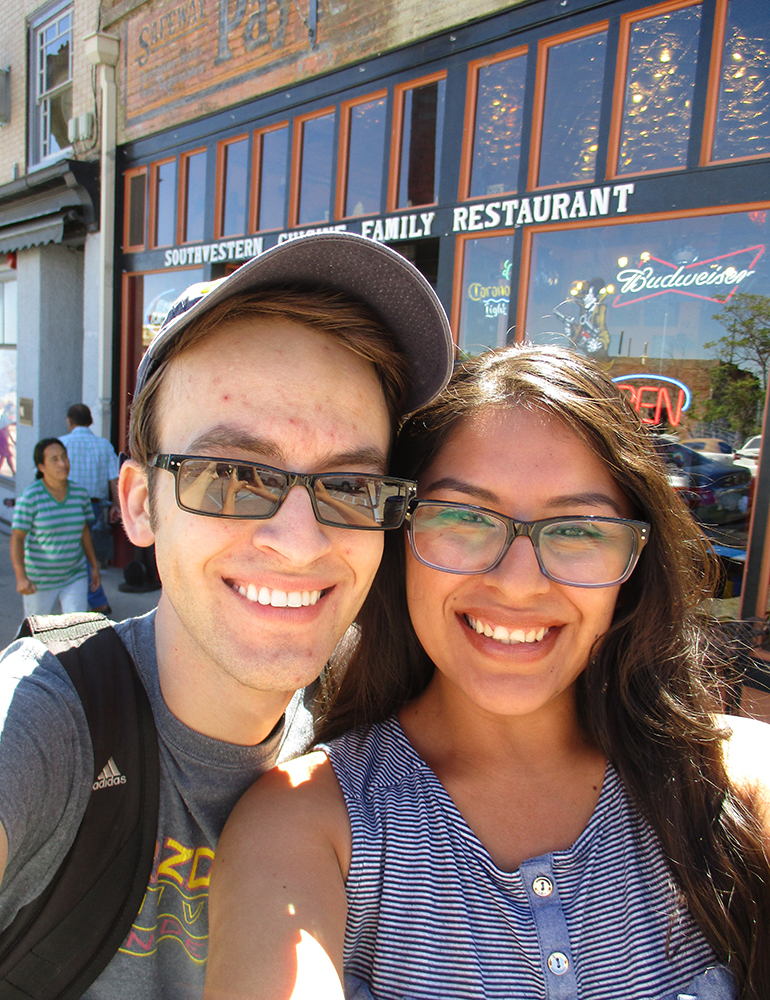 I don't think anyone that knows Gaby and I was overly surprised when they found out about our plans to participate in the 2017 Greenheart Travel Teach English in Colombia SENA program. The two of us met in 2014 while taking part in South Korea's Jeollanam-do Language Program (JLP) through its partnership with Arizona State University, where we were both studying to receive our undergraduate degrees—English Linguistics for Gaby, Spanish Linguistics and Geography for myself.
Though I'd briefly volunteered as an occasional English instructor while studying abroad in Alicante, Spain, JLP's month-long program gave both Gaby and I our first opportunity to really provide comprehensive daily TESOL instruction abroad. In addition to the program providing us with an incredible professional experience, it also brought us something we hadn't at all expected: each other. We started talking before our first flight for Incheon had even taken off, and by the end of the program we both knew we'd found someone special.
When we got back to the States, Gaby had two years of undergraduate studies left and I had one. We were both itching to head abroad again as soon as we could, but getting our degrees had to be our top priority. While we worked on that, we started doing research as to what our options might be when we were done with undergrad.
The fact that I was set to graduate a year earlier than Gaby would also have to be taken into account. Our initial research into teaching abroad was in some ways discouraging; finding programs that could ensure that couples would be placed together was very challenging, and we started to question whether we might have to abandon the idea.
We had gotten very close to that point when we happened to type the right words into Google and were directed to Greenheart Travel's page explaining its partnership with the Colombian government's SENA and MEN programs. We were immediately drawn to the programs' structure, area of impact, and very positive reviews.
Because Gaby is a native Spanish speaker and I'd been studying the language since high school, the fact that they were based in Colombia was also a huge plus. Maybe most importantly for us, the teach in Colombia program guarantees that participating couples would be placed in the same host city. It didn't take us long to decide we needed to apply immediately.
Gaby and I arrive in Bogotá in February of this year. Our orientation will be held in the city and, unlike the majority of participants that are generally assigned a separate host city that they move to after orientation, we will be staying in Bogotá to teach for the entirety of our term. We are both extremely excited to bring our TESOL experience to SENA's students, and look forward to the cultural exchange that we know will probably benefit us almost as much as it does them.
To see the previous years' collection of couples who put the heart in Greenheart Travel, check out our annual posts: 
Have you fallen hard for travel, or someone special during your overseas adventure? Share your story in the comments below!