Couples of Greenheart Travel: Embracing the World & Falling in Love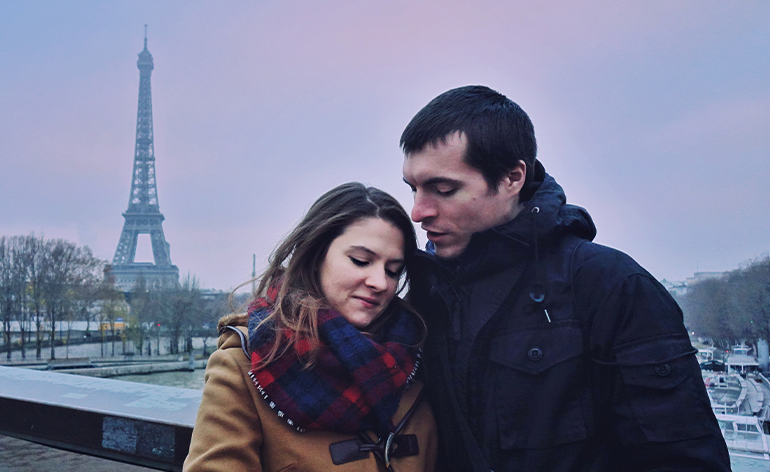 February 14th is one of our favorite days here at Greenheart Travel, mostly because of our annual Valentine's Day blog post! Since 2014, we've featured couples who have either met on one of our programs or decided to travel together. There have been life-changing moments, marriages, and even babies! In their own words, read about these travelers' inspirational stories that will leave you thinking #couplegoals.
Andrea & Tanner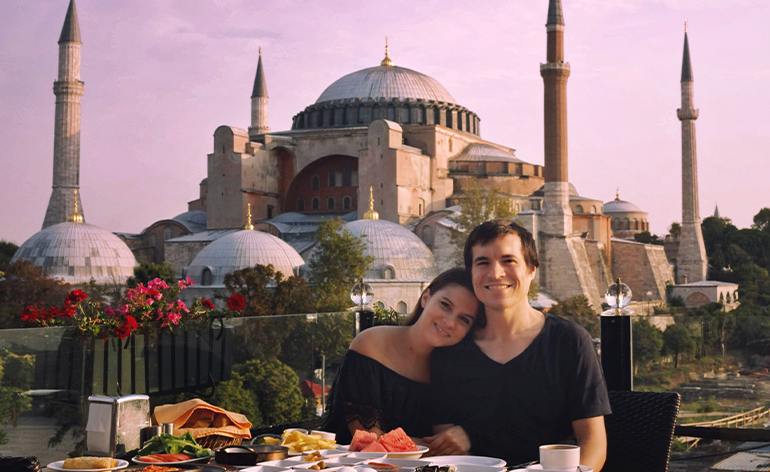 "Far doth roam"
Tanner and I live a life of constant adventure that we built together from scratch. We've lived abroad for over five years and visited over 50 countries in that time. Our life is anything but typical, but we come from a comfortable rural background where the world was small and predictable like a classic coming-of-age movie.
We were high school sweethearts in the same little rural Wisconsin town. We fell in love at Friday night football games and danced together at prom. Our lives were a quintessential American small town story. The rest of the world was unreal and unreachable to us; places learned about in textbooks, but never visited. After graduation I decided to flee Midwestern life and attend college in Washington, DC. But my sweetheart needed to stay in Wisconsin. I'll never forget our first tear-stained goodbye at the airport. Tanner and I became a long-distance couple.
Four years later, with freshly-printed degrees, we vowed to never be apart again. Having both studied language, we wanted to apply to teach English in Korea. To our dismay, they only guaranteed couples be placed together if those couples are married. With the pain of separation still fresh in our hearts, we reverted back to our small town ways: Tanner and I married young. But it could hardly be called settling down.
We cried together when our joint-application was accepted and we were placed together in Jeju. Clean passports in hand we left our cozy small town life for a new country, only our third after our honeymoon in Canada.
Korea will always remind me of our early marriage. We learned so much about this new country, the world, and each other.
In March we will celebrate six years of marriage. We've since moved from Korea to Poland where Tanner will soon graduate from medical school and I continue to teach English. Tanner and I have built an amazing life together centered around love, travel, and each other. Our world has gotten a whole lot bigger since high school. But it was a small town decision that led to this worldwide adventure.
Ayla & Lynn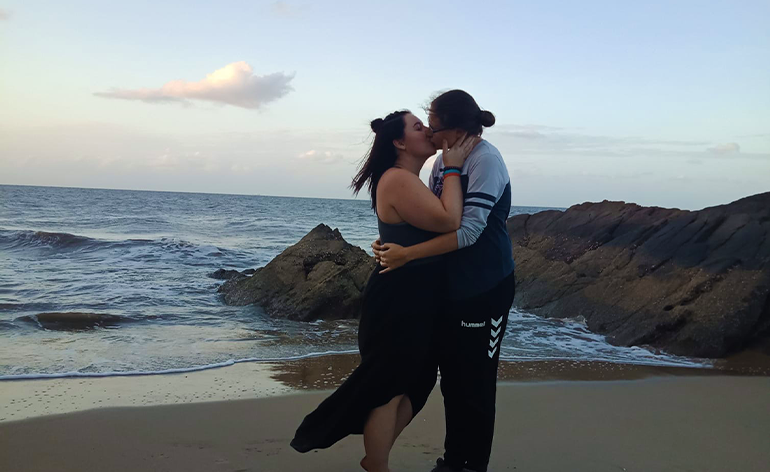 I went to Australia in March through Greenheart Travel. My goals going into it was to have fun, be happy, and experience lots. And that I did! But the best part about my year was finding a person to share those special moments, and hard times with. 1 month into my trip I met her. Never in a million years did I go into this expecting to come out in a relationship- let alone with a girl. But honestly, the moment I saw her I knew she was the one. I got a feeling like I've never felt before. I knew I had to get to know her. We ended up talking, but since I was working an hour away from Melbourne we didn't get to see each other very often. One of those few nights, I worked up the courage to finally kiss her, and we've pretty much been together since! A couple weeks later we flew to a farm where we spent the next 4 months doing everything together- Working, cooking,  cleaning, shopping…. anything you could imagine, we did it together. If that isn't a test of how well you work together I don't know what is. I flew home a couple days before Christmas while she stayed in Australia. I thought it would be hard, and it is, but not as hard as I imagined. We care for each other too much that we make it work. On the week of Valentine's Day, she will be flying to Canada so we will be reunited after 8 weeks apart.
Alexia & Nathaniel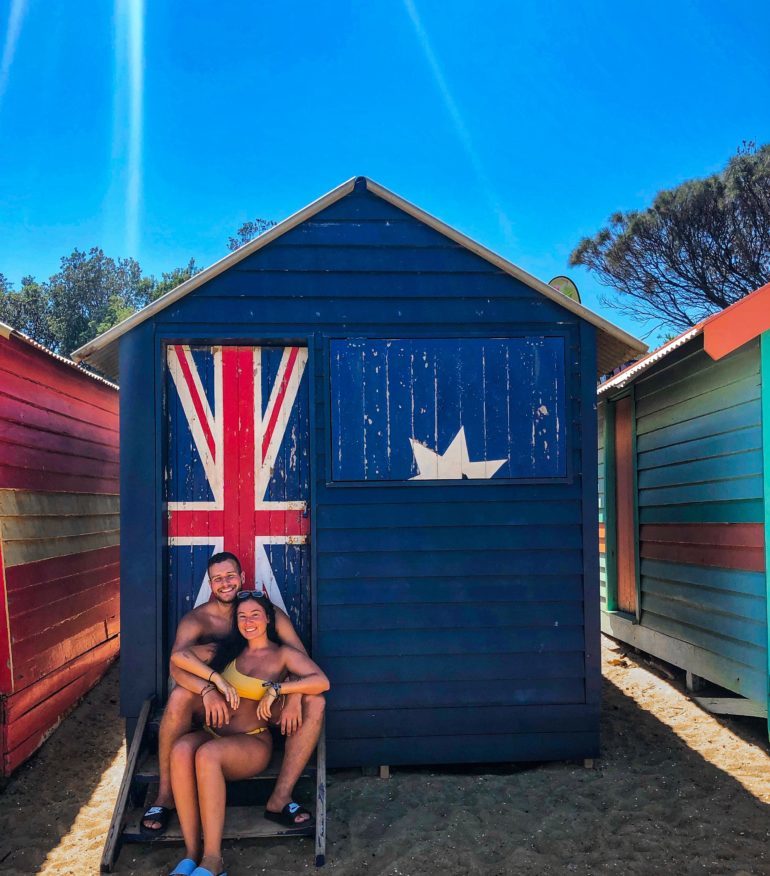 We both had a craving to explore the world. Anything other than what we knew. We felt that at the moment, Montreal wasn't offering what we wanted and there had to be somewhere that did. Australia had always seemed so foreign and so distant for us that it was almost an impossibility to even consider it. Oddly enough, that's what intrigued us the most. The idea of putting ourselves in an uncomfortable situation and see how we react, both as individuals and as a couple. There is no doubt in our minds that it's been a rollercoaster so far, the ups and downs, the trials and tribulations of living abroad as a young couple. However, we can both honestly say that doing this, taking the step we took and moving abroad for one year to travel foreign territory together has made our bond stronger. Stronger than it's ever been, and down the line stronger than it could ever be.
We're both so happy we decided to do this. We know what we're made of, and we're doing it together, side by side.
Follows their travels on Instagram: Alexia  Nathaniel  Lex & Nat
Audrey and Rodrigo
I came to Barranquilla, Colombia in 2017 with Greenheart Travel, full of romantic ideas about what my time here would be like. The experience was indeed sensational, life-changing, and unforgettable, and that is in large part thanks to the person I met 6 months into my 1-year contract. I had recently joined an Ultimate Frisbee team and was playing one weekend on the beach when a couple of guys joined in. One spoke to me in Spanish, and I was so flustered that I couldn't find the words to respond. Once home, I found him on Facebook, we started talking, and a week later we met up for a surf lesson. I'm currently beginning my third year in this charming city and I live with that frisbee-playing stranger, who also turned out to be a loving boyfriend with a thirst for travel and adventure that rivals my own. Thanks, Greenheart, for all the love!
Alexis & Ashley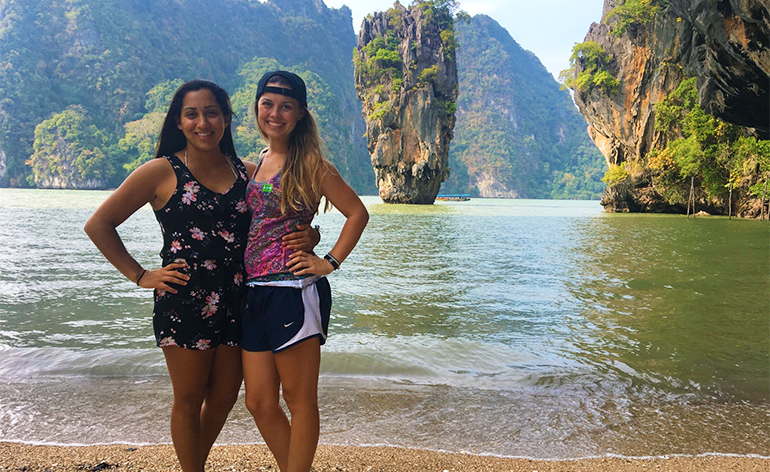 I went Thailand for many reasons: become a better teacher, explore more of the world, learn a new culture, discover more about myself, and to help people. However, I did not go to Thailand looking for a girlfriend. I went to Thailand by myself and first went to visit a friend in Bangkok before starting the TESOL course in Chiang Mai. Alexis and I met on September 24th for our first day of orientation, however we barely spoke. She traveled to Thailand with two of her sisters, Phoebe and Tiffany, and I quickly became friends with them.
Three days later, everything changed. On that day of orientation we meditated and went to Doi Suthep where a monk blessed the two of us together. From then on out we were inseparable. By the end of that week I was dubbed the "fourth sister" and after knowing the three of them for exactly a week, we all four got matching Thailand tattoos! We spent roughly 20 hours a day together and stayed awake talking in the lobby until 3 am or later. Our mindset was to spend as much time together as possible because my placement was in Bangkok and hers was in Sukhothai – only an 8-hour bus ride away from each other. Saying goodbye to them was very hard, especially Lex, while I kept my feelings for her swallowed in my throat. It took only five days before I would hop on a plane to go visit her in Sukhothai because we already missed each other so much. After spending five days together just the two of us my feelings grew stronger. Two weeks later she came to visit me in Bangkok with Phoebe. On November 22, 2017 I finally confessed my feelings to her and after two months of knowing each other, we decided to give us a try.
Although we were an 8-hour bus ride away from each other, we saw each other about every other weekend. It was scary at first to be so far away from each other, but we made it work. Each goodbye would get a little harder as my feelings grew, but I knew I would see her again. Together we celebrated our birthdays, overcame culture shock, and enjoyed Christmas night and New Years all in another country. Since I signed a year contract with my school, but she signed one semester we would not get to finish at the same time. Eventually, we would have to face our longest distance yet.
It's officially been a little over a year now and we're still head over heels in love with each other. She visited my hometown in April, I visited hers in May, and then we spent 7 months without seeing each other. In that time I finished teaching and traveling abroad while she was in the states, we FaceTimed for Thanksgiving, and she completed Air Force Basic Training in December. I was lucky enough to attend her graduation in Texas after 7 months apart and we've been together ever since. We have been staying with her family in New Hampshire, and recently we were able to visit my hometown in Illinois together.
Alexis and I would've never met in the states with the 18-hour drive between us, but thanks to Greenheart we met all the way on the other side of the world. This feels a lot like fate!
Here's to our first Valentine's Day spent together!
Hugo & Lisa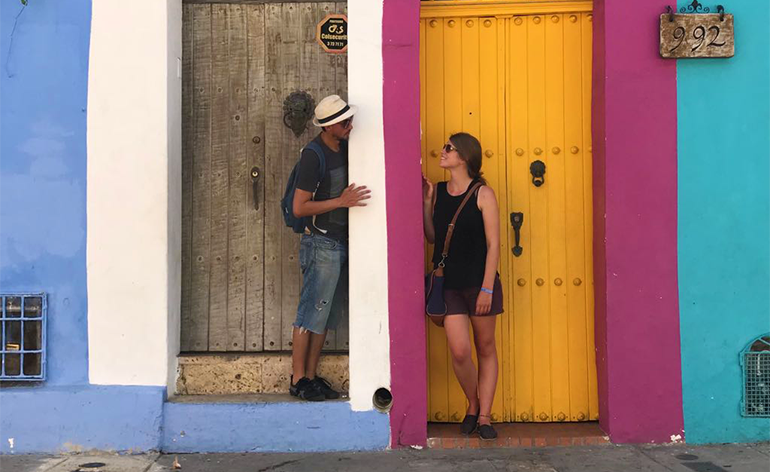 I came to Colombia in 2016 with the Greenheart Travel program. I requested to be anywhere except Bogota but ended up being placed in Bogota anyway. I guess it was meant to be since I met my now boyfriend co-teaching at the school I was placed at. We became good friends the 10 months I worked there and spent time together outside of work. When my contract finished I actually left Colombia with the intention of traveling and not coming back. After a month of traveling Ecuador, it didn't feel quite right so I decided to find another job and go back to Colombia. We started officially dated when I came back and have been together 2 years now.
Matthew & Maria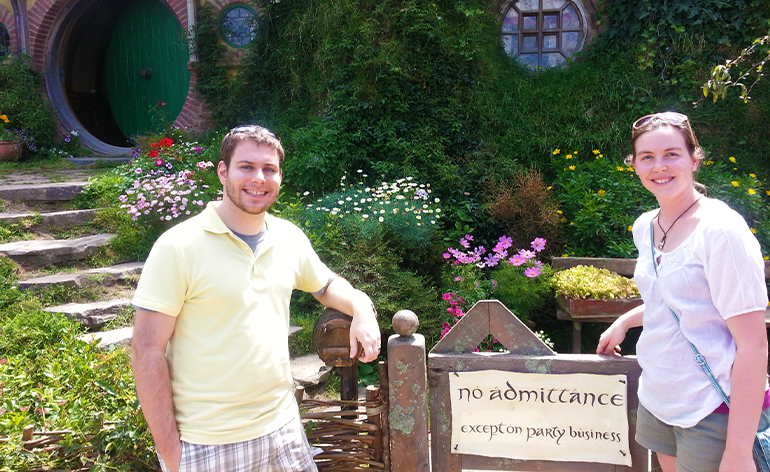 It was 2013 and my wife Maria and I held down 5 part-time jobs to afford a 1-bedroom apartment in Chicago. We weren't from there and I was anxious to move back home to Columbus, OH where life is a bit cheaper. However, my wife wasn't ready to settle down in one place yet and wanted an adventure. She researched the best places to teach English overseas and landed on South Korea. I knew practically nothing about South Korea, but my wife knew how to sell it: the program's benefits and relative closeness would allow us to visit New Zealand, a lifelong dream of mine. With that, we applied to EPIK and accepted positions in Daegu.
We converted our last $1000 to our name into Korean won and flew to South Korea. Once we got there, we realized how lucky we were to be doing this together. Working overseas is a lot to take in! Our apartment was functional but quirky, and we needed to adjust our expectations quickly. Maria had another Native English Teacher at her school, but I did not. I was completely alone.
Through it all, we leaned on each other as we tackled one new adventure after another.
The best part? We made it to New Zealand! If it hadn't been for Maria's idea to teach English overseas, it probably would've been decades before we could visit. Instead, we visited Hobbiton at the ripe old age of 26. Additionally, Maria had always wanted to teach English overseas and wasn't sure when or how that would happen. Together, we were helping each other achieve life goals.
Today, we're entering our 30's and enjoying the new adventures of parenthood and house ownership. Our two years in South Korea helped cement our communication and reliance on each other. You can read more about our adventure in South Korea in my debut book The Waygook Book: A Foreigner's Guide to South Korea available on Amazon.
To see the previous years' collection of couples who put the heart in Greenheart Travel, check out our annual posts: